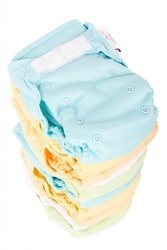 Disposable diapers are not only expensive but also add to non-biodegradable waste, which destroys the environment. For parents who are big on saving costs or like to protect their environment, cloth diapering the little ones is the best option.
Finding cloth diapers for an infant is easy because they are not heavy wetters. However, once your baby starts weaning and gulping those fluids, you will need to find a cloth diaper that can hold really well without leaking.
The best cloth diapers for heavy wetters need to have the right absorbency for night time but finding them tends to be a major challenge. After a thorough research and experience, I found only 3 types of cloth diapers to be the most absorbent and wrote this review to help you.


Top 3 best cloth diapers for heavy wetters comparison table
Best overnight cloth diapers for heavy wetters review 
1. GroVia O.N.E. Reusable Baby Cloth Diaper
I agree and most mothers also agree that the Govia one diaper is the most absorbent cloth diaper in the market so far. Whether your baby is a side, back or tummy sleeper, pee does not leak out through the back or legs as other diapers do. It fits snuggly around the baby's legs, which prevents pee from leaking.
Make sure you get the right fit for your baby. Of course, if you get one that is bigger than your baby, it will leak because it will not fit snuggly around the baby's legs.
Important features
Inserts are important because they keep the baby dry no matter how much they pee. They are made of a very absorbent material that allows pee to pass through to the bottom of the insert leaving the top dry.
For a heavy wetter, you may have to use the two inserts to make sure that your baby stays as dry as possible through the night as well as to prevent leaking. This means that there is no need to buy the extra boosters and doublers to enhance absorbency.
Hook and Loop and Snap closures
The hoop and loop and snap closure help you to adjust the size of the diaper depending on the baby's size and age.  The GoVia diaper gives you an option to either use the hook and loop closure or the snap closure depending on the one that is easier for you.
I prefer to use the hook and loop more than the snap closure because it makes it easy to put on and take off the diaper especially during potty training. However, it comes off easily when pulled by the baby. The snap closure is difficult to take off; hence, it is the best option when the baby gets to that stage when he or she tries to pull off the diaper.
Very easy to wash and dry
The inserts come of; hence you should remove them during washing. This allows the diaper to dry fast since it becomes lighter without the inserts.
Always remember to remove the hook and loop closures before washing so that they do not get stuck other items in the machine, or carry fibres and strings that may cause them to lose their stickiness.
Pros
They are the best for toddlers
Can hold pee for up to 10-12 hours without leaking
They remain highly absorbent and soft even after several washes.
Cons
They are a bit huge for a newborn.
---
Related article
---
Heavy wetter baby night fitted cloth diaper
These diapers are made of a mixture of hemp and cotton, which makes them super absorbent. In case you did not know, hemp is one of the most absorbent materials and is very durable.
Hemp is usually combined with other fabrics such as cotton in order to make it softer since it is a bit rigid.


Important features
Best for babies prone to diaper rash
The hemp material used to make these diapers has been found to antibacterial activity against a wide range of pathogenic bacteria. Hence, it is great for protecting your child against diaper rash.
Each of this fitted diaper comes two inserts with snaps that help to keep them in place. The inserts are made purely from hemp; hence, they are highly absorbent.
Some moms have expressed their concerns that the snaps may leave marks on the baby's skin, but the good thing is that the snaps are on the underside of the inserts. Thus, they do not come into contact the delicate skin of the baby.
Soft and highly absorbent
Even with frequent washing, these diapers remain soft and even reach their full absorbency. This is hemp contain natural oils that may prevent it from absorbing liquids; thus, washing reduces the natural oils and make it more absorbent. To maintain their softness, avoid hot water, fabric softeners and bleach, which may make the fabric rigid.
Pros 
They come in one size that can be adjusted as the baby gets older and heavier.
Their absorbency increases with multiple washing
These cloth diapers are machine washable
Cons 
Tends to shrink due to the natural fibres; hence, avoid very hot water and over drying them
The gussets on the legs make them a little bulky for a newborn
It requires a waterproof wool diaper cover, which is sold separately.
---
Poosters overnight PLUS Cloth diaper
Poosters Plus cloth diaper is a mixture of hemp and cotton. As explained earlier, hemp is highly absorbent as it can hold as much as 18oz of liquid; hence this is also one of the best cloth diapers for heavy wetters.
With this diaper, your baby is assured to stay dry for as long as 16 hours at night.

Important features
The inserts have a fleece layer that ensures that the baby remains dry no matter how much they pee. The booster is added to ensure extra absorbency for a heavy wetter baby; thereby preventing leaks.
You can use these cloth diapers for a long time without any signs of fraying and snaps becoming defective. This shows that it is high quality and very durable.
Leak-free guarantee for 3o days 
The fact that this diaper comes with a 30 days leak-free guarantee means that the manufacturers are very confident that it is the best cloth diaper for overnight. They give you a chance to try it and return if it does not satisfy your needs within 30 days.
Pros
These diapers come with a 30 Days Leak-Free Guarantee.
They a perfect fit for a toddler
Very absorbent; can absorb up to 31 ounces of liquid
Cons 
Need a waterproof wool cover that is sold separately
It is not very soft; hence, you may need a fleece liner
Not a perfect fit for newborns under 8lbs
---
Top 3 Best cloth diapers for heavy wetters to buy in 2019
was last modified:
March 23rd, 2019
by