By Maria Wilcox •  Updated: 05/02/22 •  8 min read
Hey Mamas and Papas! This site is reader-supported and we earn commissions if you purchase products from retailers after clicking on a link from our site.
Tongue-tie affects nearly 5% of newborns born each year. And though pacifiers aren't always taken well by babies with the condition, there are a few pacifiers on the market that may work well for your little one. In this post, we will explore the various options you have for pacifiers for your baby with a tongue-tie as well as answer some commonly asked questions associated with the use of pacifiers after a tongue-tie revision. 
Let's get started. 
Can Babies With Tongue-Tie Use a Pacifier?
Babies with tongue-ties can use a pacifier. However, they may not keep it in their mouths for very long. Because tongue-tie is a condition that tethers the tongue to the base of your baby's mouth, it can make it difficult for your baby to use his or her tongue to suck. As such, this not only causes issues when attempting to keep your baby's pacifier in their mouths, but also when trying to breastfeed. In fact, many mothers report having low breast milk supply because of their baby's inability to properly suck. 
Therefore, while a baby can use a pacifier with a tongue-tie the likelihood of the baby being able to effectively suck at the pacifier is unlikely. 
Do Pacifiers Help With Tongue Tie?
Pacifiers, in and of themselves, do not help with tongue-tie. After a tongue-tie revision, a pacifier may help teach your baby to suck. However, you should only use a pacifier when needed and only after you've established a feeding or breastfeeding routine. 
The reason for this is because pacifiers do not feel like the breast and aren't shaped like the breast. If you introduce a pacifier too early after revision your baby may learn to suck the pacifier, but may not know how to properly suck at the breast nipple. 
Still, when a pacifier is introduced after breastfeeding has been properly established (or re-established in some cases) then it is perfectly fine to give your baby a pacifier on occasion and when needed. 
Note: Overuse of a pacifier can have ill effects on your baby's oral development. It can also establish an unhealthy attachment to the pacifier that may be difficult to remediate as your child grows old.
Do Tongue-Tied Babies Not Like Pacifiers?
Many tongue-tied babies may appear as though they don't like pacifiers. This is because they are unable to keep them in their mouths. Therefore, when you put a pacifier in a tongue-tied baby's mouth, he or she is likely to spit it back out.
Bear in mind that babies without tongue-tie often do this, too. For some babies, pacifiers just aren't their thing; and that's okay!
What Pacifiers Are Best For Tongue-Tied Babies?
Philips AVENT Soothie Snuggle Pacifier – Not only is this pacifier very cute, but it also helps your baby keep their pacifier in place, even prior to revision. Because tongue-tied babies have difficulty keeping their pacifiers in their mouths because of their condition, this pacifier makes it easy for your baby to replace the pacifier in the mouth after it falls out. As a bonus, the pacifier detaches from the animal, making cleaning the separate pieces more convenient. 
Dr. Brown's HappyPaci Silicone Newborn Pacifier – Many mothers of tongue-tied infants have attested that this is the only pacifier their baby would use. As such, we had to mention it here. Dr. Brown's HappyPaci silicone newborn pacifier is designed to introduce babies to the pacifier by offering a nipple shape that is similar to the breast nipple, while also offering a one-piece design that can prevent choking and foster easy cleaning. It is lightweight and contours to baby's face shape, making it a favorite amongst moms of babies with or without tongue-tie.  
Best Pacifier For After Tongue Tie Release
Best Pacifier For After Tongue Tie Revision
Tommee Tippee Ultra-Light Silicone Pacifier – This lightweight pacifier is perfect for after your baby's tongue-tie revision. It is designed to stay in your baby's mouth for longer due to its feather-light feel. The design is also symmetrical so there is technically no "wrong" way for you to put the pacifier in your baby's mouth. Lastly, this pacifier is said to have been accepted by 97.5% of babies. So the chances of your baby spitting this one out after revision is likely low. 
NUK Comfy Orthodontic Pacifiers – Nuk is a well-known and popular brand amongst mothers everywhere. The timeless collection Nuk pacifiers are no different. Coming in a variety of attractive modern colors, these pacifiers sit comfortably on the face. They have gotten rave reviews from mothers who have used them for their babies with tongue-tie.
Best Pacifier For High Palate
Chicco PhysioForma® 100% Soft Silicone One-Piece Pacifier for Babies – Developed by a knowledgeable panel of neonatologists, orthodontists, and pediatricians. The Chicco PhysioForm pacifier is a lightweight, breathable and comfortable pacifier that many parents and babies love. The pacifier nipple shape is such that it reduces pressure on the palate which is a common cause of high palate in babies. It also contains ventilation holes throughout the pacifier design to keep saliva from collecting on the skin. These pacifiers are super soft with a satiny feel that will sit comfortably on your baby's skin.
FAQs
When should a baby stop using a binky?
The easiest time to wean a baby from a pacifier tends to be around 6-7 months old. Having said that, you can wean your baby from a pacifier anywhere between 2 and 4 years old. Just know that the longer you wait, the more difficult process will likely be. Therefore, removing the pacifier at around 6-7 months is ideal.
Can tongue-tie be corrected naturally?
Though there isn't much you can do to correct tongue-tie naturally, it can help to know that many cases of tongue-tie remediate between the ages of 2-3 years. Nevertheless, it is possible that remediation of tongue-tie by natural means may never happen. 
If you believe your baby's tongue-tie is severe and that it is interfering with daily functions such as talking and eating, then be sure to set up an appointment with your paediatrician for assessment. In some cases, your child may need to undergo surgery to clip the lingual frenulum beneath the tongue to allow your baby's tongue freedom of movement and correct the issues he or she may be experiencing because of the tongue-tie.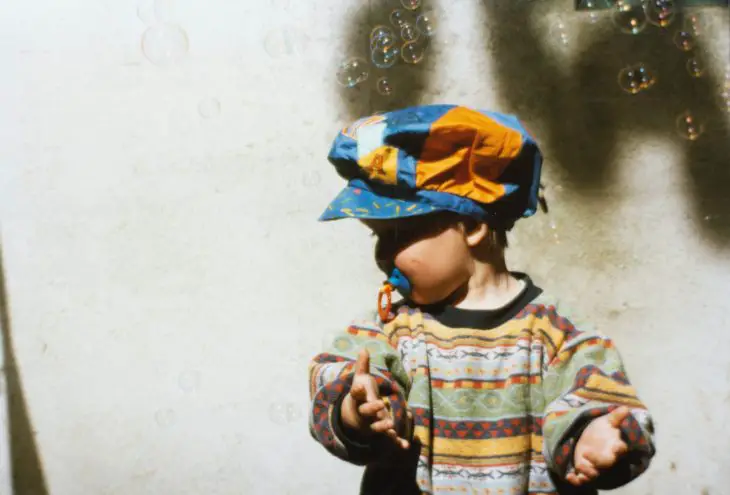 Introduce Pacifiers For Tongue-Tie With Caution
Remember that when introducing a pacifier for tongue-tie to your baby it may take a while for him or her to get used to it. You'll want to wait to introduce the pacifier after the revision of tongue-tie only after breastfeeding has been fully established. 
Bear in mind that not all babies will want to use pacifiers, whether they are tongue-tied or not. Do your research, experiment, and choose the pacifier that is the best fit for you and your baby.
More posts on baby oral care:
Maria Wilcox
Former instructor with an M.A. in Education turned grateful stay-at-home mama to one, I look to share helpful insights related to babies, toddlers, kids, and families for the benefit of real people just like you.