By Maria Wilcox •  Updated: 09/15/22 •  11 min read
Hey Mamas and Papas! This site is reader-supported and we earn commissions if you purchase products from retailers after clicking on a link from our site.
So, you've got a baby mobile but need help placing it? Thankfully, how to hang a mobile over crib isn't very hard and we're here to help you! When hanging a mobile over a crib, there are several factors you'll want to keep in mind to keep the mobile effective and safe. In this post, we'll be detailing exactly how to hang your mobile, the purpose of a mobile, and potential safety hazards that could crop up when using one. We'll also be sure to fill you in on when you shouldn't use one of these contraptions near your baby. Sound interesting? Join us as we jump into the topic of how to hang a mobile over crib!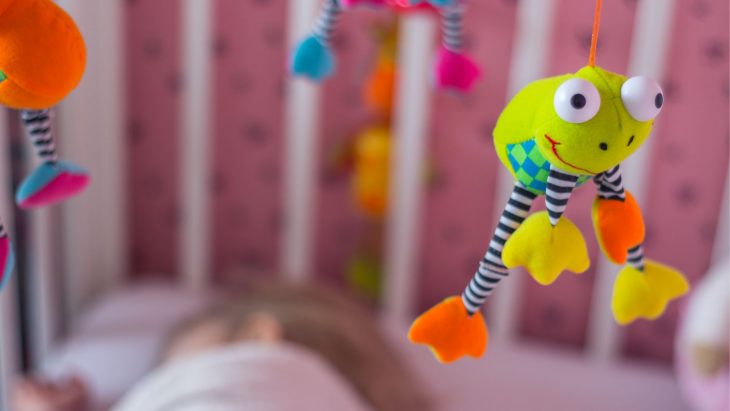 Baby Mobile 101
To start, it can be helpful to know the ins and outs of baby mobiles and what their function is, to begin with. 
Development
Believe it or not, baby mobiles help foster a baby's brain development. Depending on the colors, shapes, and sounds of the mobile, you can expect your baby to be absorbing a ton of information from these little gadgets. There are specific kinds of mobiles out there that are designed with certain colors that babies will find attractive during certain times within their development. 
For example, some mobiles are made black and white because these are high-contrast bold colors that are easy for newborns to see. Over time, reds, blues, greens, and yellows become more noticeable to your baby. A development-driven mobile may feature only these colors with parts you can switch out at different stages in their development.
Distraction
Got a baby that seems to cry non-stop? A mobile can really help!
A mobile works as a distraction for your baby which can really help when your baby is inconsolable or when you need a break. Moreover, mobiles are awesome devices to use when you are attempting to transition your baby from a bassinet to a crib as this will distract them from their unfamiliar surroundings and eventually lull them to sleep. 
Interest
Of course, one of the main components of using a mobile is to pique your child's interest. Remember to hang the mobile at a distance that is both safe and can also be seen by your little one. At a very young age, your baby may only be able to see 8-12 inches in front of them. It is for this reason that you will want to ensure not to hang the mobile items too far away from your baby. Otherwise, he or she might lose interest! 
Gross Motor
You may not have thought of this benefit of using a baby mobile, but hanging one of these over your child's crib can get them pretty excited. Your baby may kick, reach, coo, and contort as they watch the mobile float above their bed. All of this movement is perfect for growing babies. Just be sure to remove the mobile once your baby is able to push up on hands and knees. 
Where Do You Place a Mobile on a Crib?
With all of the benefits of hanging a baby mobile out of the way, it's time to get to the meat and potatoes of this post. Where you place a mobile on a crib will depend on what kind of mobile you have.
Generally, a mobile will be placed at the crown of the bed where your baby's head rests, but all mobiles are different 
A mobile that comes with an arm clip or other crib extension is usually clamped on the crib in a position that can be clearly seen by your kiddo. Follow your manufacturer's instructions for exact placement. If no exact placement is given, do your best to suspend it over where your baby's head will be, but you MUST make sure it is safe and secure before leaving it there. 
What Do You Hang a Baby Mobile With?
A baby mobile can be hung with the hardware it comes with, a separate crib arm extension, or from the ceiling with twine, string, or even a fishing line. The most important thing about hanging a mobile is safety. You must make sure that the mobile is firmly in place and cannot fall or be reached by little hands. 
In the event that your baby does reach the mobile, he or she may put the parts in their mouth and may get tangled up in the string. These are extreme strangulation and choking hazards that MUST be avoided at all costs. We recommend you purchase only mobiles that do not contain small, sharp, or checkable parts. You must also hang the mobile far enough away from your child that he or she could never reach it. 
Ensure that the mobile is safely anchored so as to never fall on your baby. If you are not sure the mobile you are using can meet these expectations, please do NOT use a mobile over your baby's crib.
How to Hang a Mobile
When hanging a baby mobile, first look at the instructions. If your mobile has certain hardware and instructions that come with it, please use those as this will likely be your best way to anchor the mobile safely. 
When you're hanging your baby mobile, always check to ensure that the hook or arm used is taut after installation and can withstand the weight of the mobile itself. Otherwise, it is best to hang the mobile another way. 
If your baby mobile has been handmade or you are looking for alternative ways to hang your baby mobile, you can usually still hang the mobile either using a crib extender or from the ceiling.
If using a mobile arm clamp or extender, be sure to follow the directions it comes with. Also, be sure the weight of the mobile isn't so much as to cause the mobile to topple over on your baby. Lastly, make sure that the strings of the mobile aren't long enough for your baby to reach. Follow the direct instructions of the crib arm extender for the correct installation process.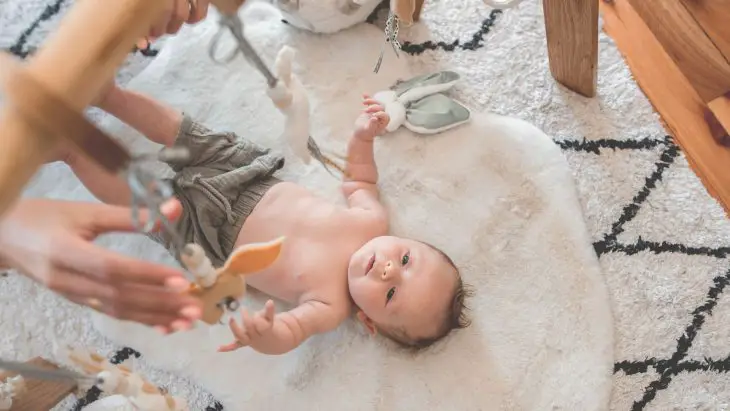 Can You Hang a Crib Mobile From the Ceiling?
You can absolutely hang a crib mobile from the ceiling assuming you have the right hardware. Let's take a look at how to do so step-by-step:
C-Hook
A C-hook can be purchased at any local hardware store and requires no drilling. Take your C-Hook and place its screw in correlation with where you want your mobile to be.
Screw the c-hook into the ceiling wall using a twisting motion until it is all the way in. 
Measure the length of your mobile to ensure it is at least 16 inches away from your baby. If when you place your baby in his or her crib they don't seem to respond to the mobile, you may lower it slightly. Never make the mobile close enough for your baby to reach. 
Adhesive Strips
Still interested in how to hang mobile from ceiling? You can use adhesive strip hooks, but PLEASE do not hang ANYTHING with a considerable amount of weight from these. 
At maximum, we'd recommend hanging a mobile that weighs no more than ½ pound when using this method. Adhesive strips are known to give over time, even if you think they are up there securely. This could send the mobile tumbling down and onto your baby's face, potentially causing injury and presenting a major choking, smothering, and strangulation hazard. 
How Can I Hang My Mobile Without Drilling?
You may be wondering how to hang baby mobile from wall without drilling holes. The best option for this, especially if you are in an apartment is to use adhesive hooks. But again, please be sure not to hang any mobile with any significant amount of weight on these. 
Though many adhesive hooks are advertised as being able to take on several pounds of weight, the truth is that there are many factors that play a role in whether or not this will remain true. 
Make sure you clean the surface of your wall first before using the hook. You should also affix the hook and leave it there for at least 24 hours before hanging anything from it. Lastly, you should test the hook to ensure it can bear the weight of the mobile (although adhesive can wear down over time). 
Our best recommendation is to use only soft and lightweight felt mobiles when using adhesive hooks. These lightweight yet eye-catching mobiles are unlikely to topple onto your baby causing them injury.
How to Hang a Mobile Over Crib? Now You Know!
Hanging a mobile over a crib has many benefits, but it also comes with risks. Knowing the proper way to hang a baby's mobile is crucial. Always make sure the mobile is far enough away from your baby's reach that he or she cannot get entangled in it. Also, ensure that the hanging method you choose can bear the weight of the mobile. We hope this helps!
FAQs
What are safe things to hang above crib?
We recommend you avoid hanging anything other than a lightweight and choke-proof mobile over your baby's crib. 
How do you hang a mobile with a fishing line?
Use a c-hook or adhesive strip hook to hang a very lightweight mobile from a fishing line. You may also drill a sturdy hook into the ceiling to hang a fishing line mobile if you choose.  
Is it safe to hang a mobile over a crib?
If you've followed proper mobile installation protocol, hanging a mobile can be safe. However, if your mobile is sharp, heavy, contains chokable parts, or is too close to your baby, the mobile should not be utilized. 
Are baby mobiles necessary?
It is not necessary to purchase a baby mobile if you don't want to or if your baby seems uninterested in it. 
Maria Wilcox
Former instructor with an M.A. in Education turned grateful stay-at-home mama to one, I look to share helpful insights related to babies, toddlers, kids, and families for the benefit of real people just like you.