By Lynn •  Updated: 03/18/22 •  9 min read
Hey Mamas and Papas! This site is reader-supported and we earn commissions if you purchase products from retailers after clicking on a link from our site.
If you're the parent of a toddler, you may be familiar with the stress connected to getting baby hair to grow. Thankfully, there are plenty of toddler hair growth products on the market that are aimed at stimulating the hair and scalp to cause natural growth. Join us as we discover the many ways to get toddler hair to grow.
Tried and True Toddler Hair Growth Products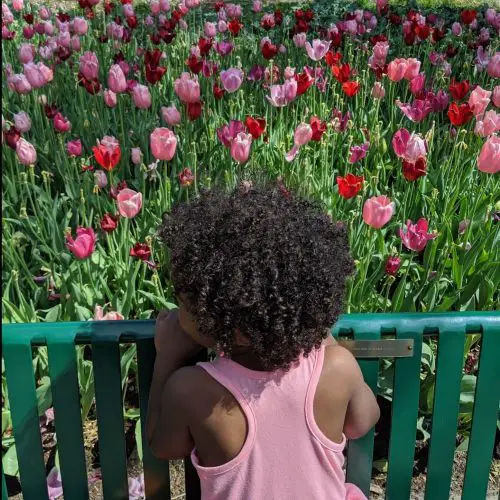 While there are a laundry list of products out there that can be used to combat hair loss in children, we've found a few of the best types that can be used on toddler tresses. Whether kinky/coily or fine-textured, there's a recommendation for nearly hair type just waiting to be discovered!
Maui Moisture Lightweight Hydration + Hibiscus Water Shampoo – Maui Moisture is a line of hair care products known to infuse natural ingredients into their shampoos, conditioners, and other hair care products. They've got a hair care line for virtually every hair type possible, which makes it easy to purchase the right shampoo for your toddler's hair. 
Aussie Miracle Moist Conditioner With Avocado & Jojoba Oil – A favorite amongst the "curly girl" community, Aussie Miracle Moist Conditioner is specially formulated with nourishing jojoba and avocado oils that can deeply penetrate your child's locks for smooth and healthy-looking hair.
Kinky-Curly Knot Today Leave In Conditioner/Detangler – If you need something with a little more "slip" to work tangles out of hair, you may wish to give award-winning Kinky-Curly Detangling Leave-In Conditioner a try. This hair styling product contains organic slippery elm and organic marshmallow root which coats the hair and acts as a humectant to attract moisture to your toddler's locks. 
Baby Don't Bald Triple Strength Hair Grow – Want to know how to grow infant hair? Slather this on their scalp! Though the name of this product may make you laugh, the truth of the matter is that this stuff is the real deal–and it works for toddlers, too! Formulated to nourish the scalp, Baby Don't Be Bald is a hair care product that has been used for generations to help with baby and toddler balding and thinning hair issues. Just be sure to use the product as directed: 2-3 times a week, applied directly on the scalp, otherwise, you may find the product to be too heavy.
Pure Grapeseed Oil for Skin and Hair – Sometimes, when it comes to fine toddler hair, just a little can go a long way. If your son or daughter is struggling with balding or thinning hair, you may wish to give grapeseed oil a try. Grapeseed oil is one of the lightest oils you can use which makes it great for fine or low porosity hair types. Use the oil to deeply massage the scalp daily until hair growth ensues. 
Nutiva Organic Cold-Pressed Virgin Organic Coconut Oil – Another pure oil to try on toddler hair is coconut oil. Coconut oil is much heavier than grapeseed oil which can make it great for coarse or high porosity hair types. Just be careful; coconut oil can sometimes clog pores and cause bumps to appear on the skin. 
Products to Make Baby Hair Grow
Hair Growth Shampoo For Kids
While you don't necessarily have to buy a shampoo for kids that's targeting specifically for hair growth, you do want to purchase a shampoo that can detangle, cleanse, and nourish the scalp and hair follicles to produce a healthy head of hair. The Mane Choice Juicy Orange Fruit Medley KIDS Shampoo sets out to do just that. This fruity-scented and brightly colored shampoo is designed to keep your child's hair strong and healthy and is gentle enough for daily use.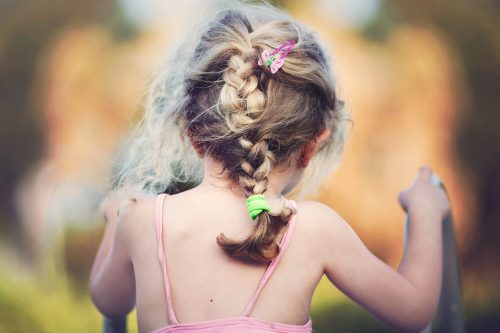 Baby Hair Food
As previously mentioned, Baby Don't Be Bald is a great product to use to nourish the scalps of babies and toddlers whose hair isn't growing at the expected rate. However, many parents also have seen great results from using Coconut Baby Oil for Hair & Skin. This specially formulated baby oil can be used on both hair and skin and is composed of all-natural ingredients including sunflower, coconut, and grapeseed oils.
Hairstyles That Help Hair Growth
Do Ponytails Help Hair Grow?
They can! Just make sure not to pull ponytails too tight. This can cause stress at the root and lead to hair breakage. 
Do Braids Help Your Hair Grow Faster?
Plating or braiding the hair counts as a "protective style". This can keep hair from shedding and breaking off during the course of the day. 
Does Twisting Hair Make It Grow Faster?
Twisting hair can help but be careful not to twist too tight as this can cause breakage. 
How to Make Kids Hair Grow
The following are a few tips to help increase hair growth for your toddler:
Know Your Child's Hair Type: This cannot be stressed enough. It is vital that you know your child's hair type. This way, you know what products will be best received by your child's tresses. To start, you should identify whether your child's locks are fine, medium or coarsely textured. Next, you should identify whether or not your child's hair is low, high, or normal porosity. Knowing porosity is crucial for caring for coarser hair types because not all coarse hair should be treated the same. Do your research on the type of hair your baby has. Then select products that will nourish and revitalize your baby's hair.
Brush and Comb Your Child's Hair Daily: This might sound like a no-brainer. But combing and brushing your baby's hair daily is imperative. Not only will it keep your baby's hair from knotting up and breaking off, but it will also stimulate hair follicles at the scalp causing additional growth.
Moisturize Daily (If Needed): Not every kiddo will need a daily moisturizer applied, but some will. If your child has very dry hair, you may consider adding a little bit of conditioner to a spray bottle of warm water. Spritz this over your child's hair daily. 
Use a Clarifier When Needed: If your child's hair gets weighed down easily or if you see that your child's hair isn't absorbing product the way you'd like, it may be time to clarify your child's hair. To do this, consider mixing one tablespoon of apple cider vinegar, or ACV, to one cup of water. Run this through your child's hair after shampooing but before conditioner. NEVER apply ACV to your child's hair without first diluting it. If you'd rather, you may also purchase a clarifying shampoo which also will work to remove unwanted build-up. 
Massage Scalp: Similar to brushing and combing, massaging the scalp gets blood circulating and stimulates the follicles. Do this daily with one of the aforementioned oils for the best hair growth results. 
Use a Head Cover: After applying conditioner, water, or moisturizer, consider covering your child's hair with a silk scarf or shower cap. Leave for at least 1 minute before combing through tangles. This will make your child's hair more manageable and better able to absorb moisture, especially for low porosity hair types. 
Be Patient: After you find products and a routine that works well for your child's hair, stick with it. Try not to switch up your child's hair care routine once you've found something that works. The wrong product can cause setbacks, especially if you've already cut baby hair before 1 year.
Seek Help: If you've got a baby or toddler who seems unable to grow hair, reach out for help. In some cases, hair that won't grow is due to nutritional deficiencies. For toddlers that may be pulling their hair, find out the root cause. If your child is twisting their hair at night as a soothing mechanism, be sure to have your child wear mittens, or even socks, on their hands to prevent further breakage. 
FAQ
How to Make Toddler Hair Grow Thicker?
To make toddler hair grow thicker, you'll want to nourish the scalp and ensure that your toddler is getting the right daily nutrients. See a pediatrician for additional details and tailored advice concerning the care and keeping off your toddler's hair. 
What is Slow Hair Growth in Toddlers?
Slow hair growth in toddlers can be common but don't worry. Most people go on to have a full head and hair even if they had none when they were young. Still, if you have specific concerns, be sure to communicate them to your local pediatrician. 
What Stunts Hair Growth?
Hair growth can be stunted by nutritional deficiencies, "baby trich", hair loss due to illness, improper styling or management of the hair, and much more. 
Long Toddler Hair Is Within Reach!
Toddler hair growth does not happen overnight, especially after hair loss. But careful and persistent attention to your child's locks will definitely help speed things up. Do your research and buy the right products to match your baby's hair type and don't make assumptions. Once you try a product that works, stick to it! You'll likely see a drastic increase in toddler hair growth over time.
Don't forget to brush and massage your baby's hair and scalp daily…and good luck! 
Lynn
Lynn is a freelance writer, a wife, and a mother of two beautiful kids. Lynn started Infant Empire with the aim of making parenting easier for fellow mums and dads. She believes the parenting tips provided here will be of great help to all parents.