By Maria Wilcox •  Updated: 10/27/22 •  9 min read
Hey Mamas and Papas! This site is reader-supported and we earn commissions if you purchase products from retailers after clicking on a link from our site.
If you're newly pregnant, you may be eyeballing the differences between a glider vs rocker. Indeed, there are similarities between the two, but the many differences are also worth noting. So, what are those differences and is one a better option than the other? Join me as we compare and contrast gliders vs rockers.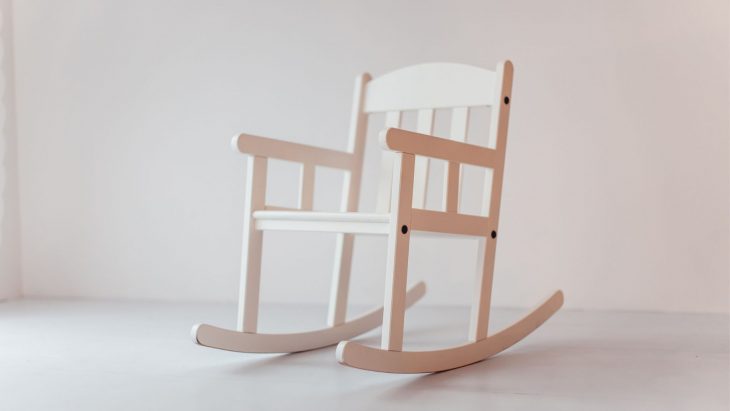 Differences Between Glider vs Rocking Chair
There are several ways in which both gliders and rocking chair differ. Let's look at each one individually.
Rocking Chairs
Rocking chairs are typically made of wood, though some can be made of other materials. They come with a place to sit and are positioned over two arcs at the bottom. These arcs make it possible for you to rock both forward and backwards in one strong motion. 
This rocking motion can be very soothing for you and your baby. Know that this sort of motion will quite literally tip you upward and backward, which is different from a glider. Still, this movement is not usually so intense that it'll wake your baby. However, it is important to note that the motion is a bit more intense than that of your typical glider. 
Gliders
Gliders are similar to rockers in that they also move, though the movement isn't usually nearly as intense as a rocker. The glider does not come with arcs on the bottom, but instead is a chair affixed to a track. As you move the chair along the track the seat will move forward in a straight line and backward the same way. There is essentially no "rocking" motion, but instead, a forward backward motion minus the tipping. 
Despite this motion being less intense, it does well to soothe your baby. Gliders often come with wide upholstered seats, with some even designed with stain repellent fabrics. Gliders often also come with a matching ottoman making relaxation easy on those tired nights when all you want is a little rest.
One thing to note about gliders that is different from rockers is the safety concern linked with the use of a track. As your baby grows older and begins to move around the room, you may need to watch for his or her little fingers getting caught in the track.
Thankfully, there are some gliders that have pinch-less tracks and many come with locking mechanisms. This makes it so that you can lock the chair in place without having to fear for your little one's fingers getting trapped. 
Lastly, a glider harnesses the ability to swivel (oftentimes up to 360 degrees) and often comes cushioned with plenty of plush seating and soft upholstery.
Is a Glider or a Rocker Better?
Now that you know the differences between a glider or rocker for nursery, you may be wondering which is better to suit your needs. 
The answer to this will depend on what you are looking for.
Remember that with a rocker, you are purchasing a wooden chair that usually comes bare. You can add upholstered cushions or pillows or order the rocker with these things already in place. 
Rocking chairs will provide stronger movements than gliders and don't often come with ottomans. Still, they often provide a traditional look that can really add something special to a nursery. A rocking chair may also prove to be more soothing to your infant, because the swaying motion is so pronounced.
Pros of Rockers
Strong rocking motion can help put baby to sleep
Traditional look
Can be fitted with pillows and cushions
Lack of upholstery makes for easier clean up
Cons of Rockers
Does not usually come upholstered
Traditional look may not be desired by moms looking to create trendier nurseries
Having said all of that, gliders have their pros too. Recall that gliders come already upholstered and are usually equipped with wide seats and plush cushioning. Aside from being comfy and cozy, gliders provide a frontward and backward motion that is less pronounced than a rocker. It can sometimes come with a matching ottoman and can be made of stain repellent fabric in some cases.
Many moms find gliders to be more modern in terms of aesthetics, which may be of interest to moms who want a more trendy nursery.
Pros of Gliders
Feature a modernized look that's attractive in most nursery rooms
Usually comes plush and upholstered 
Sometimes comes with matching ottoman
Can often swivel and lock in place
Cons of Gliders
Glider tracks at the bottom can become a concern for pinching tiny fingers
Upholstered fabric can sometimes mean staining and difficulty cleaning up
Forward and backward motion may not be quite as strong or soothing as a rocking chair
Do You Have to Have a Glider or Rocking Chair in a Nursery?
At this point you may be wondering whether or not you have to have a glider or rocker in a nursery. That's a good question! Here's our best attempt at answering it:
Is a Glider Necessary For a Nursery?
Not really. 
Having a glider in your nursery is by no means the gold standard of what makes a nursery comfortable. You can always use a standard chair for sitting or sit on the floor if you must. 
You should also remember that many moms choose to keep their baby's with them in a bassinet in the same room while they are still newborns. When this is the case, you may find that your bed works just fine to sit on when it is time to nurse and soothe your baby.
So, are glider chairs worth it? Despite the aforementioned options you have for not using one, I still recommend you get either a glider or a rocker. Although you technically can sit on the floor, your bed, or another chair, the truth of the matter is that you and your baby will feel more comfortable in a plush glider. The forward and backward motion will do wonders for soothing your little one back to sleep after late night feeds. 
Because of this and the many pros of having a glider in general, I do recommend you look into purchasing one for yourself and your baby.
How Important Is a Rocking Chair in a Nursery?
Having a rocking chair in a nursery has similar benefits to placing a glider there. Not only does it give you a place to sit, but its rocking motion is much stronger than that of a glider, making it an even better option for some mamas looking to soothe their babies back to sleep. 
Of course, purchasing a rocking chair over a glider will be a matter of personal preference as both have their benefits and disadvantages.
Still, I believe that with both options, the pros outweigh the cons. You simply need to decide which of the two will work best for you and go for it!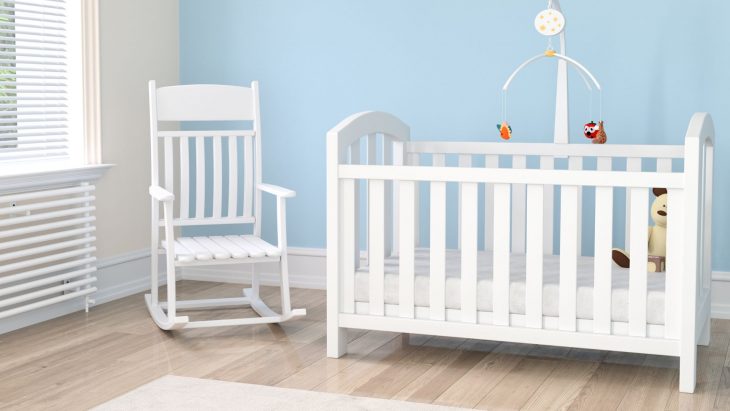 Glider vs Rocker: They're Both Great Options!
When it comes to deciding between a glider vs rocker, there are key differences for you to note. Remember that the sway is stronger in the more traditional rocker category while gliders boast of having plush, roomy, and comfortable seating that rockers often don't provide. Aside from those perks, there are many other factors that make these two nursery chair different.
Do your research and pick whichever is best for suiting your needs. 
Hope this has helped. Until next time! 
FAQs
What type of chair is best for nursery?
Either a glider or rocker can really help out when you are setting up your nursery. If you want a plush option that swivels and can lock in place, choose a glider. If the intense rocking motion is what you crave, go for a traditional rocker.
Is it better to have a glider or recliner for nursery?
A glider can provide soothing back and forth swaying that a recliner cannot. For that reason, I'd recommend you use a glider over a recliner. 
Are gliders safe for babies?
They are safe for babies, but you'll need to lock it in place when not in use to prevent little fingers from getting pinched in the moving mechanisms of the seat. 
Is rocker chair good for baby?
Rocking chairs can be great for both mothers and babies. Its soothing rock is calming for both parties. 
How long do babies use rocking chairs?
You can use your rocking chair with your baby for as long as you want. It makes a great seat for reading stories to your little one even as they grow older!
Maria Wilcox
Former instructor with an M.A. in Education turned grateful stay-at-home mama to one, I look to share helpful insights related to babies, toddlers, kids, and families for the benefit of real people just like you.