By Lynn •  Updated: 06/15/23 •  16 min read
Hey Mamas and Papas! This site is reader-supported and we earn commissions if you purchase products from retailers after clicking on a link from our site.
Moving your child into a toddler bedroom can be a daunting experience. More than likely, you are worrying about everything from safety to matching bedsheets! Thankfully, there are ways that you can make the process easy and more enjoyable for both you and your toddler. By matching a few colors, throwing in a few accents, and putting on display the things your toddler loves, you're bound to create an awesome space for your little one to enjoy.
So, without further ado, join us as we help you prepare to transition your toddler from their nursery to their own "big kid" toddler bedroom!
Toddler Bedroom Essentials
What Do You Need in a Toddler's Room?
What Are the Absolute Needs in a Toddler Room?
Of course, beyond the scope of safety and décor, you'll want to make sure that your child's room at least has the basics.
The basics that should be included in your toddler's room include:
Fan (if needed)
Cord Covers (if needed)
Space For Play
Needs in a Toddler's Room
Aside from the aforementioned list of things that you absolutely need in a toddler's room, you will also want to insert items and objects that will add aesthetic flair to your child's room. This will make the room feel more personal and inviting. This could come in the form of pillows, rugs, pictures, paintings, and more.
Of course, you can allow your child to pick out their own items, or, you may choose to do this part of the decorating on your own. Just be sure to bear in mind that children tend to love colors. So, if you opt to do a neutral room, try to add pops of colors via throw pillows, shag rugs, and more to liven things up a bit.
Things a Toddler Needs
Just as the question of, "What to bring when traveling with a toddler?" involves toys, it is also true that no toddler room is complete without toys. As such, we consider toys a serious need for toddlers. But the type of toy you place in your child's room is just as important. Make sure that you only have safe toddler-friendly toys on display. Toys with sharp edges, small parts, or are otherwise unsuitable for independent play should always be stored until you are ready to take them out for supervised play.
Tempted to purchase a toy box? You can – and we suggest you do. But consider splitting your child's toys into small, labeled clear colored totes or easily accessible cube storage bins instead of one big box.
One big box of toys can be overwhelming for your child. It might also be more difficult to clean up once your child plays with them.
Labeling and separating toys into small and easily accessible bins allows your child to see where his or her things are, which makes playtime that much more alluring, without added chaos!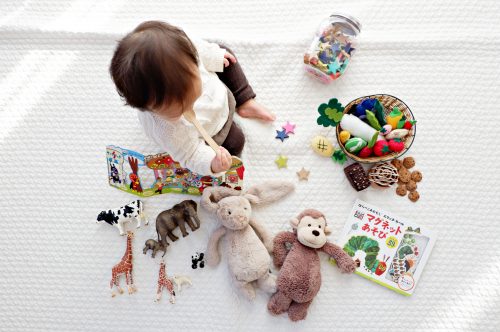 What Every Toddler Needs
Remember that your toddler is small and will need to burn energy and play. In fact, there's an old adage coined by Maria Montessori herself that suggests that play is the child's work. As such, it is essential that you ensure that your child's room offers plenty of space for running, playing, and jumping… safety.
If you have the space, you may consider an indoor jungle gym or pickler triangle to help burn off energy, especially on rainy or snowy days.
Worried about your child getting up by themselves in the middle of the night? You can train your child to watch their own clock so that he or she knows the right time to get out of bed.
Along with this, it is also a great idea to purchase and install blackout curtains so that sunlight does not disrupt your toddler's much-needed rest.
Do Toddlers Need Their Own Rooms?
What Do You Need in a 2 year Old Bedroom
At first you may have been concerned with what to put in a diaper caddy and now you're worrying about what your toddler's room will look like!
Despite the fact that time flies, two-year-olds are still very young. Because of this you'll need to pay very close attention to safety hazards that present themselves while re-doing their room.
While it is likely that you already have already baby-proofed the room — such as having outlet plugs in place and cords tucked away — it is extremely important that you keep an eye out for other potential hazards that may present themselves in your toddler's new room.
To start, you'll first want to ensure that your toddler bed has guardrails. These rails will keep your child from falling out of bed while sleeping. You may also consider purchasing a floor bed which is a common Montessori favorite amongst parents.
Second, you'll want secure all large furniture items to the wall. They should be unable to tip over.
Next, make sure that items like mirrors, lamps, and the like are either well-secured or are made of unbreakable materials.
You will also need items like a changing table – assuming that your little one isn't potty-trained – a small bookshelf, blackout curtains and cube toy storage bins with a cube shelf organizer that sits low on the ground and is placed on its side.
You may also consider alternative storage in your child's closet that houses small or unsafe items from your child such as diaper rash creams, medicines, and so on.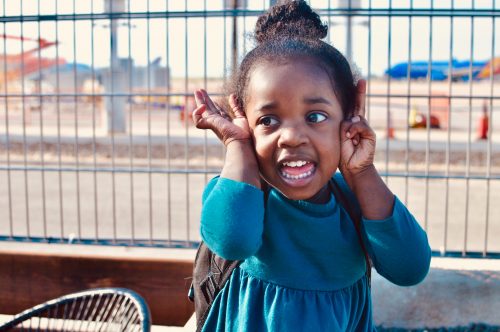 What Do You Need in a 3 Year Old Room?
Three-year-olds are often a world of their own when compared to two and four-year-olds.
Unlike two-year-olds, three-year-old toddlers are much better on their feet. They tend to resist the urge to put things in their mouths. Many are potty-trained. Toddlers at this age are very much into dramatic play, making this a fun age to gussy up their rooms.
Despite added maturity, a three-year-old will still benefit from toddler guardrails, so you'll want to make sure that their bed still has those installed.
In addition, this is a great time to incorporate some of what three-year-olds love most into their bedroom decor. Vehicle-themes, princess-themes, or whatever theme you think may strike your child's fancy are great ideas when doing up a toddler room. Pair the decor with matching pretend playsets, and you'll three-year-old toddler will be beaming!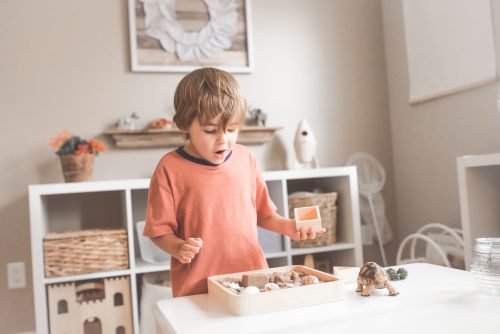 What Else Do You Need in a 4 Year Old Toddler Bedroom?
At age four, your little one may be already enrolled in Pre-Kindergarten or may be preparing to go to school. He or she may already have exposure to reading and writing. They are likely to start to show interest in learning these skills.
Play to this newfound interest by purchasing a low table and chair set if you haven't already. Stock your four-year-old's room with pencils, art supplies, and paper. Put books within reach and rotate them often – every couple of weeks or so – to keep things fresh and interesting.
Also, at this age, your child will be independent. They are likely already voicing their opinions loud and clear. Why not make him or her a part of the room decorating process? Giving your child choices in what his or her new room can look like will only add to the wonder and excitement of having their own space.
Still wondering about bed guardrails? You still might want to keep them on your child's bed until they are at least age five.
Some Tips For Transforming a Nursery to a Toddler's Bedroom
Ensure that your child is ready for a toddler bed and don't feel rushed to transition from the crib. Some children remain in cribs for up to three years, and often this is recommended for safety reasons.
When you do convert your nursery into a toddler room and put your child in a toddler bed, make sure there are bed rails. Some cribs convert to toddler beds on their own as a safer alternative to a regular bed.
Think about color themes ahead of time so that when you are in the store, you aren't tempted to buy something that looks good but doesn't quite match the color scheme or theme of your child's room.
Involve your child as much as you are comfortable. Older children will benefit greatly from being given a choice over the way their room looks, and smaller tots will enjoy picking out a few things for their room as well.
Pay attention to the lighting in your child's room. Sometimes, overhead lighting can come across as harsh. Purchasing a small kid-friendly lamp or a night light is a great way to add ambiance to your child's room.
Love plants? Many plants clean the air in a room and give an inviting look to a space. Adding greenery will have to be executed carefully, though. Watch out for glass or ceramic vases that can become safety hazards and always keep the plant out of immediate reach if your toddler is younger.
Remember that if you plan to do a room in neutral colors, you will want to add pops of color throughout to spruce things up. Gray pairs well with pink or blue and beige can go with practically anything. Feel free to mix, match and experiment.
As previously mentioned, having a room thermometer is a need in most toddler rooms. Having a room thermometer will help you keep an eye on the temperature and adjust as needed, without the added guesswork.
Along with a room thermometer, you'll want to make sure there is a fan handy in case your child's room gets too warm. Store the fan out of the way, if you are able, so that cords are not accessible while the fan isn't in use.
Have an artsy child? He or she will likely love having his or her artwork displayed in their room. You can make a special space on the wall to display his or her artwork and then change out the artwork in it periodically. Store any paintings and artwork that aren't currently on display in a portfolio. You'll love pulling out the artwork and looking at them years down the road!
When it comes to decorating a child's room –or any room really– textures can make a huge difference. When selecting throw pillows, rugs, and more, consider mixing up the textures. A shag rug, fluffy throw, or sequin pillow, for example, can add some thrill to an otherwise boring kid's bedroom.
Running out of child bedroom ideas? Along with added textures from blankets, pillows and rugs come textures from toys. Yes, adding textured toys can make a room enjoyable just as can décor. Consider adding an appropriately-sized soft teddy bear or stuffed race car to your child's room to add texture while also giving your toddler something to cuddle.
Love making memories? Snap photos of them and have them printed. Then, make a photo gallery on your child's wall at a level where they can see them. This puts a fun and personalized spin on your toddler's room, and he or she will likely love pointing out all of the familiar faces in each photo.
Although many believe that toddlers are too young to absorb educational material, it still helps to post fun age-appropriate educational posters or other basic educational visuals in your child's room. You can point them out every once in a while, or even every day. You'll be surprised what your toddler can pick up!
Remember always to keep safety first. Some items may seem like a great fit for the theme or overall color scheme of your child's room, but sometimes, certain items simply aren't age-appropriate. Steer clear of small items that pose choking hazards, heavy furniture that can be easily toppled, or fixtures that can fall over and break.
Want to upgrade your child's nursery to a toddler room but are short on cash? Don't worry. Grab a fun color of paint or select a colorful wallpaper and pair it with a new rug and a toddler bed. The room will likely take on a whole new look that your toddler will love, for less!
Be careful not to overdo your toddler's room! Despite the fact that toddlers are very messy, the truth is that toddlers crave order and cleanliness. For that reason, you'll want to abstain from over-cluttering your toddler's room with décor and toys. Aim to keep their room cute but simple with plenty of space to play. To help with this, try to keep toys on rotation. Put out only a few toys at a time each week for your child to play with so that the room is left uncluttered, easy to clean up, and better accessed by your child.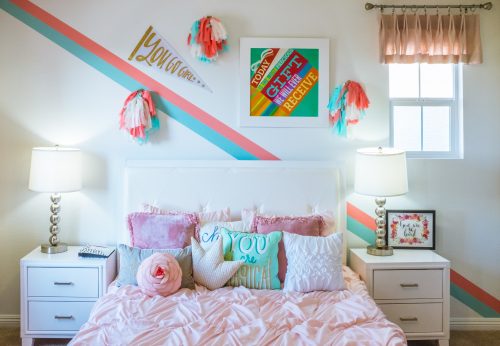 FAQs
How can I decorate my 2 year old's bedroom?
When decorating a bedroom for a 2-year-old, keep in mind their personality, and also, what they already have in their sleep space. If you know that your child loves flowers, go ahead and designed a room to reflect that. Not into themes? That's okay too. Design the room in a way that is visually pleasing for your toddler but offers plenty of space to play. Also, ensure that all toys are visually displayed in an organized manner, rather than shoved into one giant toybox. Rotate toys as needed to keep his or her interest and to eliminate clutter.
How do I make my toddler's room cozy?
A great way to cozy up your child's space is to add textures, and also, lighting. Be sure that the lighting you choose is free of potential hazards and dim enough to be enjoyed. Nightlights are great options and flashlights are fun too. Pair your lighting with some textured pillows and a textured throw rug and you've got a quaint and cozy toddler space!
What about toddler room storage?
Again, the best way to deal with storage is to only put a few things out at a time for your toddler to play with. Rotate toys as often as you see fit to keep them engaged.

As for clothing and shoes, you may organize this any way you see fit, though some parents like to put displaying clothing options on a small rack outside of the closet for older children to pick what they will wear.
What should I put in my kid's bedroom?
Some toddler bedroom essentials for are an age-appropriate bed, space to play, toys, and storage of some sort. You'll also need a light source, and preferably, natural lighting if that is possible. Other than that, it's totally up to you how you design your toddler's bedroom as long as it is safe and is stocked with the essentials.
Toddler Bedroom Essentials Are Completely Customizable!
To close, it is important to keep in mind that there is no one set way to design a child's room. Still, there are plenty of ways to spruce up your child's old nursery to get it looking brand new.
Remember to place safety first. Ensure that hazardous objects are out of reach and that there are guardrails on your child's bed if needed.
Also, do your best to keep your child's room simple. Overdoing a toddler room can make the room look chaotic, and your child may not be as drawn to it.
Give your child a measure of control over what he or she wants their room to look like if they are old enough.
All of this and more can lead to a well-designed and functional play and sleep space for your toddler to love!
Lynn
Lynn is a freelance writer, a wife, and a mother of two beautiful kids. Lynn started Infant Empire with the aim of making parenting easier for fellow mums and dads. She believes the parenting tips provided here will be of great help to all parents.