By Lynn •  Updated: 11/23/23 •  14 min read
Hey Mamas and Papas! This site is reader-supported and we earn commissions if you purchase products from retailers after clicking on a link from our site.
If you've ever wondered, "Does my baby actually need a crib?" you aren't alone. People from all over the world have used crib alternatives for ages. Curious about what else is out there? You've come to the right place. Join us as we explore various crib alternatives for your little one. 
What Can I Use Instead of a Crib?
Apart from knowing what toiletries for baby are most important, finding a place for your baby to sleep is also a high priority! Thankfully, when it comes to baby and toddler bedroom essentials, there are a variety of options available that you can use as a safe place for your baby to sleep. 
While a crib is a great option due to safety, longevity, and its ability to potentially convert to a toddler bed, those who live in smaller spaces, are on tight budgets, or who wish to travel may opt for other options. 
The following are a few of the best alternatives out there for safe baby sleep:
Playard (Pack 'n Play): Playards are very popular contraptions that can be used for a variety of things. Many people use playards for traveling, but they can also be used as playpens, a safe place to nap, and yes, as a crib! Just be sure to read the specifications on the playard you pick. Some playards come equipped with a sleeping mattress and some may only come with a flat mat. If you want the baby to sleep soundly, be sure to get a mattress that fits your playard if it doesn't already come with one; standard crib mattresses will not fit your playard. 
Mini Crib: A mini crib is a fabulous option for those living in small spaces or who need a portable way for baby to sleep. While mini cribs aren't exactly travel-friendly, they can often be folded up or wheeled away to be placed in a small storage space in the home. Moreover, mini cribs have similar design features to regular cribs; they are simply smaller and some are set on wheels. For those wishing to have the "real" crib look but for a lower price point, the mini crib might be the perfect solution. 
Co-Sleeper: If you want to co-sleep with your baby but are worried about safe sleeping practices, you may wish to check out a co-sleeper. Co-sleepers, otherwise known as bedside bassinets, are wonderful options for those who want to feel close to their baby without risking injury or suffocation by means of co-sleeping in the same bed. Each co-sleeping bassinet typically comes with a side that is either removable or slides down so that the bassinet connects to your own bed in a seamless way while still keeping the baby safe and separate. 
Bassinet or Cradle: A bassinet or cradle is a popular option for those who want a baby sleep space that has a smaller footprint for tight spaces. Bassinets or cradles are convenient because they are much smaller, lighter, and more portable. Moreover, bassinets and cradles come in wildly cute colors and designs. The downside? Babies often quickly outgrow cradles and bassinets meaning you'll end up having to purchase something else for your baby to sleep in down the road.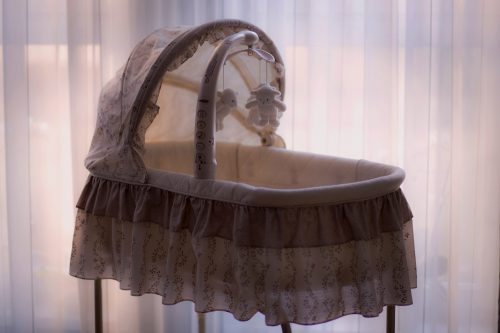 Doc-a-Tot: Whether you call it a Doc-a-Tot, baby nest, or something else, these contraptions are generally aimed at keeping your baby sheltered while resting in your bed. If co-sleeping in the same bed is something you want to try, you may wish to give a Doc-a-Tot or a similar sleeper a try.
Cardboard Box: Yes, you heard that right. You can place your baby in a (clean) cardboard box to sleep when they are quite young. In fact, Finnish babies have slept this way for years. However, experts are now beginning to wonder if cardboard boxes for babies are a bad idea due to placement, material, and potential hazards presented from the box itself. 
Travel Crib: A travel crib is specifically designed to be taken with you as you are out and about. They are generally easy to fold and store, though they are often much tinier than playards tend to be. This can be a really good thing when you are on the road and need to preserve as much space as possible! 
Moses Basket: A "Moses basket" may sound foreign to you. But actually, it is a very popular way to provide babies with safe sleep. A step up from a traditional cardboard box (more on that later), a Moses basket is just what it sounds like: a tightly woven basket with handles that rests upon the floor. Since your baby is so close to the carpet, you'll want to make sure it is clean so that your baby can sleep safely.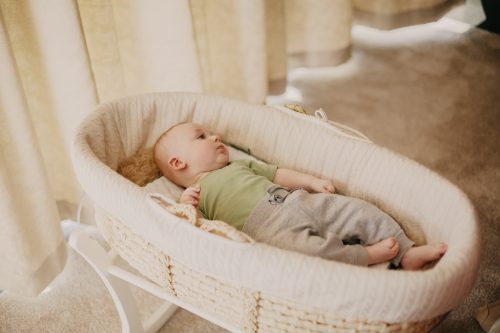 Floor Bed: Lastly, another popular crib alternative option to explore is trying out a floor bed. A floor bed is simply a mattress placed on the floor without any confinements. The issue? There aren't any rails or guards that would prevent your baby from falling off of the mattress or getting into things you wish they wouldn't. For many Montessori parents, it is this very reason that floor beds sound so attractive. After baby-proofing the room, Montessori parents encourage the baby to explore the world around them even during sleep times. However, this can be highly unsafe if not executed correctly. 
Do Babies Really Need a Crib?
Do babies really need a crib? Not really!
But what babies do need is a safe space to sleep. That could look a variety of ways, depending on your lifestyle and needs. Your "perfect" crib alternative may look completely different than someone else's, and that's okay! Whether you are short on space, need something you can pack up and throw in the car, or need something that can fit in your bed, there are choices available for you. The most important thing is that your baby is comfortable and safe. 
Note: Be careful when considering options for co-sleeping. While there are many co-sleeping cradles and bassinets available, some may still choose to forgo these options and place their baby directly in bed with them. If this is you, you should consider all of the facts surrounding co-sleeping with your baby before deciding if this is truly the safest option for you and your child.
Are Cribs Outdated?
Cribs may seem outdated to some people, especially given all the options out there on the market. However, cribs today are just as relevant and useful as they've always been. Still, it is important to purchase a crib or crib alternative that fits your needs. 
Just because everyone else has a crib doesn't mean you have to if it isn't something that is feasible for you. Options like bassinets, mini cribs, playards, and more offer more options due to their size and portability features. This makes them more attractive to some people.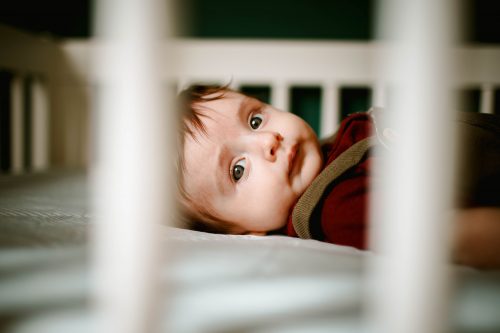 Is It Okay to Use a Pack and Play as a Crib?
Yes, it is okay to use most playards for sleep. As long as the Pack 'n Play does not state otherwise. Just be careful what you place in the Pack 'n Play with your baby. As usual, don't add any blanket, pillows, or soft stuffed toys until your baby is at least a year old. Doing so may pose suffocation hazards to your little one. 
You'll also want to make sure that any replacement mattresses or toppers you purchase are safe and appropriate for your baby. All mattresses should touch the sides of the interior of the playard, with no gaps. Moreover, sheets should fit properly, with no loose material. Lastly, if you have a baby that is under 12 months, you should consider forgoing a mattress replacement. Simply use the mat that comes with your playard, as this is likely the safest option for young babies.
Can a Newborn Sleep in a Cot Straight Away?
A "cot", or infant bed, not only can be utilized by an infant straight away, but should be. It is generally recommended that babies should not sleep in the same bed as their parents due to the risk of suffocation or SIDS. Thus, placing a newborn in his or her own safe sleeping space, such as a cot, is ideal.
Can Babies Sleep on a Mattress on the Floor?
Many parents find a floor bed to be a quick, easy, inexpensive, and attractive option for little ones. But be careful. The lack of confinement for your baby could be a problem, especially once your baby begins to roll. Moreover, placing your baby on the floor can cause the baby to become susceptible to chilly drafts and any bacteria lingering on your carpet or flooring. This is not only true of floor beds but of cardboard boxes and Moses baskets as well.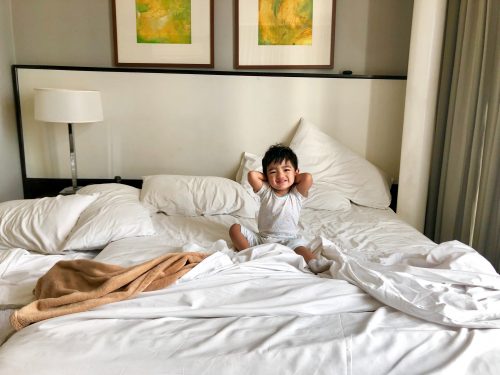 Types of Crib Alternatives
Crib Alternatives for 1 Year Old
Remember that a one-year-old will likely be too big for a bassinet, cradle, Doc-a-Tot, or other miniature crib alternatives. Thus, the best crib alternative for a child this age is likely to be a playard. Playards can be quite spacious and have multiple uses. They also tend to be portable and lightweight. There are many accessories you can buy for a playard – a breathable blackout cover, that will make sleeping easier for your toddler. 
Crib Alternatives For Toddlers
Similar to our recommendation for crib alternatives for a one-year-old, a toddler will likely get the most benefit from sleeping in a large playard. Though some may consider purchasing a toddler a twin bed or placing them on a mattress on the floor, we find toddlers ages 1-2 to be still too young to have this level of freedom. It is best to keep a child this age contained to keep from hurting themselves. A playard is a great choice as they tend to be roomy, but still lightweight and portable. 
Crib Alternatives For 6 Month Old
A six-month-old who is able to roll should be placed in a travel crib or playard. This is because a bassinet can be shallow and dangerous for a rolling baby. You may be able to still place your 6-month old in a mini crib. Though he or she may outgrow it quickly.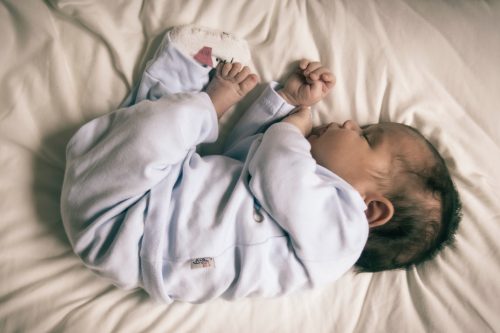 Crib Alternatives For 9 Month Old
A 9-month-old may do best in a travel crib, playard, or mini crib (if he or she can still fit in it). A cardboard box, Moses basket, bassinet or other small space likely won't cut it once your child is 9 months of age. He or she is likely to need much more space than what those crib alternatives can provide. 
Crib Alternatives For Small Spaces
Probably the worst baby sleep setup for those who have small spaces is a standard crib! Thus, if you are looking for crib alternatives, you are in for a real treat. Most crib alternatives are nowhere near the size of a standard crib, although Pack 'n Plays and other playards can come close. Playards can be rather large! 
Still, mini cribs, Moses baskets, bassinets, and other crib alternative options should offer you plenty more floor space than a standard crib if you are living in tight quarters.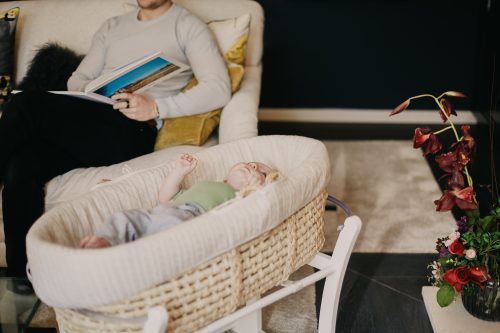 Crib Alternatives For Travel
One of the best things you can buy for traveling with a baby is a travel crib. A travel crib tends to be smaller than playards and is lightweight and foldable. 
Note that Pack 'n Plays are also good options for traveling. Though they may be slightly weightier and larger than traditional travel cribs. 
Crib Alternatives For Baby: You've Got Plenty of Options!
When it comes to safe baby sleep, you've got plenty of options. Whether you need something for when the baby is quite small or you need larger options, there are plenty of crib alternatives to choose from on the market that could potentially fit your needs.
Just be sure to choose a sleeping option that is safe. Never place harmful objects or sleeping materials in your child's crib or crib alternative as these could pose serious suffocation risks. 
Lynn
Lynn is a freelance writer, a wife, and a mother of two beautiful kids. Lynn started Infant Empire with the aim of making parenting easier for fellow mums and dads. She believes the parenting tips provided here will be of great help to all parents.