By Lynn •  Updated: 03/22/22 •  16 min read
Hey Mamas and Papas! This site is reader-supported and we earn commissions if you purchase products from retailers after clicking on a link from our site.
When buying a crib, it is important to know your needs before you make a purchase. So, when it comes to a mini crib vs crib, you must inform yourself of the difference between the two in order to make the right purchase. 
Purchasing a crib that won't fit your needs is going to be a waste of money and time. However, knowing the pros and cons of mini cribs vs cribs can help you make the best decision in regards to which one will be best for you and your baby. 
In this article, we will dive into the various aspects of mini cribs vs cribs. We'll explore how they differ and how they are the same. We will also observe how each crib is best utilized and what the disadvantages are for each. 
So, without further ado, let's get started. 
Mini Crib vs Regular Crib
When shopping for a crib, you may be tempted to overlook phrases like "mini" tacked on to the word "crib". After all, a mini crib can't be that much different from a normal crib, right? 
In some ways, mini cribs and standard cribs are similar, but there are major ways in which they are not. The following are a few ways in which you can expect a mini crib and a standard crib to differ:
Size
Weight
Conversion Properties
Portability
Mattress Options
Bedding Options
Cost
Size
The size of a mini crib and a standard crib tends to be the biggest difference between the two types of cribs, but don't overlook this detail. Sizing matters especially when it comes to bedding and mattresses. We will get into actual measurements and dimensions of mini cribs vs standard cribs later in the article. But for now, just know that size will play a huge factor in whether or not a standard crib or mini crib will work best for you.
Weight
It goes without saying that a mini crib will be much lighter in terms of weight than a standard crib. Standard cribs can weigh as much as 100 pounds, while mini cribs will vary in weight. Why is this important? Because if you plan to carry or transport your crib for any reason, the weight of the crib will likely be of interest to you. To know for sure, check the specs of the crib or mini crib you want to purchase ahead of time. 
Conversion Properties
Not every crib or mini crib will be a combo crib, but some will be. If you do happen to find a combo crib, you'll need to look closely at the type of combo crib your standard or mini crib claims to be so that you'll have an idea of how your new crib can be used in the future. 
Got a toddler keeps getting out of bed in middle of night? You won't know until you reach that phase. Having a standard crib for young toddlers can be helpful because it keeps them safe. However, if your baby grows out of a mini crib before he or she is ready for a "big kid" bed, then you may be in a position where you'll need to purchase a crib…again!
Never assume that your new crib or mini crib offers the same conversion properties as other brands. It is often the case that a mini crib converts to a twin bed but not a toddler bed, while standard cribs may convert to toddler beds (with guardrails) but not twin beds. Read the details given about the crib you wish to purchase before making a decision about whether or not it is right for you.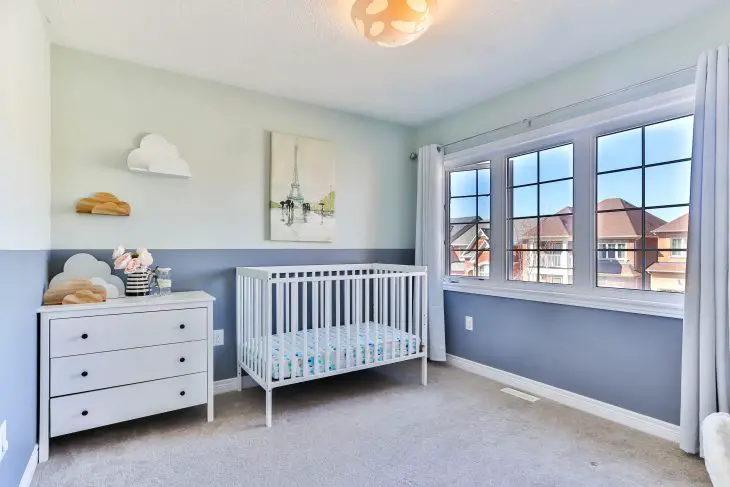 Portability
You may not care much about wheels on your crib. After all, they aren't typically aesthetically pleasing! Still, wheels can be a big help when it comes to transporting your baby crib from room to room. This is often the case for people, like grandparents, who need to store a crib away when it is not in use, and also, for parents and nursing mothers who may need the crib bedside for middle-of-the-night feeds. Whatever the reason, wheels on cribs can be a huge advantage and are typically only found on mini cribs.
Note: While wheel options on mini cribs are a major plus, one should keep in mind the fact that cribs with wheels may provide a shaker foundation than cribs that are stationary. As such, you'll need to ensure that any crib you purchase that has wheels has a wheel-locking option and that you adhere to weight requirements given by the manufacturer to prevent any accidents. 
Mattress Options
Nearly all crib mattresses have the same required dimension for a standard crib, but this is not so for mini crib mattresses. Thus, you will need to bear in mind that any mattresses you receive at a baby shower will need to fit the dimensions of your mini crib if you choose to get one. Otherwise, the mattress that you were gifted may prove useless. 
Bedding Options
Like mattress options, bedding options are also limited if you go with a mini crib. You will need to find a mini crib mattress that fits the exact dimensions of your mini crib. And because all mini cribs are not created with standardized dimensions like standardized cribs, the process of selecting the right bedding can be cumbersome. 
Cost
Last but not least, mini cribs tend to be less expensive than standard cribs. This can be a consideration for people who may be on tight budgets. Still, those who purchase mini cribs must remember that their child will only be able to use the mini crib until they grow out of it. And since a mini crib is small, that could happen sooner than one might expect. At that point, the only other option is to purchase a new bed for the toddler or buy a new crib, depending on the child's age. For this reason, it may be best to buy a combination mini crib rather than a basic mini crib, as this will at least last you as your child grows older.
How Big Is a Mini Crib vs Standard Crib
Mini Crib vs Crib Dimensions
Standard cribs must be 28 inches by 52 inches give or take half an inch. Standard cribs fit standard crib mattresses and the same is true of standard crib bedding. This makes it easy to buy bedding and a mattress without having to worry that it won't fit.
Mini cribs, on the other hand, often come in sizes of around 24 inches by 38 inches, however, this isn't always the case. Always pay close attention to dimensions when purchasing a mini crib and do try to go with mattresses the manufacturer suggests. 
If you don't want to go with mattresses and bedding suggested by the manufacturer, you must be diligent to match the right dimensions to the bedding or mattress that you select so you don't end up wasting time and money.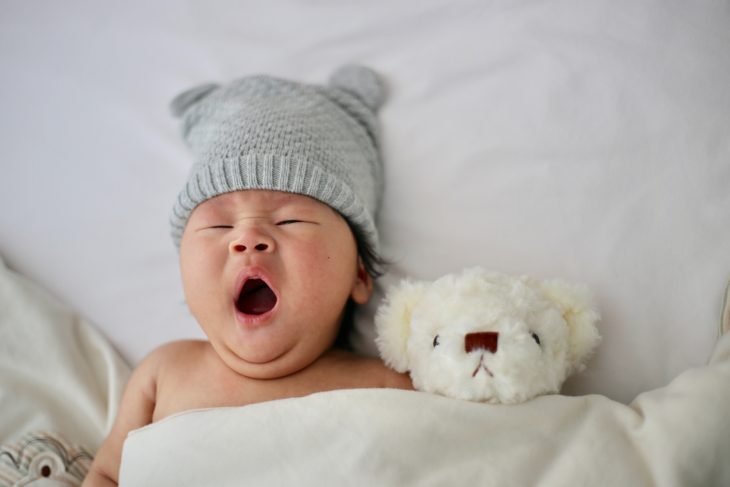 Mini Crib Uses
There are many reasons people choose to use a mini crib. 
One of the most common reasons is lack of space. When living in an apartment or smaller home causes you to feel cramped, you'll likely need to opt for a mini crib to maximize floor space.
Another reason moms tend towards mini cribs is if they find out they are pregnant with twins. Because having twins, or any other number of multiples, means that you'll have to buy multiple cribs, it makes sense that one might choose a crib that is smaller so as to create more space in the nursery. 
Baby won't sleep unless held? Cribs that are miniature are more likely to have portable options like wheels that can bring your child closer to your bed as you sleep and make feeding at night easier. 
Maybe it isn't that your house or apartment is small, so much as it is that the nursery itself is small. Sometimes, parents opt to have the nursery in a smaller room or they may opt not to do a nursery at all. Not having a nursery at all means that the baby will stay in the same room with the parents. No matter which is the case, the fact remains that room will need to be made for a baby crib. Thus, purchasing a mini crib would be the best option for maximizing space in a small nursery or parent's room. 
Grandparents and other people that are caregivers apart from mom and dad can also benefit from having a mini crib. Because a mini crib is smaller and can be portable, they are perfect for those who may need to store the crib in a smaller space when it isn't in use. Just be sure to opt for a mini crib with wheels to make the moving and storing process easier.
If you already have a kiddo but don't have a spare room, chances are that the baby will need to stay with the eldest sibling. In this instance, having a full-sized crib in a room already occupied by the sibling can cause things to become cramped quickly! Opt for a mini crib instead to make the space more comfortable and less congested. 
Lastly, a tight budget can certainly keep one from wanting to buy a standard crib. If this is the case for you, it is totally understandable to want to have a mini crib, but make sure you buy a mini crib that converts if money is really an issue. Otherwise, you'll have to buy either another crib or bed once your baby grows out of the mini crib, and some kiddos may not even be ready to go without a crib until they are 2-3 years old.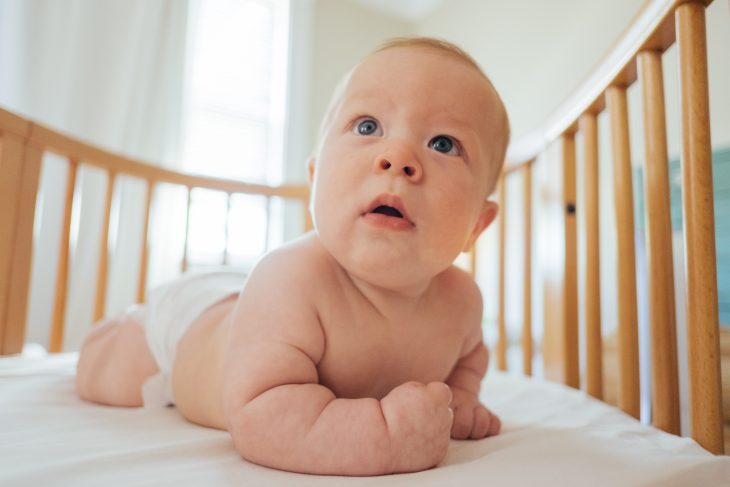 Mini Crib vs Crib Specs
Mini Crib Assembly vs Crib
Assembling a mini crib will likely be much easier than assembling a standard crib. With that being said, it will really depend on the brand and the intensity of the setup. Thus, you shouldn't always assume that a mini crib will be easier to put together, but generally speaking, they can be. 
Mini Crib Weight vs Crib
A mini crib will typically weigh much less than a standard crib, and will be easier to move at that. Cribs can weigh up to 100 pounds while mini cribs may weigh less than that, at between 50–75 pounds. To be certain, check the weight in the specs before you purchase it if weight is of importance to you. 
Sometimes it helps to know how much a crib weighs if you know you'll be moving it a lot or if you are worried about whether or not you'll be able to lug it into your home or take it up steps.
Mini Crib Construction vs Crib
Concerning the overall construction of a mini crib vs crib, the two differ slightly. Mini cribs tend to come with wheels and are much smaller. They also tend to convert to twin beds with footrests rather than toddler beds with guardrails. Standard cribs, however, often convert to toddler beds with guardrails and are larger. They are not typically portable, and most often do not come with wheels. 
Pros and Cons of Cribs vs Mini Cribs
There are pros and cons to owning both a crib and a mini crib. Consider the following :
Standard Crib
Pros: 
Can Be Used For a Long Period of Time
Standardized Sizing Makes Bedding and Mattress Buying Easy
Can Sometimes Be Converted to Toddler Bed With Guardrails 
Cons:
Can Be Costly
Is Not Typically Portable
Can Be Heavy
Mini Crib
Pros:
Can Be Portable 
Can Sometimes Be Converted to Twin Bed With Footrest
More Affordable
Can Be Lighter Weight
Cons:
If on Wheels, Mini Crib May Not Be as Stable
Can't Be Used For a Long Period Of Time Without Converting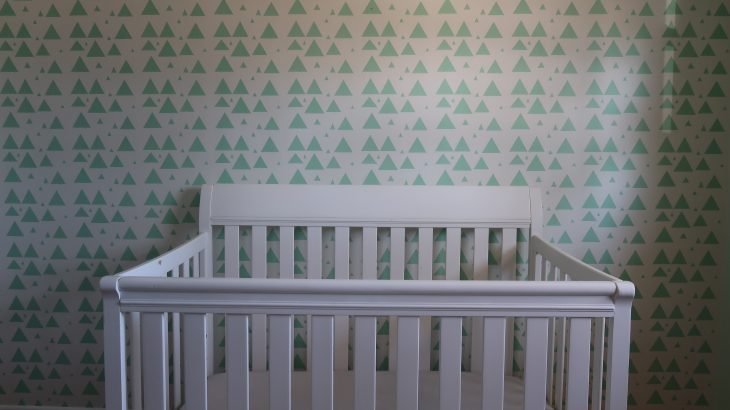 Best Mini Cribs on the Market:
Dream On Me Aden 4-in-1 Convertible Mini Crib: This 4-in-1 convertible mini crib converts to both a daybed and a twin bed. You can rest easy knowing that your little one will be able to use this for a while. Reviewers agree that it is a sturdy and high-quality option and that its smaller footprint is perfect for tight spaces. 
Dream On Me, Edgewood 4-in-1 Convertible Mini Crib: Another Dream on Me convertible crib, this model is has a uniquely modern deep olive hue that would be the perfect accent to any nursery. Like the Dream On Me Aden convertible crib, this also converts to a daybed and twin bed. Take note though that its dimensions are different. As always, pay very close attention to mini crib dimensions and buy mattresses and bed sets accordingly. 
DaVinci Dylan Folding Portable 3-in-1 Convertible Mini Crib and Twin Bed: Basic yet elegant, the DaVinci Dylan Portable Crib features wheels that allow you to easily move the baby's bed to wherever you please. It also comes with four adjustable mattress positions. 
Graco Stella 4-in-1 Convertible Mini Crib with Bonus Mattress: Graco has done it again! This beautiful mini crib by Graco comes with its own support mattress that is 2.5 inches thick. It also has a water-resistant cover. It has a non-toxic finish and a 1-year warranty.
Babyletto Origami Mini Portable Crib Folding with Wheels: Babyletto Origami Mini Crib is perfect for those looking to open up more floor space. It has a foldable frame and comes on wheels making it ideal for storage when not in use. Moreover, this mini crib comes with wheels making it easy to transport from room to room. 
Storkcraft Petal 5-in-1 Convertible Mini Crib with Mattress: We've saved the best for last! This Storkcraft mini crib may be more expensive than the rest. But it is still cheaper than many standard crib options. It comes with its own plush waterproof 3-inch supportive mattress. It converts easily from a crib to either a daybed, a toddler bed, a twin-sized bed with high foot support, or a twin-sized bed with low foot support. You can easily adjust the crib with three height settings. It's also backed by a 1-year warranty. You can't go wrong with this one! 
Mini Crib or Standard Crib: The Choice Is Up to You!
Ultimately, whether you purchase a standard or mini crib is completely up to you. If you've got a tight space, want to save a little cash, or are using the crib as a caregiver outside of the baby's immediate household, then you may wish to give a mini crib a shot. 
Though not all mini cribs are foldable and portable, many of them are. This makes them an ideal choice for when you need to put the crib in storage. Moreover, mini cribs often convert into daybeds or twin beds so you can get more use out of them even once your child grows older. 
We hope this will help you spot key differences between mini cribs and standard cribs!
Lynn
Lynn is a freelance writer, a wife, and a mother of two beautiful kids. Lynn started Infant Empire with the aim of making parenting easier for fellow mums and dads. She believes the parenting tips provided here will be of great help to all parents.