By Lynn •  Updated: 03/16/22 •  11 min read
Hey Mamas and Papas! This site is reader-supported and we earn commissions if you purchase products from retailers after clicking on a link from our site.
Toiletries for baby…what do you need? When having a baby, it's crucial that you have the right things on hand to keep your little one's hygiene up to par. From shampoos to soap, and maybe even a few things you never thought of, we will explore the many options available for keeping your baby's health and hygiene in top shape. 
Why Buy Baby Toiletries
Baby toiletries are essential for the care and keeping of your baby. Your baby will likely use toiletry items daily, and therefore, you'll need to keep them accessible for when opportunities present themselves. 
A toiletry can be defined as anything that can be used for cleaning or grooming oneself. Soaps, shampoos, conditioners, and lotion easily fall into this category. Thus, we're sure you could understand the importance of having these items on hand even before your baby is born.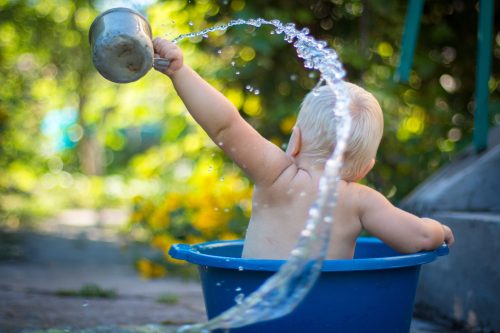 When to Buy Baby Toiletries
So, when exactly do you buy toiletries? That's a good question.
Many toiletries are purchased by friends and family and are received at baby showers (what happens at a baby shower is truly magical when you are on a budget but need a ton of new items for baby). But toiletries can also be purchased at any point during your pregnancy. And yes, we do recommend buying these products before giving birth!
You will want baby toiletries on hand the minute your baby is born so that you can use them right away. Hospitals will also have baby soaps, shampoos, and the like on hand to use on your baby, but you will need to utilize your own baby care items as soon as you arrive home. 
Moreover, many hospitals allow parents to supply the toiletries used on their babies from the moment of birth. So, if you want your nurse to give your baby his or her first bath in something specific, you'll want to have that on hand ahead of time. 
What Are Some of the Bathing Products Available For Infants?
There are countless bathing products available for infants. Therefore, before entering a store to create your registry or to pick items yourself, it is imperative that you have a list of toiletry items you'd like to pick up so you aren't thrown off. 
Before choosing products for your baby, especially products that will make direct contact with your baby's skin, be sure to look over reviews for the item ahead of time, if you can. You never know if your baby will have sensitive skin and, oftentimes, parents that leave reviews can let you know if the product irritates their baby. Do everything you can to avoid buying baby products that may irritate your baby's skin. 
What Toiletries Do You Need For a Baby?
What Toiletries Do Babies Need?
Toiletries needed for a baby won't vary much from month to month. However, you may be safer using one kind of baby product over another when your baby is very young.
For example, choosing a baby wash that is fragrance-free and dye-free is a great idea when caring for newborn baby skin. However, an older baby may (or may not) require this type of diligence as his or her skin begins to mature. 
Whatever the case, the list for both newborn and older babies' toiletry needs will look nearly identical. But there will be a few changes because of the factors just mentioned. Have a look for yourself in the sections below! 
What Toiletries to Buy For Newborn Baby?
What Toiletries to Buy For Baby
Newborn babies would do well to have the following toiletries: 
Pure Almond or Coconut Oil (For Hair or Potential Cradle Cap)
Diapers
Cotton Swabs
Comb and Brush (Very Soft Bristles and Specifically Designed for Baby)
What Do You Need For Baby's First 3 Months?
What Toiletries Do I Need For Baby?
As mentioned, the list for babies older than three months may look identical to the list for newborns or baby's under three months. 
The following are toiletries that are beneficial for after the first three months: 
Top Best Baby Toiletries For Newborns
The Honest Company, Diaper Rash Cream – Formulated without icky petroleum, mineral oil, dyes, synthetic fragrances, and more, this diaper rash cream is perfect for sensitive newborn skin. It even boasts of containing organic shea, tamanu and coconut oils. 
WaterWipes Original Baby Wipes – It's no secret that newborns have sensitive skin. By using wipes composed of almost 100% water, you lower the risks of your baby developing a rash or having a bad reaction to the ingredients within the wipes. Their purity also makes them perfect for wiping even the most sensitive skin on little hands, necks and faces. 
Baby Dove Sensitive Skin Care Wash – Dove Sensitive Skin wash is fragrance free and is formulated without the use of harmful dyes, parabens or phthalates. It does a fantastic job providing much needed moisture to a newborn's sensitive and often very dry skin. 
Baby Dove Sensitive Skin Care Body Lotion – Just like the body wash, Dove Sensitive Skin lotion offers the perfect amount of hydration but without fragrances, dyes, and parabens. Moreover, this lotion goes on silky smooth without leaving behind a sticky residue. 
Baby Dove Shampoo (and Wash) – We've already mentioned Baby Dove's Sensitive wash as it is perfect for newborn skin. But the original Baby Dove is great for hair. This gentle 2-in-1 duo provides rich moisture to both hair and body. It will leave your newborn's head of hair smelling fresh and feeling clean. 
Cotton Swabs Organic by Sky Organics – Made of all-natural and chlorine-free cotton, these cotton swabs are perfect for cleaning hard to reach places like belly buttons and crusty noses. Just be sure not to jab these into your newborns ears or up your baby's nostrils. Always clean the ears using a safe method. 
FridaBaby Styling Comb Set– A soft but high-quality comb and brush is a must for newborn babies. This head hugging-hairbrush grips your hand and contours to the shape of your baby's head. It gives your baby a comfortable hair brushing session that is of great benefit to his or her hair and scalp.
Rhoost Deluxe Baby Nail Clipper – Attractive and practical, this high-quality deluxe baby nail clipper is specially designed to give mom, dad and caretakers excellent grip while cutting tiny baby nails. 
Huggies Special Delivery Hypoallergenic Baby Diapers – Soft, hypoallergenic and described as the best fit for newborns, Huggies Special Delivery diapers are loved by new parents for more reasons than one. Many claim that the diapers perform well in terms of leakage and are perfectly soft for sensitive newborn skin. 
Top Best Baby Toiletries For Older Babies
Now that your baby is a little older, you could choose to stick with the aforementioned (fantastic) baby toiletries, or you may choose to switch things up a bit. Take a look and some of our other favorite baby toiletries, but this time, for older babies! 
A+D Original Diaper Rash Ointment – A+D Diaper Rash Ointment has for a long time been hailed as one of the best in terms of treating diaper rash cream. Lanolin and petrolatum helps seal out wetness which also aids in diaper rash healing and comfort for your little one. 
Huggies Natural Care Sensitive Baby Diaper Wipes – Huggies has done it again with their Natural Care Sensitive Baby Diaper Wipes. These wipes are luxuriously thick and are designed to be gentle on fragile baby skin. 
Baby Dove Lavender Sensitive Skin Care Baby Wash – Now that your baby is a little older, you may choose to switch to a wash containing a light and gentle fragrance if desired. With Baby Dove, fragrances are designed to be suitable for eczema prone and delicate baby skin, a major plus in our book.
Baby Dove Lavender Sensitive Skin Care Baby Lotion – You know we had to pair the aforementioned Baby Dove Lavender Baby Wash with the Lavender Baby Lotion right? The two together offer a luxuriously scented yet still gentle moisturizing powerhouse of a combination. They keep your baby's skin feeling soft and smelling oh-so fresh. 
Shea Moisture Baby Essentials Baby Body Wash & Shampoo – Looking for something to really moisturize dry baby hair? Shea Moisture Baby Body Wash and Shampoo just might be for you. The shampoo is especially wonderful for kinky-coily hair types. Just be careful. Some fragrances within the Shea Moisture Baby Wash and Shampoo line contain essential oils and fragrances that might not be beneficial for sensitive or eczema-prone baby skin. 
Chibello 4 Piece Wooden Baby Hair Brush and Comb Set – Ready to level up from your traditional baby brush and comb set? It's time for an upgrade! Try this natural goat bristle wooden comb and brush set to nip tangles in the bud.
Huggies Little Movers – Love Huggies Special Delivery? You can also try Huggies Little Movers, especially once your baby starts crawling. Little Movers are soft, flexible and designed to move with your child– hence the name! 
Older Baby Bonus Buys
Baby Toothbrush Toddler Toothbrush – Once you see your baby's first tooth peeking through, you may want to buy an age-appropriate toothbrush. Get your baby used to having his or her teeth brushed. These little toothbrushes are perfect for introducing the concept of toothbrushing to your baby. They also doubles as a teething ring…Score! 
Hello Oral Care Kids Fluoride Free and SLS Free Toothpaste – Does your old baby fight you tooth and nail when it comes to getting their teeth brushed? Try Hello Watermelon fluoride-free flavored toothpaste. The taste is so good that it might get your little one to relax a little!
Where to Get Baby Toiletries
Baby toiletries can easily be purchased online by suppliers such as Amazon, or they may be purchased in-store. One of the nice things about purchasing items online is that it is quick and easy to make an online registry. You also can see reviews of products real-time so that you aren't wasting your money buying something that isn't effective or that might prove harmful to your baby.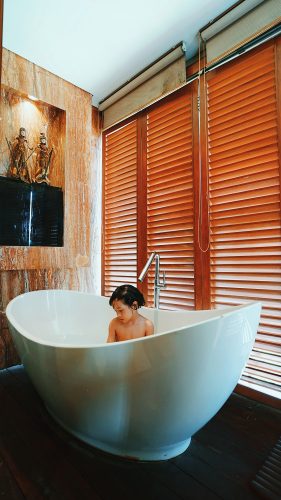 Things to Keep in Mind When Buying Baby Toiletries
Because most toiletries will have direct contact of some sort with your baby's skin and hair, you must know about your products before applying them to your baby. Err on the side of caution. We strongly recommend you NOT purchase skin care toiletries that include essential oils and "light" fragrance. Though these products are often touted as "natural" and may even have glowing reviews, the truth is that you don't know how your baby's skin will react to those ingredients when fresh out of the womb. 
If you really want to use a product that contains those lovely scented fragrances make sure they are advertised as being for baby. Also, wait to use them when your baby is at least 3 months old. 
As always, never continue the use of a product that irritates your baby's skin.
Buying Toiletries For Baby- Always Do Your Research!
Buying toiletries for babies can certainly be fun (just wait until you finally get to buy toddler bedroom essentials!). But there are things you must consider before applying certain types of toiletry items to your baby's skin.
From body wash to wipes, some toiletry products are better than others. Especially when your baby is fresh out of the womb. Be sure to nurse and care for your baby's delicate skin by purchasing fragrance-free gentle products whenever possible for those first few months of life.
We hope this helps! 
Lynn
Lynn is a freelance writer, a wife, and a mother of two beautiful kids. Lynn started Infant Empire with the aim of making parenting easier for fellow mums and dads. She believes the parenting tips provided here will be of great help to all parents.