By Maria Wilcox •  Updated: 09/30/22 •  10 min read
Hey Mamas and Papas! This site is reader-supported and we earn commissions if you purchase products from retailers after clicking on a link from our site.
In need of the pull ups with velcro sides for potty training your little one? If so, you're in the right place. In this article, we'll be uncovering some of the most popular pull ups that feature velcro sides. We'll even give you a bit of advice concerning potty training and pull ups at the end.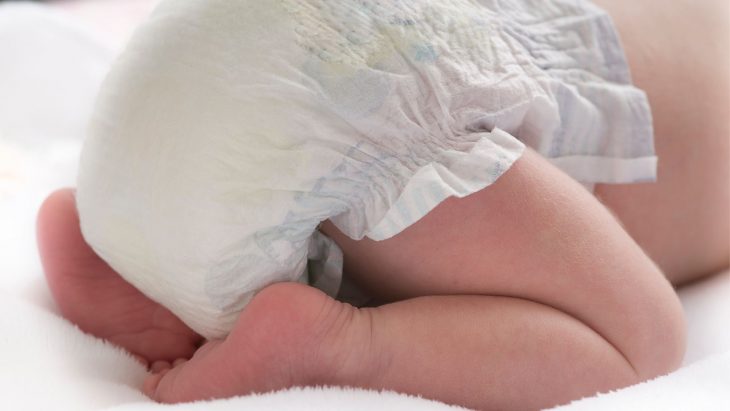 Do Pull-Ups Diapers Have Velcro Sides?
Yes and no. If you're talking specifically about Huggies Pull-Ups (the actual brand) then yes. Most Huggies Pull-Ups do have velcro sides which makes diaper changes much easier when you've got an older baby or toddler. 
But do all "pull ups" (i.e. training pants) have velcro sides? Not really.
As of now, there are only a few select companies that sell training pants with velcro sides with Huggies dominating the market. However, you may be able to find a few generic store brands that tout their own training pants with velcro sides. If you're looking to purchase Pampers' training pants, know that they won't (usually) have velcro sides. But this doesn't mean they can't be removed from the sides.
Actually, many training pants, even if they don't have velcro, can still be removed from the side. To do so, simply rip the diaper from the top at the sides. They'll usually rip easily and can be removed. This helps when changing a poopy pull up because it means you don't have to have your child "step out". 
Never tried to have your child step out of a poopy pull up? Well, let us tell you, it isn't fun! Poop on the feet, poop on the legs–sigh. It's much better to rip the sides when dealing with poo.
We're sure you'll agree!
Top 4 Pull Ups With Velcro Sides
Now that we've got the basics out of the way, it's time to chat about which pull ups with velcro sides are actually worth your time. 
Truth be told, it's mostly Huggies that offer this feature. And as most of us know, Huggies is an extremely high-quality brand. With that said, we've gathered up a few of our favorite Huggies training pants velcro sides We've even offered a generic store brand recommendation for you to check out at your leisure.
Note: Bear in mind that companies switch up designs on their training pants all the time. This can throw a real wrench in things when you're going for something specific. As always, be sure to double-check any of the claims made here when shopping. Some brands, like Parent's Choice from Walmart, can decide to ditch options like velcro sides seemingly overnight!
As originally stated, most Huggies Pull-Ups are going to feature velcro sides. But true to Huggies' style, they offer much more than just that. They feature fun and familiar characters on them that excite children to wear them. They fade when your child becomes wet to further motivate them to stay dry.
On top of these things, Huggies Pull-Ups come with soft sides and extra absorbency. Their leak protection is designed to guard kiddos in areas they need it most. Children can easily pull these training pants up or down with little assistance (most times). 
Prices are fair but remember that the bigger the size you buy the fewer Pull-Ups you'll get in a pack. And, as advertised, the velcro sides option on these is perfect for changing the Pull-Up the same way you would a diaper.
Okay, so we know that Huggies Original Pull-Ups are amazing, but what about Nighttime Pull-Ups? Well, they're just as good, if not better! 
Not only do they feature velcro sides, but they also are more absorbent. In fact, this style of training pant claims to absorb more than a diaper. This makes them perfect for heavy wetters!
Huggies Pull-Ups Nighttime offers 12 hours of unmatched leak protection. They also feature the same fun characters on them that the Originals do. Characters will vanish once your little one becomes wet, so it's a great learning tool for potty training. 
The only downside? Sometimes the adjustable velcro on the sides can become irritating at night. As your child tosses and turns, their training pants can become disheveled. This can leave scratchy velcro exposed and can end up irritating delicate skin. 
Needless to say, this can lead to interrupted sleep at night if you aren't careful. Thus, we recommend you think long and hard about this purchase if you're currently dealing with sleep issues with your tot.
Another Huggies Pull-Ups variation? Yep, you've certainly got options! Huggies New Leaf is yet another Huggies Pull-Up that features coveted refastenable sides to make changes much easier. Not only do they feature velcro sides but they're also eco-friendly. 
Huggies New Leaf are touted as being the "softest" training pant made from only plant-based ingredients. These ingredients are formulated to be less irritating for healthier toddler skin. In fact, these Huggies are clinically proven to be hypoallergenic, which is perfect for littles suffering skin irritation.
What about leaks you say? Huggies New Leaf rocks in this category too. Despite their plant-based and hypoallergenic claim, they still live up to their name in terms of containing mess. Thus, Huggies New Leaf, though pricier than other selections, is definitely worth trying.  
Up & Up Training Pants
Did you know Target has its own version of training pants? It's true. And they're pretty darn good if we say so ourselves! 
As of the time this post was written, Target's Up & Up training pants still had velcro sides. This makes it easy to adjust the training pants for the perfect fit. It also permits you to change your toddler's pull up the same way you would a diaper.
And the price point on these? They're definitely worth shouting about!
The only con when it comes to buying Up & Up training pants is that, like Huggies, the velcro can be irritating. You'll want to ensure that the velcro isn't exposed to your baby's skin. Otherwise, you may find your toddler to be grumpy and uncomfortable. And no one wants that!
Cons of Velcro Training Pants
 We've gotten the pros out of the way, now let's face the cons. Of course, there's a lot to love about velcro sides for training pants, but there are some downsides, too. Let's review some of the things you should keep in mind when opting for training pants.
Itchy Scratchy
We've said it a couple of times now, but it bears repeating. Velcro sides, though convenient, are particularly scratchy on training pants. This means that if any of the velcro is exposed, it risks irritating your baby's skin. 
Don't try to ignore this if it happens. Always readjust your baby's training pant until it feels comfortable. If you are unable to secure a comfortable fit, it may be best to try a 360-style training pant instead. This styling option may work a bit better. 
Diaper-Like Feeling
You may have already heard this, but it's very true. Because of the way training pants are made they end up feeling a lot like diapers. The truth of the matter is that diapers tend to be easier to deal with and are often cheaper to boot. Think long and hard about whether or not your child really needs a pull up before you switch over from diapers.
May Discourage Potty-Training
Huh? Yes, you read that right. Wearing training pants may actually discourage your little one from using the potty! 
The reason for this is that training pants feel a lot like diapers. Thus, there's no real motivation for your child to want to use the potty. Instead, it is best to make your child wear underwear (or nothing at all)! When your child pees or poos in their underwear, the result is discomfort.
It is this uncomfortable feeling that will cause the child to avoid wanting to have another accident. Will it be messy? Yes. A headache? Yes!
But ultimately, if your child's training pants are delaying the training process, are they really worth the money? That's up to you to decide!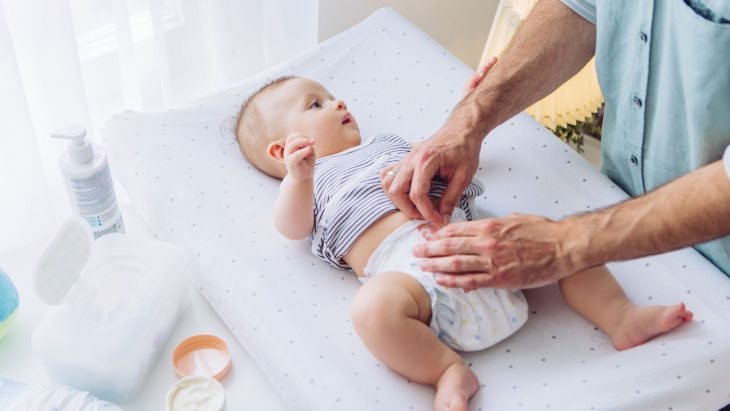 Do Pulls Up With Velcro Sides Exist? Yes, in Abundance!
Yes, pull ups with velcro sides exist. Most of the ones you'll find on the market will be manufactured by Huggies. There are some generic brands, like Up & Up, that feature them too.
Having said that, the training pant market is always changing. Some brands that once featured velcro sides may no longer offer them. Do your research and read the package to be sure. 
As mentioned, be sure to really consider whether or not you want to use training pants in the first place. In some instances, they may prove to be more of a hindrance rather than a help. 
FAQs
Can you tear the sides of Pull-Ups?
Most Huggies Pull-Ups feature velcro sides that you can unfasten and refasten at your leisure. Alternatively, training pants that don't feature velcro sides can typically be torn. 
Do Pull-Ups diapers open sides?
Yes, most Huggies Pull-Ups training pants will open on the sides. 
Can you refasten Pull-Ups?
In most cases, refastening Huggies Pull-Ups is indeed possible thanks to velcro sides!
Maria Wilcox
Former instructor with an M.A. in Education turned grateful stay-at-home mama to one, I look to share helpful insights related to babies, toddlers, kids, and families for the benefit of real people just like you.