By Maria Wilcox •  Updated: 05/26/22 •  16 min read
Hey Mamas and Papas! This site is reader-supported and we earn commissions if you purchase products from retailers after clicking on a link from our site.
Do you have a living room that you feel has been overrun with toys and kids? If so, this toy storage ideas for living room post is for you. Parents everywhere are faced with the dilemma of keeping their kids occupied while also maintaining a living space that is aesthetically pleasing. But how can this be done in a way that is practical? Join us as we uncover several tips you can use to save your living room without having to sacrifice your kid's favorite toys in the process. Ready? Let's go.
Toy Storage Ideas Living Room
How Can I Hide My Toys in My Living Room?
Hiding your kid's toys in your living room is a lot simpler than you think. It takes little planning, but in the end, it will be well worth the effort.
To begin hiding toys in your living room, we'd first suggest you decide what's worth storing in your living room and what isn't.
Consider the following steps to begin the process of hiding toys in your living room:
Determine What Should Stay and What Should Go: Let's face it. There are some toys that simply migrate from your child's room or play area, such as that giant neon bouncy ball intended for outside, that just shouldn't be there. Should you find a place in your living room to store it? Of course not! If the toy/s your child has in the living room isn't meant to be in there, then you need to find a place to store it where it can be used for its appropriate purpose. In the case of the ball, the appropriate place for this would likely be in your garage, closet, or another area where it is out of sight and out of mind until it is time to go outdoors. There is no need to create storage in your living room for items that really shouldn't be there.
Quality Over Quantity: Once you've figured out what toys your child tends to play with most in your living room, it is time to look at the quantity of those toys. Yes, your child may have several toys that migrate into your living room per day, but that doesn't necessarily mean they have to stay there. If the toys are many, you'll want to narrow down the amount of toys you actually create storage for in the living room to only as much as you are willing to see on your floor on a daily basis. You should then store the other toys in a place your child can't get to–for now. Worried that those toys you stored will be deeply missed by your child? That could be! But that's also what "toy rotation" is for. But don't worry–we've got more details on toy rotation coming up later! 
Choose Aesthetically Pleasing Toys to Keep on Display: This is totally optional but can work, especially if there are larger toys you want to display in the living room. While most of us would probably prefer not to display toys as part of our living room décor, the truth is that some toys, like rocking horses and the like, are too big and clunky to move around the house from room to room each day. The trick to keeping these toys out is to avoid buying them in bright colors that will clash with your overall décor,. Rather, purchase them in natural materials, neutral shades, or whatever colors may match your living room at the time. Items that are pretty to look at such as some of the Best Montessori Toys For 1 Year Olds work well. This also works for when you are buying blankets for tummy time, or for when you are using floor gyms and loungers for your infant. While the colors may seem drab, boring, and unfulfilling upon purchase, you'll be glad you avoided neon pink when you realize how nicely neutral colors blend in with your living room décor. 
Nix Items That Don't Matter: We know its hard, but once you've narrowed down the toys that your child actually plays with and have displayed any toys (if you wish) that you want in your living room, you'll be left with toys that you know your kid is on the fence about. At this point, you can decide to donate a few of these toys, or create storage spaces for them. Remember that creating storage space for them elsewhere in your house is a feasible and perfectly viable option. But it will also limit the space in your house that you legitimately need for other things. Be sure that you assess how many toys your child actually needs and what toys your child actually plays with on a daily basis before moving on to creating storage for those toys unnecessarily. Of course, educational toys or toys for toddlers that help with speech are always a good idea to leave in reach for when your child needs them, so don't feel pressured to give these kinds of toys away.
If you've followed the steps above you should now be left with the toys your kids really love and that are appropriate for living room play (you're out of here bouncing ball!).
Now you can move on to practical storage solutions for the toys you have left. Keep reading for more details!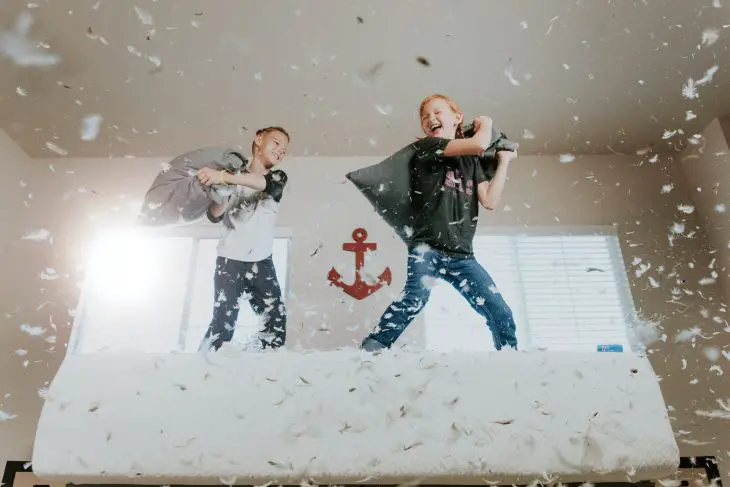 How Do I Create Storage in My Living Room?
Again, creating toy storage in your living room isn't hard, and can be accomplished as easily as 1-2-3!
Now that you have, hopefully, just a few of your child's favorite toys to be played within the living room, you can now create storage places for them. 
The first thing you'll want to do is to pick storage that naturally flows with your living room décor and overall function.
Before adding bins and the like to your living space, we first recommend using what you have. This might mean utilizing the inside of an ottoman as a storage space or buying a couch and coffee table that has built-in storage. You may also be able to utilize an empty shelf or two in your living room closet, or – gasp – empty space you may have in your kitchen or adjacent rooms.
Whatever you choose, we recommend you go with utilizing pre-existing storage spaces first before you start buying actual storage items, as this will keep your floor space open without cluttering up your space with more "stuff"- especially if your home is small, to begin with! 
Once you've utilized all of your pre-existing storage space, it is time to consider creating actual storage spots for your child's toys. This might entail purchasing a toy storage bin cube and placing your child's items in them in your living room.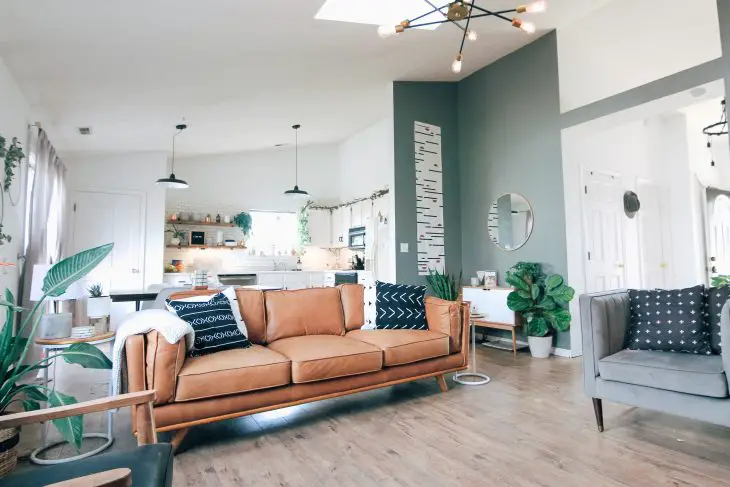 Be careful though. 
Remember that your living room is not your child's room nor is it the playroom. Therefore, you won't want to purchase these storage solutions in "kid-friendly" colors. Rather, you'll want to focus on purchasing any storage solution items in neutral colors and textures that work well for your living space so as to make everything flow, rather than clash.
Other storage options? Consider buying a large neutral-colored wicker basket with a top to throw your kid's toys in. Or take one of your old totes to use as storage and throw a stylish blanket overtop of it to keep it from being seen.
Don't have totes and a large blanket? Pull your sofa out from against the wall and place a few toys, especially larger toys, out of sight until your child is ready to play with it.
All of these ideas can keep your living room looking seamlessly clean when it is time to tidy up while keeping the toys accessible enough for your child to play with on a daily basis. 
How Do You Organize Baby Toys in Living Room?
Remember, you don't have to store every one of your baby's toys in the living room.
For the toys your baby loves to have, consider getting rid of the idea of a general "toy box". Place only 5-6 of your baby's favorite toys in storage in the living room. 
Use the ideas mentioned above for storage ideas. Or if your baby's toys are small, consider using a stylish blanket as a storage solution!
To do this, simply place all of your baby's smaller toys on the blanket for your baby to play with. When it is time to clean up, simply wrap those small toys up in the blanket to be stowed away until the next playtime. When it comes time to play again, grab the blanket, and place it back down with the toys still on top.
It may sound unconventional, but this tip can really work – especially when you're sleep-deprived and don't have the energy to keep things organized!
Living Room Storage Ideas
Living Room Toy Storage Furniture
We know, we know. You probably don't want to spend any more money on things you don't actually need. But we promise these toy storage solutions will save you headache and floor space in your living room. Consider the following types of toy storage furniture to keep unwanted toy clutter at bay!
Living Room Basket
A living room basket that is of natural color and texture can really add a nice touch to your living room while functioning as storage for your child's toys.
Toy Box For Living Room
We don't recommend stuffing your 'toy box" to the lid. Unless you want it to explode all over your living room floor, for you to clean up on a daily basis. But this can work to keep your child's favorite toys stored neatly in your space.
Remember to select a toy box in a color that will work well in your living room. And try your best to avoid purchasing storage bins with silly characters and logos. That is, unless you dig that sort of thing being on display!
Toy Storage Cabinets
Remember, you may already have cabinet space or other preexisting storage. You can utilize these for toy storage without having to buy a thing. You may also install cabinets if it helps, to store additional toys. 
Kids Toy Storage Bins
Choose toy storage bins in your living room in colors that complement your space. Save the kid-friendly colors and characters for your child's room, not your living room! 
Toy Storage Table
Believe it or not, there are coffee tables and cute kid tables that both contain storage space that can add sophistication and class to your living room. We recommend grabbing these options to stylishly store your child's toys in a discreet way. 
How Do You Store Toys in a Small Room?
Living Room Storage Ideas For Small Spaces
When you've got a small space, reducing the amount of toys and clutter you're dealing with is key. Utilize space you already have, whittle down the amount of toys your child has, and rotate toys throughout the days, weeks, or months (the frequency is up to you) to make it so that you have more space. Store the toys you haven't selected for your child to play with that day in his or her room or playroom before later rotating it with your child's current play toys at the time that you see fit. 
Toy Storage Ideas For Small Spaces
Other ideas for toy storage in small spaces? Consider storing toys up off of the floor, like on a floating shelf.
You may also choose to eliminate toys once and for all. Or keep all toys in your child's room to create more space in the main room. Choosing this option may require more cleaning and transporting of toys back to your child's room on a daily basis. But it may be the right remedy when you've got a smaller space and not enough room to store all of your child's toys in the living room.
Pro-Tip: Use a laundry basket to transport toys from room to room on a daily basis. It'll save you a few trips!
Small Living Room Storage Ideas
Aside from the strategies already mentioned, be sure to take a long hard look at the toys that your child has. Determine whether or not they really need to stay.
If you want to hang on to toys, put items in storage. Maybe also hide them in the garage, or an available closet if you must. But do your best not to create storage spaces for them in your already tiny living room if they aren't in use. This will only add to the clutter and the stress. 
Storage Solutions For Toys
Large Toy Storage Ideas
Remember, you can hide large toy items behind your couch. Or better, in a living room closet if you'd rather not see them on a daily basis.
If this isn't possible, your next best option is to buy a version of that toy that is neutral or goes with your living room theme.
If you can't beat 'em, join 'em, right?
Toy Room Storage Ideas? We've Got You Covered!
We know that toys scattered about your living room aren't likely your cup of tea. But don't worry, there are plenty of storage solutions that can keep this from happening.
From purchasing furniture that has built-in storage compartments, to using blankets and stylish baskets to chicly hide everything in, you've got options.
Reclaim your living room and keep clutter at bay. Good luck! 
Maria Wilcox
Former instructor with an M.A. in Education turned grateful stay-at-home mama to one, I look to share helpful insights related to babies, toddlers, kids, and families for the benefit of real people just like you.