By Lynn •  Updated: 03/31/22 •  10 min read
Hey Mamas and Papas! This site is reader-supported and we earn commissions if you purchase products from retailers after clicking on a link from our site.
Looking for a few suggestions for the best Montessori toy for 1-year-olds? If so, then you've come to the right place! Montessori is an educational philosophy developed by Italian scientist Maria Montessori that focuses on independence, freedom, respect, and the unique individuality of each child. 
Toys that fit the Montessori way of thought cater to children in a way that differs from the typical toy sold in modern department stores today. Thus, finding Montessori toys that can stimulate, engage, and enrich your child can be tricky, but don't worry…we're here to help! Join us as we explore the best Montessori toys for 1-year-olds. 
What Do 1 Year Olds Like to Play With?
At one year, most toddlers love to play with items that are open-ended. Whether you are looking for the best age appropriate toys for 6 month old to 1 year or toys for toddlers with speech delays, simple items like cardboard boxes, containers you may have laying around, or toys that you purchase from the store can all engage and stimulate your one-year-old's brain.
In addition to open-ended activities, your one-year-old will benefit from toys that encourage both fine and gross motor development. By offering your child a wide range of activities that aim to improve fine and gross motor movement, you allow your one-year-old the opportunity to learn. In fact, it is Maria Montessori herself who coined the phrase, "Play is the work of the child". 
The following are a few ways to encourage play the Montessori way with your one-year-old:
Practical Life (helping you clean, bake, fold laundry, etc. in an age-appropriate way) 
Playing With Items in Their Natural Environment (nature, water, cardboard boxes, plastic containers)
Purchasing Well-Made High-Quality Toys Made of Natural Materials (see below for ideas)
Building Vocabulary Through Practical Life and Play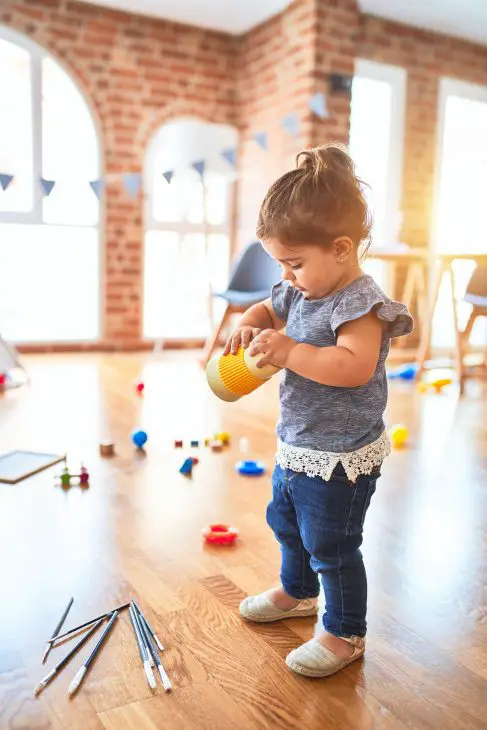 Which Toy Is Best For 1 Year Old?
Best Toys For 1 Year-Old
As previously mentioned, there are loads of toys that can help your child build a sense of responsibility, while also challenging their fine and gross motor skills. Check out the following list of toys that are Montessori-friendly and are great additions to your one-year-old's toy collection:
Stacking Rings
Nesting Dolls
Busy Boards
Realistic-Looking Dolls
Tunnels
Wooden Puzzles
Realistic Animal Figurines
Barn
Wooden Walker
Pikler Triangle or Other Climbing Equipment
Slide
What Are Montessori Toys For 1 Year Old?
Montessori Toys For 1 Year Olds
Montessori toys for one-year-olds are generally made of natural materials and are focused on helping your child hone in on particular skills. They are typically not electronic and won't have the "bells and whistles" that many of today's toddler toys on the market have. 
Montessori toddler toys focus on ideas such as object permanence, hand-eye coordination, independence, spatial awareness, and memory. Some Montessori toys and activities you may already have in your home! 
Montessori Toys For 1 Year Old Amazon
1 Year Old Montessori Toys
Elite Montessori Coin Box with Thicker Coins: Babies and toddlers that play with the Montessori-inspired coined box gain practice with fine motor movements by using their hands and wrists. It also teaches the concept of object permanence. 
Melissa & Doug Standard Unit Solid-Wood Building Blocks: Plain wooden blocks may seem like a bore, but blocks lend themselves to a stealthy imagination! Build buildings, houses, garages, towns, and so much more using plain blocks. 
Hand-Painted Nesting Monkeys: These cute monkey nesting cups are only one variety of a plethora of nesting cup types available for one-year-olds. Nesting cups teach your child about sizing and keep them interested as they explore how each cup fits in relation to the next cup. This is also a great toy for hand-eye coordination and fine motor movement. 
Radio Flyer Classic Walker Wagon: If your child is a year old, it is possible that he or she is still learning to walk. Why not purchase a classic Radio Flyer wagon to encourage even more walking? This walker wagon is specially designed to allow children to be able to push it to practice walking, while also enabling children to take advantage of the wagon portion. Toddlers can load their favorite toys in the wagon and transport them around the house. 
Schleich Farm World 4-Piece Farm Animals: One of the best times to purchase realistic-looking animal figurines is around the age of one year. That's because it is at this age that your child begins to enter his or her "language explosion" and begins to speak more words. That's where toys like these come in! Take their interest in farm (or safari) animals and leverage it to your advantage by naming every animal for them on a regular basis. You may be surprised to find that your child starts knowing the names of all the animals, and may even point to them over time! 
Terra by Battat – Wooden Animal Barn: Another great toy idea for one-year-olds is a barn to house the aforementioned animal figurines in! This barn by Battat is high-quality and perfect for use as a Montessori toy. 
FDP SoftScape Toddler Playtime Corner Climber: Stuck inside and need a way to get your toddler's energy out? This soft corner climber is perfect to stick in your child's room or playroom as it encourages gross motor play while staying neatly tucked in a corner so that it isn't in the way. 
Tunnel for Toddlers 1-3: A tunnel is another great indoor option for little ones that need to burn off some steam. It provides ample opportunity for exercise as your child crawls their way through to get to the other side. Another idea? Throw a small ball in the tunnel and have your child lift one end. He or she will love watching the ball roll back and forth as they lift and lower the tunnel. 
DIY Montessori Toys For 1 Year Old
Yes, we know that many of the Montessori-inspired heirloom toys are strikingly beautiful. But there is often a hefty price tag associated with high-quality toys such as these. But don't worry. There are plenty of D.I.Y. Montessori toys that you can make at home for your toddler to do. 
Bear in mind that though Montessori-inspired toys can be incredibly engaging, well-crafted, and useful, they are not the only ways to incorporate Montessori at home.
The following list is a blend of both toy and practical-life activities that can stimulate your child's mind throughout the day.
Examples include:
Stringing Pasta Through a Pipe Cleaner
Banana Peeling
Helping Around the House
Assisting in "Folding" the Clothes
Helping "Do" Laundry
Brushing Hair
Brushing Teeth
Squeezing Sponges 
"Coloring" (Must be supervised)
Matching Cards to Objects
Pouring Water 
Pouring Beans (Must be Supervised)
Montessori Toys 6-12 Months
If you've got a baby that is 6-12 months, don't worry! Even younger babies can benefit from Montessori-inspired activities. Try the following:
Spice Containers Filled With Beans or Rice
Colored Rice Sensory Bag
Sensory Bottle
Textured Fabric 
For even more ideas on what Montessori-inspired toys to offer your one-year-old, check out Lovevery. They are a toy subscription known for their high-quality evidence-based Montessori-related toys that are customized to target the skills relevant to your child's age group. 
FAQ
How Many Toys Should a 1 Year Old Have?
While you may not think that the number of toys a baby or toddler should have matters, the truth is that it certainly does! While you may buy, or receive, many toys, it may be worth it to place most of them in storage and only take out a few at a time for your baby or toddler to play with.
This is because your baby or toddler can quickly get overwhelmed by the amount of toys around them, and as such, may become disinterested in playing. What's interesting is that when you remove the vast majority of toys, babies and toddlers become much more engaged in what you've placed before them.
With this in mind, we recommend only offering anywhere from 8-12 toys at a time to your one-year-old and rotating those toys with toys in storage as often as you see fit to keep things interesting. 
Notice that your toddler plays with one toy, all the time? Don't try to force your child to play with something else. Oftentimes, the toy that your child picks is the toy that is developmentally appropriate for them which can be why they are drawn to it daily. As long as it is a safe and age-appropriate toy, try to follow your child's lead when it comes to play and never overcrowd his or her environment. 
Montessori Toys For One-Year-Olds Are Readily Available
Montessori toys are great learning opportunities for your little one, and some you can even make for free at home! Remember that at the core of Montessori is an emphasis on playing upon your child's natural curiosity and need for independence. Be sure to include practical life activities in your day-to-day schedule in unison with a few high-quality Montessori toys to further engage and stimulate your toddler's mind. 
Lynn
Lynn is a freelance writer, a wife, and a mother of two beautiful kids. Lynn started Infant Empire with the aim of making parenting easier for fellow mums and dads. She believes the parenting tips provided here will be of great help to all parents.