By Maria Wilcox •  Updated: 06/29/22 •  3 min read
Hey Mamas and Papas! This site is reader-supported and we earn commissions if you purchase products from retailers after clicking on a link from our site.
There are many foods you can offer your baby for baby-led weaning, but zucchini for blw is one of the easiest and most nutritious of them all. In this post, we will delve into why zucchini for blw is a good option, and also, how to prepare your zucchini to make sure it is safe for your little one.
What Age Can Baby Have Zucchini?
It is recommended that a baby starts eating zucchini at the age of 6 months old. Provided that this vegetable is properly prepared, it will provide the perfect taste and texture for babies first starting out. 
How Do You Cut Zucchini For BLW?
How to Cut Zucchini For Baby Led Weaning
Cutting zucchini for baby-led weaning is easier than you think.
For babies that are first starting on their baby-led weaning journey, you'll want to cut the zucchini into large spears. This will help your baby to grip and gnaw at the zucchini and will lessen the chances of choking.
How to Cook Zucchini For Baby BLW
How to Prepare Zucchini For BLW
Preparing zucchini for your little one can be accomplished a couple of ways. 
First and foremost, you can choose to steam your baby's zucchini. This will allow the veggies to maintain their nutrition without becoming too charred (as may be the case when roasting zucchini). 
To steam zucchini, start by washing your zucchini and cutting it into large vertical spears.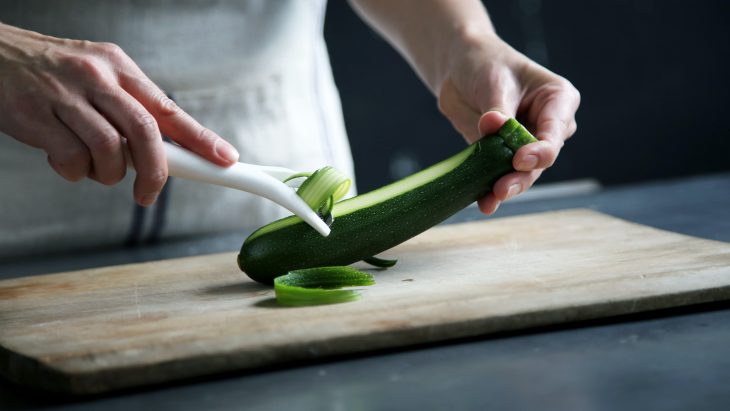 Once the zucchini is cut, put it in a steaming basket and place it over water in a pot. Bring the water to a boil. Once the water is boiling, turn down the heat to medium, cover and allow the zucchini to steam for about 10 minutes or until soft. 
Other ways to serve your baby zucchini is to roast it or boil it. Both of these methods will produce zucchini that is soft.
However, roasted zucchini might develop charred spots that are bitter and unappetizing to your little one, and boiling your zucchini may cause the nutrients to leech into the surrounding water rather than stay retained in the vegetable itself.
Therefore, we strongly recommend you choose to steam your baby's vegetables over other method types. 
How to Give Zucchini to Baby BLW
Zucchini BLW Recipe
Aside from giving your baby zucchini spears, you may also consider getting creative and offering zucchini fritters or zucchini muffins to your baby instead.
The recipes for these baby snacks are fairly easy, and babies 9 months old or older will likely enjoy them with no issues. 
BLW Zucchini Fritters
Baby Led Weaning Zucchini Muffins
Is Zucchini Good For BLW? We Say Yes!
While zucchini muffins and fritters may best be enjoyed by babies 9 months old and older, babies that are 6 months old will benefit greatly from being served freshly steamed zucchini cut into spears. This delicious and healthy snack is mild-tasting enough to suit your baby's taste buds while providing them with rich nutrients to complement their diet of daily milk.
Here's to healthy and happy eating for baby! Cheers!
Want more BLW posts? Here you go!
Maria Wilcox
Former instructor with an M.A. in Education turned grateful stay-at-home mama to one, I look to share helpful insights related to babies, toddlers, kids, and families for the benefit of real people just like you.