By Maria Wilcox •  Updated: 09/30/22 •  7 min read
Hey Mamas and Papas! This site is reader-supported and we earn commissions if you purchase products from retailers after clicking on a link from our site.
The difference between a size 4 vs 4T can be hard to determine. In fact, just looking at these two sizes side-by-side can be downright confusing. Are they the same size? Are they different? Relax! Although deciding between these two sizes can admittedly be frustrating, know that there are only a few differences between the two. In some cases, there may even be no difference at all! Join us as we explore all you ever wanted to know about 4 vs 4T sizing.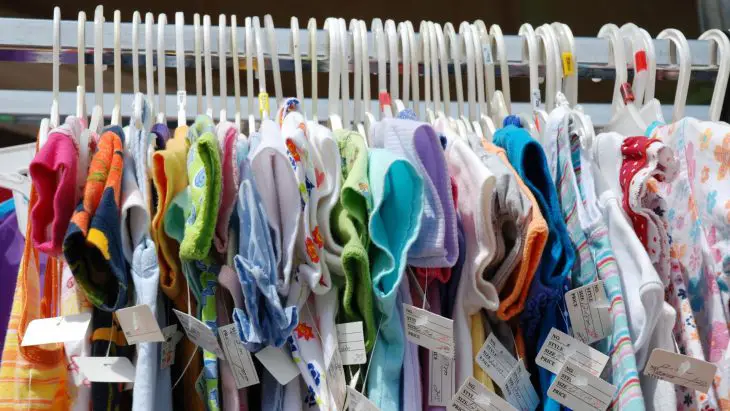 What Is the Difference in Children's Sizes 4t vs 4?
The difference between sizes 4 vs 4T isn't usually much, but it's enough to be noticeable. In most cases that is! Both size 4 and 4T are meant for four-year-old children, but there are often times still differences between them.
The following are general measurements that can highlight the differences between a 4 and 4T. However, you should know that these measurements are by no means standard across brands. 
4T : 39-41" in height and 33-36lbs in weight
Size 4: 42-44" in height and 37-41lbs in weight
As you can see, most of the differences between the two are only a few inches in height, and a few pounds in weight. The same is true of sizes 5T and 5. Still, the differences are enough to make an impact on how clothes fit a child. Therefore, it is important that you measure your child in order to be able to pick the best size between the two. 
Difference Between 4 and 4t
As noted, there is usually a difference of a few inches here and there when it comes to comparing size 4T with size 4. However, there are a few other differences between these two sizes you may be interested in knowing about.
In case you don't know, the "T" in toddler clothing specifies that the clothing is for toddlers. It is for this reason that you may or may not notice differences in sizing when it comes to 4T vs 4.
To start, 4T clothing is often designed for toddlers wearing diapers. Thus, you may find the clothing to have more room in the seat of the pants. Many toddler clothes will also feature adjustable straps around the waist. 
For shirts, you may find the sleeves to be shorter and the width of the shirts to be wider. 
Of course, all of this is completely subjective. As you'll see soon, there are some companies that make no distinction between the two seizes at all! Still, many companies do make the effort to design these two sizes differently. Thus, knowing the general differences between them can really help when you're selecting clothes for your child. 
What is the Difference Between Kids 4 and 4T?
Kids clothing marked as a size 4 will differ from 4T in that they will be designed for kiddos who are potty trained and also, may have a lankier build than the traditional toddler build. For example, you may find that size 4 shirts tend to be longer and leaner, while 4T shirts may be wider, shorter, and have smaller sleeves. 
For these reasons, it's imperative that you know your child's measurements or can take them in-store to try on clothes. This makes it so that you aren't having to deal with the headache of returning items so often. We all know what a pain returns can be! 
What Size Would a 4 Year Old Wear?
Bear in mind that although sizes 4 and 4T are intended for children age 4, it isn't plausible to assume that all children this age will wear these sizes.
The best thing to do is to take your child's measurements. Then, you can compare the measurements with online size charts or sizing on tags to choose the best fit for your little one. 
Is Size 4 Bigger Than 4T?
Yes, in most ways. Size 4 usually features clothing that is much longer than 4T. Having said that, 4T clothing can sometimes be wider or roomier in some areas to acquiesce to the stockier build of toddlers. Also, the roomier clothing can help make room for the diapers your toddler may be wearing. 
Remember that not all brands treat sizes 4 and 4T differently. In fact, some brands don't make any distinction between them at all! Take a look at this popular children's brand to see what we mean:
4T 38 – 41″ 35 – 39 lbs
4 38 – 41″ 35 – 39 lbs
4T Size Age
Size 4T is meant to be worn by children age 4 that may still be wearing diapers or may have a stockier toddler build. 
4T Size Meaning
Size 4T in youth size means that the garments are sized for "toddlers" (hence the "T"). However, there are times when there is virtually no difference between 4T and size 4 for kids. Check the brand's sizing chart to know for sure.
4t vs Youth Small
Typically, clothing marked as "Youth small" are referring to shirts or hoodies. Oftentimes, Youth small or extra small is the smallest that these clothing items come. Know that Youth Small typically refers to sizes 6-7 while Youth Extra Small refers to sizes 5-6.  Here are some helpful techniques on how to wash a hoodie.
Thus, compared to size 4T, a Youth Small may be considered a little roomy. Still, it will give your little one plenty of room to grow!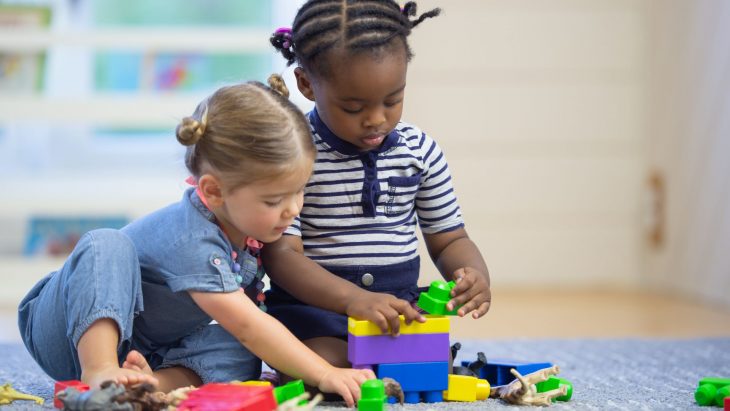 What Are the Differences Between 4 vs 4t? It Really Depends!
There are a lot of factors that will determine the differences between 4 vs 4T. In general, size 4 will be longer and leaner while size 4T will be shorter, stockier, and possibly roomier. Still, there are some brands that make no distinction between the two sizes. In these instances, you can expect both 4T and size 4 to be the same. 
We hope this has helped satisfy your curiosity. Until next time!
FAQs
Is size 4 the same as 5T?
No, it isn't. You'll usually find size 4 and size 5 to be much different when comparing them on sizing charts. 
What does the T mean in children's clothing?
The "T" on children's clothing sizes is for "toddler". 
What is difference between 4 little boy vs 4T?
Size 4 and 4T can be different but sometimes they are the same. In most cases, size 4 will be taller and may not contain adjustable waist straps like 4T might.
What comes after 4T in toddler sizes?
The next plausible size after 4T will usually be size 4 or it may be 5T.
What does 4T/4a mean?
Check the sizing chart with the brand you are buying from. Size 4A can sometimes indicate that the size is smaller than normal. 
Is 4C the same as 4 toddler?
Be sure to check the sizing chart when you see size 4C. This size can have various meanings. 
Is 4T and 4Y the same?
Check the sizing charts when comparing sizes 4T and 4Y. They may or may not be the same size. 
Maria Wilcox
Former instructor with an M.A. in Education turned grateful stay-at-home mama to one, I look to share helpful insights related to babies, toddlers, kids, and families for the benefit of real people just like you.