By Maria Wilcox •  Updated: 04/26/22 •  9 min read
Hey Mamas and Papas! This site is reader-supported and we earn commissions if you purchase products from retailers after clicking on a link from our site.
As a parent, it can be difficult to find a diaper that fits your baby well, especially when it comes to stomach sleeping. So, what are the best diapers for stomach sleepers? Well, that's a question that's going to take some time to answer. Join us as we take on the complex subject of diaper leaks for stomach sleepers. 
Why Do Diapers Leak?
Whether you're wondering about the blue line on diaper, what to put in a diaper caddy or why diapers leak in the first place, you've come to the right place!
To answer the original question, diapers leak for a variety of reasons. And not all diapers perform the same way on every baby. 
The reason? 
Diapers that are ill-fitting are often a cause of diaper leakage, and some diapers fit certain babies better than others. Another reason for diaper leaks are a lack of layers or the absence of leakguards. All of this could cause a diaper to leak. Thus, this will cause you to do more laundering than you bargained for.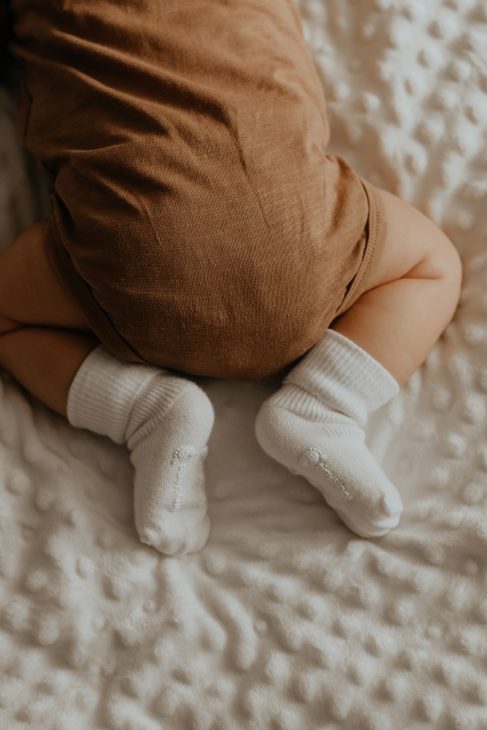 Do Overnight Diapers Make a Difference?
Do Overnight Diapers Work?
Overnight diapers can make a huge difference for those that choose to use them. But they may not always be necessary.
Overnight diapers work because they have more absorbent layers within the diaper. They also offer leak guards that can help keep urine in place. Different brands feature different levels of coverage. So your best bet is always to read reviews and try out diapers for yourself. 
Still, we understand that trying out a variety of overnight diapers won't be easy on your wallet. Especially because overnight diapers cost more than regular diapers to begin with! That's why we are pleased to offer you a few of our own suggestions taken from the advice of real parents like you as to which diapers perform best for stomach sleepers and heavy-wetters. 
Note: Most overnight diapers are marketed for bigger babies, size 3 and up. Because of this, be sure to check out even our recommendations for diapers that aren't specifically marketed as being overnight. They may work just as well for a lower price point and for smaller babies!
Best Diapers For Stomach Sleepers
Whether your baby is a tummy sleeper or a heavy-wetter, the best diapers that can hold your baby's urine overnight without leaks will always be:
one that fits well
is high-quality
has plenty of layers
has leak guards
Let's take a look at a few parent favorites in the department of overnight sleep. How do they stack up against one another?
Best Night Time Nappies For Tummy Sleepers
Best Overnight Diapers For Heavy Wetters
Pampers Swaddlers: Pampers Swaddlers is a parent and hospital favorite and we can see why. Although these diapers aren't specifically branded as being meant for "overnight", this trustworthy brand offers outstanding protection against leaks because of its absorbent layers and design. Pampers Swaddlers boasts of soft Flexi-Sides, a breathe-free liner, dual leak-guard barriers, soft absorbent layers, and wetness channels that lock away wetness from baby's skin. 
Pampers Baby Dry: Another win from Pampers, the BabyDry line offers supreme protection against wetness. They aren't as plush and soft as the Swaddlers line, but they hold in more moisture and offer more layers. Pampers Baby Dry can be used day or not and are designed to be comfortable and breathable. It also helps that Pampers BabyDry is cheaper than the Swaddlers line. Probably because Baby Dry isn't nearly as soft as Swaddlers tend to be. 
Huggies Overnights: If you love Huggies brand, then be sure to give Huggies Overnights a try. As the name implies, Huggies Overnights are designed to hold as much urine as possible overnight. Crafted with DryTouch liners, these diapers have received rave reviews from parents. Many say that the diaper lives up to the hype and then some. The diapers are often designed to hold in poop to prevent blowouts, making this the ultimate diaper in its category for holding in nighttime messes. 
Huggies Little Movers: Once your baby gets a little older, it will be vital that your baby's diaper fits, is soft, and is flexible so that your baby can stay comfortable while he or she is on the go! Huggies Little Movers does all of that and more while also working to keep messes in place both day and night. With soft, flexible sides and stretchy material to ensure the best fit, Huggies Little Movers ensure that your baby's diaper fits the way they are supposed to help prevent leaks. 
Parent's Choice Diapers: If you're looking for the next best leak-proof diaper that is easy on the wallet, you may wish to check out Parent's Choice diapers. Parent's Choice is a generic brand sold by Wal-Mart that has many parents singing praises. These diapers are affordably priced, cute, and do a good job holding leaks for the most part. At its price point, it is worth giving the diapers a shot to see what you think before trying more expensive brands. 
Bonus – Eco-Friendly Honest Diapers: If you're looking for a diaper that is more eco-friendly than the ones previously mentioned, check out Honest diapers. The "Double Poo Pockets" and quilted liners make it so that they're super absorbent while using less materials. This brand also offers no parabens, latex, or fragrances. 
What Diapers Hold the Most Pee?
The diapers that trap the most urine will be diapers that are specially marked as being overnight or meant to keep your baby extra dry. These diapers often hold much more urine than would a regular "daytime" diaper and thus are an excellent option for nighttime sleeping.
Having said that, there are some parents who find that simply upping the size of their normal daytime diaper for baby sleep increases the amount of urine their baby's diaper can hold at night time. Give this tip a go and see if it works to help better contain any messes you may be experiencing with your baby at night. 
Diaper Booster Pads
If none of the above options are working for you, or if you'd prefer to use your baby's daytime diapers at night, it may be a good idea to try diaper booster pads in your baby's diaper to keep urine in its place. 
Diaper booster pads work by adding an additional moisture-wicking layer of protection. This helps keep your baby dry and leak-free all night. A favorite amongst parents in the diaper boost category is Sposie. These diaper boosters work great and come in sizes small enough even for newborns (score!).
How Do You Keep a Diaper From Leaking in Your Sleeper?
Diaper leaks can be a pain! But there are ways around the issue.
Here are a few reasons you could be experiencing a diaper leak in your baby's crib or sleeper more often than you'd like:
The Diaper Is Too Small: If your baby's diaper does not fit correctly, your baby's diaper will be more susceptible to letting leaks flow! Always make sure your baby's diaper is the correct fit in order to keep leaks at bay.
The Diaper Isn't Moisture-Wicking: Some diapers are better at containing moisture. If you can't seem to find a good daytime diaper out there to contain the mess it may be time to invest in some overnight diapers. See if they remediate the problem. 
You Forgot to Pull Out the Ruffles: Remember that the "ruffles" around your baby's legs should be pulled out, not tucked in. Sometimes, you'll need to manually fluff the ruffles out after putting your baby's diaper on. Doing so will prevent gaps from forming. These gaps allow your baby's poo and pee to seep out in the middle of the night (or during the day!). 
Try Boosters: If all else fails or if you aren't up for experimenting, why not simply buy diaper boosters? Simply match the sizing to your baby's diaper size. Then place them in your baby's diaper while he or she is sleeping. These boosters offer extra layers of absorbency to keep urine in its place. 
Additional Notes on Tummy Sleeping…
Remember, your baby shouldn't be sleeping on his or her tummy until he or she is able to roll over on his own, both front and back. Until then, always place your baby on his or her back to sleep. This prevents Sudden Infant Death Syndrome, otherwise known as SIDS. This is one of the leading causes of infant death around the globe. 
Best Diapers For Stomach Sleepers: There's Plenty to Choose From!
All in all, there are plenty of diapers to choose from when selecting diapers that can contain leaks. Just be sure to purchase the right-sized diaper and to give diaper boosters a try if all else fails.
Remember, you often get what you pay for. So investing in high-quality diapers, though more expensive, may save you pain and headache in the long run. 
Here's to leak-free nights! 
Maria Wilcox
Former instructor with an M.A. in Education turned grateful stay-at-home mama to one, I look to share helpful insights related to babies, toddlers, kids, and families for the benefit of real people just like you.