By Maria Wilcox •  Updated: 10/27/22 •  13 min read
Hey Mamas and Papas! This site is reader-supported and we earn commissions if you purchase products from retailers after clicking on a link from our site.
If you've got a baby and a fireplace, you likely already know that knowing how to babyproof a fireplace is vital for keeping your little one safe. But where do you start? In this article, I'll give you the details on how you can easily babyproof a fireplace using a variety of options. Let's delve deeper into this topic in today's post.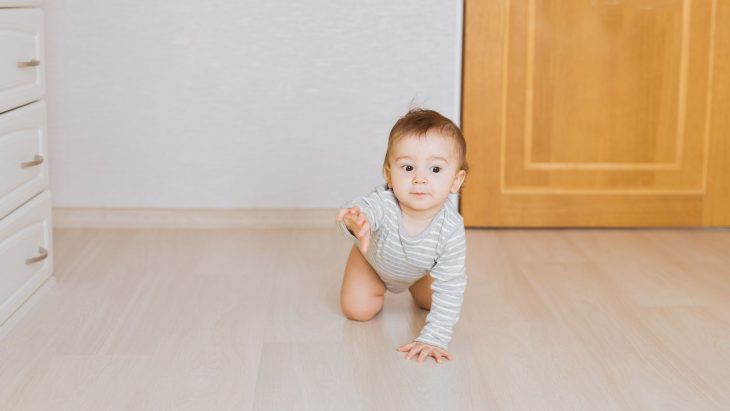 How to Babyproof a Fireplace
Baby proofing a fireplace can be done several ways using a series of methods. There are many factors to consider when sheltering your kiddo from the fireplace.
Other than the danger of a wide open flame, here are a few other fireplace risks you may not have thought of:
Popping or Burning Embers
The issue of popping and burning embers poses a great risk to your little one. As curious hands and faces come near the flame, popping embers may escape, leaving your baby in pain with potential burns and injuries.
It goes without saying, but this is highly unsafe.
Dangerous Hearths
While there are some hearths that lie flush with the floor, most of them have a raised edge of some sort. Even worse, some have a jagged brick or stone-like exterior making the hearth that much more dangerous if your baby were to escape from their pack and play pen.
To prevent this from happening, you'll need something soft to blunt the impact.
But don't worry, I'll fill you in more about this later on in the post!
Carbon Monoxide
Because of the burning flame, carbon monoxide can be a real issue when it comes to having a fireplace in your home. Be sure to monitor carbon dioxide levels to keep everyone in your home safe.
Tainted Air
Another issue that can arise from having a fireplace is that the air can become tainted if you aren't keeping your chimney clean. As air blows through your chimney from outside, all of the soot and ashes you've failed to sweep come bursting into your home which can be bad for your baby's lungs. 
Fireplace Gate Options
Now that you know some of the risks associated with having a fireplace in your home, it's time to work to address these issues. Here is an article on how to keep your home as good as new.
One of the best ways to nip fireplace dangers in the bud is to block all access to it. 
To do this, you may decide to simply block access to whatever room holds the fireplace, but of course, this option isn't always plausible. Instead, you may wish to use a fireplace gate that can block all access to the burning flame and hearth without having to limit access to the room itself.
One great option is the Toddleroo by North States 3-in-1 baby gate. It's extra wide to cover the entirety of the fireplace so that little fingers can't make their way close to the flame. It can be mounted to the wall using a drill if needed, and parents attest that the gate is extra sturdy. It can also be used to make a very large enclosed playard if you so choose.
Thus, despite the steep price point, this baby gate is worth the extra expense.
Best Childproof Fireplace Screen
If you're looking for the best childproof fireplace screen, you've got plenty of options.
But keep in mind that these won't work as well for keeping your baby as safe as the aforementioned baby gate will. This is because the screen only protects your child from the flame and potential popping embers. In most cases, a fireplace screen will not protect your child from the hearth.
Remember also that a fireplace screen can sometimes be easily knocked over. Like securing something your baby can easily reach, like a mobile, you have to secure this even more. Therefore, you should do your best to pick a sturdier one if you can.
To start, you can try out Best Choice Products 3-panel fireplace screen. Users say it's pretty sturdy although you'll still want to monitor your child when they are near it. 
It can protect your little one from the open flame and the possibility of jumping embers. Its attractive and sleek design doesn't take away from your fireplace's beautiful exterior. Still, as I mentioned before, you'll want to have a plan for how to protect your baby from the hearth if you go with this option. 
Note: If you are looking for a fireplace screen that attaches to wall, know that there aren't many out there. Most of your fireplace screens are going to be freestanding. Also, remember that some of these freestanding screens are sturdier than others. Be sure to do your research so you can pick one that won't be easily knocked over by a toddler.
How to Babyproof a Fireplace Hearth
Babyproofing a fireplace hearth comes with special challenges. Depending on the type of hearth you have, some options will work better than others. 
As mentioned before, some hearths are built flush to the ground, although many will have a ledge of some sort. If your hearth is raised, you'll need to find a solution for keeping your baby from bumping its head against the edge. Moreover, if you have a full-on brick or stone fireplace, you will want to keep your little one from running across it. 
Here are a few ideas for baby-proofing your fireplace hearth.
How Do You Childproof a Brick Fireplace?
A brick fireplace has unique challenges. Not only is the surface hard, but it also tends to have a somewhat sharp edge on which children can konk their heads. Because of its bumpy surface texture, not all soft adhesive edge protectors will attach. 
So, what are your options? 
When it comes to using a brick fireplace protector, ideally, you'll use a gate as mentioned before. This protects your baby not only from the flame but from the hard surface and edge of the brick hearth. 
Another option is to convert your fireplace hearth into a soft zone when not in use. Use pillows, cushions, and other soft decorative items to make it more of a cozy spot than a safety hazard. Of course, you'll need to remove these cushions and pillows once you're ready to light a fire. You'll also want to make sure the items you use are plush enough and secure enough, to actually protect your baby or toddler from injuring themselves on your brick hearth. 
If you want even more ideas about how to craft DIY your brick hearth into a cozy spot for your baby, stay tuned. I'll be going over those details soon! 
How to Babyproof a Stone Fireplace
Baby-proofing a stone fireplace will be similar to baby-proofing a brick fireplace. You won't always have a defined ledge, but if you do, you may be in luck. Fireplaces that come with a smooth edge on the hearth may benefit from adhesive ledge cushions. They come in long strips and include cushioned corners to protect your baby from smacking up against sharp edges. 
Just be sure that your hearth's ledge is actually smooth enough for the adhesive to stick. Otherwise, using a gate or DIY cozy spot is going to be your next best option.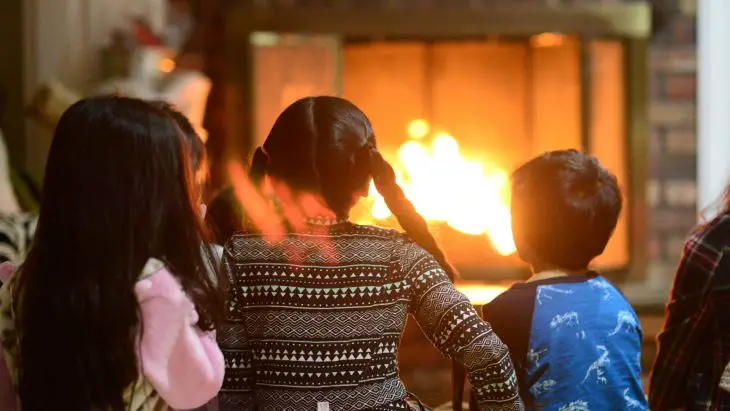 DIY Baby Proof Fireplace
Wondering how to make a babyproof fireplace pad? Believe it or not, making a pad for your hearth is ridiculously easy. Depending on what items you already have laying around, it's possible for you to complete this project completely free of charge! 
Check out these items you'll need to get the job done:
A foam mattress topper
A large and thick needle with long string
A hot glue gun (optional)
Old bed sheets (or an old blanket)
Pillows 
Note: Remember that this is more of a permanent solution than a temporary one. Never light your fireplace with your DIY cozy spot still intact! 
Six steps for how to make a babyproof fireplace pad:
To start, cut your mattress topper to custom fit the front and top of your hearth. The mattress topper should be cut in one large piece and should cover the "edge" of your hearth as well. Be sure to use a pencil, pen or marker to mark where your hearth starts and stops according to the mattress. This will help guide you so that you can cut it more accurately. Keep marking and cutting so that the mattress will fit snugly against the doors of your fireplace. 
Next, repeat the same process but this time for the "ends" of your hearth. 
Attach the corners of both the pieces of the mattress pad that cover the top and bottom along with those that cover the ends. Use either a large needle and string to do this (preferred) or a hot glue gun. 
To help the mattress foam fit more snugly around the edge of the hearth, you may need to use pillows to weigh it down and allow it to bend. To do this, flip the piece of the mattress topper that covers the bottom portion of the hearth backward and up to where the top of the hearth is. Place the pillows here to weigh it down. Leave it like this for a few days. Afterward, it should have created a good bend that conforms snugly against your hearth. 
Take an old sheet and wrap it around all of the finished foam once you've got everything properly laid. You can secure the sheets tight with binder clips on the sides of (or behind) your fireplace. You can also use a quilt or blanket for this step. 
Once you've got your sheets or blankets secured, decorate your new cushion with throw pillows or whatever other soft items you like. Just be sure that the decorative pieces you use are also safe for your baby. 
How to Babyproof a Stone Fireplace With Pool Noodles
Affixing a pool noodle to your fireplace hearth is also an option, but it isn't as sturdy, pretty, or as permanent as a DIY cushion would be. However, if you are still using your fireplace, then the fact that a pool noodle is easily removable might actually work to your benefit.
To use a pool noodle to cover the edge of your hearth, cut it lengthwise from the outside all the way to the inner hole. That's it! Push the edge of your hearth into the pool noodle and you've got a DIY edge protector. This can easily be removed when you're ready to spark a fire. No glue or tape needed! 
Just be sure to watch your little one. If he or she is savvy enough, they'll likely learn to pull these off. After all, this is the age they're exploring their senses.
Baby Proof Fireplace Tips
To summarize, the following are tips I've already mentioned plus a few bonus tips thrown in for good measure:
Hearths that are flat can be covered with a soft carpet rather than plush cushions
Use interlocking foam cubes to guard your fireplace when it isn't in use
Try a DIY cushion over your hearth if you don't use your fireplace
Utilize cushioned edge protectors for a sleek and safe way to prevent your child from accidents
Remember to purchase a carbon monoxide detector to monitor levels of it in your home
An extra-long gate that is affixed to the wall is often a one-size-fits-all solution to most fireplace needs
Fireplace screens are useful for protecting your baby from flying embers but they won't protect your child against the hard edges of the hearth
How to Babyproof a Fireplace: It's Relatively Simple!
All in all, babyproofing a fireplace is relatively simple. By assessing your fireplace and noting its dangers, you can select the way that is most beneficial for keeping your little one safe. Remember that if your hearth has a ledge with a smooth surface, you can invest in soft adhesive cushioning for the edges. If the ledge is bumpy, you can cover it completely with cushions and pillows, or simply use a gate if you use the fireplace often. 
I hope this has provided you with all the information you need to keep your baby safe around your fireplace. 
Until next time!
FAQs
How can I protect my fireplace from kids?
Your best bet is usually to buy a very long gate that you can affix to the wall. This keeps your children shielded from the flame, popping embers, and the hearth. It also keeps the gate from being knocked over. For other suggestions, check out the details within the above post! 
Can babies be around fireplaces?
They shouldn't. There are many dangers that surround fireplaces, and as such, you shouldn't allow your baby to be near them without properly baby-proofing it first. 
How to baby proof gas fireplace?
It depends on the type of gas fireplace you have. Some come with glass that doesn't get hot to the touch, but some pieces of the metal can get extremely hot. To be safe, treat a gas fireplace the same way you would a traditional fireplace. Use a baby gate when it is in use. 
Maria Wilcox
Former instructor with an M.A. in Education turned grateful stay-at-home mama to one, I look to share helpful insights related to babies, toddlers, kids, and families for the benefit of real people just like you.