By Maria Wilcox •  Updated: 06/24/22 •  8 min read
Hey Mamas and Papas! This site is reader-supported and we earn commissions if you purchase products from retailers after clicking on a link from our site.
When it comes to shoe and clothing sizes for kids, things can get pretty confusing. If you've ever found yourself asking, "What size shoes do 4-year-olds wear?" you aren't alone. Because children grow at different rates, the answer to this question often varies. So, without further ado, let's address some ways you can figure out what size shoes your 4-year-old child wears.
What Size Shoes Do Most 4 Year Olds Wear?
What shoe size most 4-year-olds wear will vary because there are a variety of factors at play when deciding a 4-year-old's shoe size. Nevertheless, there is an average shoe size that is fitting for most four-year-olds. 
The average shoe size for most four-year-olds falls between a size 9 and size 11 (US). However, the size of shoe your four-year-old will actually wear may be larger or smaller.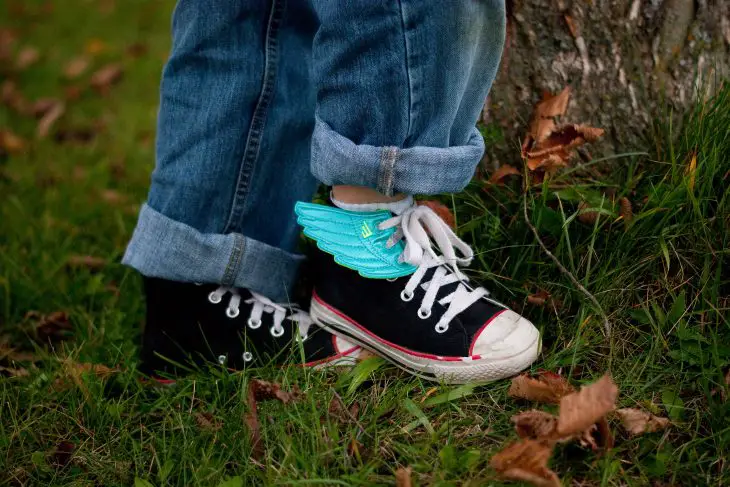 Size Shoe Measurement Conversion Chart
The following are shoe sizes typical for girls and boys, however, this may vary based on brand:
| | | | |
| --- | --- | --- | --- |
| Age | Foot Size in Inches | US Size | Uk Size |
| 3 years | 6.125 | ​9.5 US | 8.5 UK |
| 3.5 years | 6.5 | 10.5 | 9.5 |
| 4 | 6.625 | 11 | 10 |
| 4.5 | 6.875 | 11.5 | 10.5 |
| 5 | 7 | 12 | 11 |
| 6 | 7.5 | 13.5 | 12.5 |
What Affects a Child's Shoe Size?
There are several factors at play when determining your child's shoe size.
The following are common considerations to keep in mind when selecting the shoe that is the best fit for your child:
The Country of Origin – Different countries have different shoe sizes. This can get pretty confusing. For example, in the U.S. a child's foot that is 6.125 inches long would be a size 9 shoe. However, in the U.K., the same child's shoe size would be considered a size 8. Therefore, it is important to know your child's foot measurements to ensure that you are purchasing the correct size for your little one no matter where you are. 
How Big Your Child Is – Just as you may have wondered what Size Is After 5t? or 24 Months vs 2t differences, you are also likely wondering what size shoe your 4-year-old wears. Unfortunately, shoe sizes vary wildly depending on how big your child's feet are. Your child's foot length is often in direct correlation with how tall your child is. So, if you've got a child that is much taller than other kids his or her age, it may just be that you'll have to buy shoe sizes that are bigger than what is normally expected for a child that is your 4-year-old's age. 
How Wide (or Narrow) Your Child's Shoes Are – Aside from the overall length of your child's foot comes the consideration of how long (or narrow) your child's feet are. This can make a big difference in how your child's shoe fits. A child that has feet that are average-sized but are also wide may require you to buy shoes that are marked for wide feet. In the U.S., these shoes are often marked with a "w" after the indicated size. In some cases, you may need to simply size up for a child with wide feet if wide sizes aren't available in the brand you've selected. 
What Brand You Are Buying – Not only do shoe sizes vary in terms of the country they were made in but also in the brand that you buy. Unfortunately, even within the same country, shoe sizes can vary slightly and a size that you might normally buy for your four-year-old may appear too tight on his or her feet. Rather than assuming that your child's feet have grown (although they may have!), it may be that the brand of shoe you are buying fits small. Some brands, such as Nike, are known to have small-fitting shoes that may require you to size up. If you find this to be the case with a particular brand, simply size up (or down if they are too big) until you find the correct sizing for your child.
Shoe Type – One last thing you'll want to consider when sizing shoes for your four-year-old is the type of shoes you are buying. This may depend on your child's activities and the plans you have for the shoes. For example, some parents may wish to buy their children's shoes a half a size bigger to allow room for growth. Other parents may wish to buy shoes that fit just right if they are shoes that are to be worn for dressing up or for being out on the playground when good-fitting shoes are key for safe play. Whatever the case, the type of shoes you buy may further dictate the size of shoe you select, although you should never purposefully purchase shoes that are way too small or way too big for your child, no matter what the reasoning may be.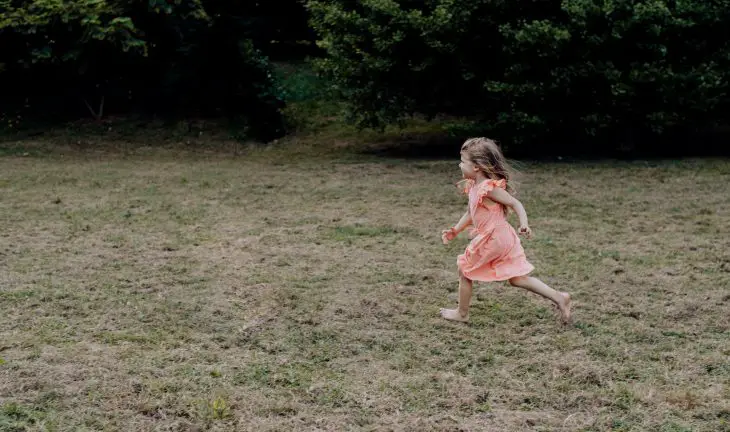 The Importance of Comfortable Shoes For Kids
It is very important that you select shoes that are comfortable for your 4-year-old (or any child for that matter). 
Just as you would never want to walk around in a pair of pinchy or grossly oversized shoes, your child needs properly-fitting shoes. Even more so, as he or she is likely to be jumping, playing, running, and being a lot more active than you would be throughout your day. 
For this reason, it is imperative that children have well-fitting and comfortable shoes.
The Impact of Poorly Fitting Shoes on a Toddler
Ill-fitting shoes should never be placed on children.
The following are some of the negative impacts that poor-fitting shoes can have on children's feet and overall health:
Nerve Damage
Arthritis
Calluses
Frequent Falls
Pinched Toes
Foot Deformities
Inflamed or Raw Heels or Ankles ("Shoe Bite")
General Foot Discomfort (Which May Negatively Impact Mood)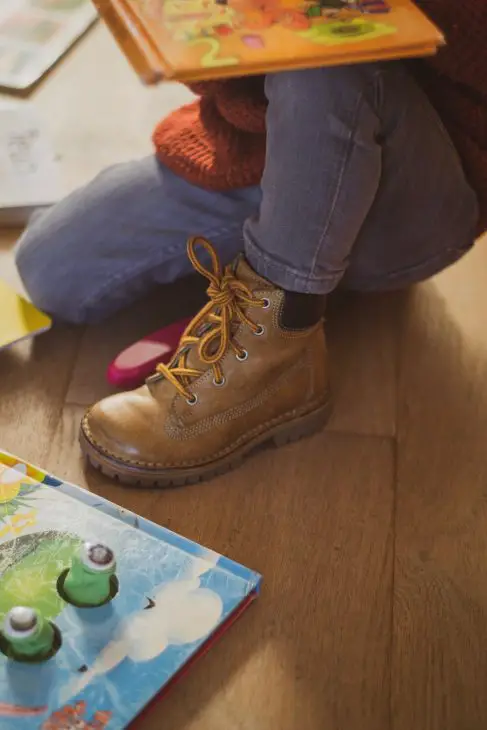 What to Look For in a Good Shoe
The following are tips for purchasing a great-fitting shoe for your child:
First and foremost, make sure that you know your child's size before ordering online or purchasing in-store. Measure your child's foot and be sure to check sizing charts before making your purchase. 
If in-store, allow your child to try on shoes with socks still on and have your child walk a few steps in the shoes to ensure that they fit comfortably. Observe whether or not the shoes hug the feet or flop off in the back (flopping should be avoided as it can cause the child to trip and fall). Be sure to ask the child how the shoes feel on his or her feet before making the purchase. 
Look for where your child's toes are within the shoe. This can be difficult, especially if the shoe is hard. If the shoe is soft, take your thumb and gently press down on the top of the shoe to see where your child's toes are. The point of this is to ensure that your child's toes are not crammed up against the top of the shoe, indicating that the shoe is too small for his or her feet. There should be a small gap of space between your child's toes and the top of the shoe so that there is room for a bit of movement (but not too much room!) while walking and playing. 
Choose soft and flexible shoe material when able for your child's overall comfort.
Go shoe shopping with your child in the afternoon or at night as his or her feet may be more swollen at the end of the day.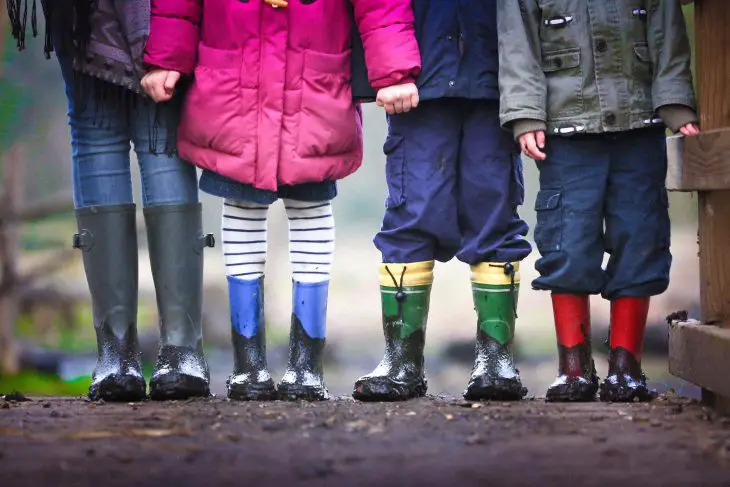 What Size Shoes Do 4 Year Olds Wear? That Depends!
What size a four-year-old will wear will depend on his or her foot size. But generally speaking, it is anywhere between size 9-11 in U.S. measurements.
Hopefully, this served as a good guideline to help you select a comfortable pair of shoes for your little one. Happy shopping! 
FAQ
What Shoe Size for 4-Year-Old Boy
According to the above chart, a 4-year-old boy would wear a size 11 in U.S. sizing and a size 10 in UK sizing. Know that boy's feet tend to run a bit larger than girl's feet, though this isn't always the case. Bring your child with you to try on a few pairs of shoes before making a purchase to ensure the correct (and most comfortable) fit. 
Maria Wilcox
Former instructor with an M.A. in Education turned grateful stay-at-home mama to one, I look to share helpful insights related to babies, toddlers, kids, and families for the benefit of real people just like you.