By Maria Wilcox •  Updated: 06/04/22 •  9 min read
Hey Mamas and Papas! This site is reader-supported and we earn commissions if you purchase products from retailers after clicking on a link from our site.
Being pregnant again brings with it so much joy and announcing a 2nd pregnancy to your husband is one of the best parts about it! In need of ideas on how to communicate the big news? We've got you covered! In this article, we'll be going over ways you can surprise your hubby with your pregnancy through creative and fun ideas, some of which involve the whole family! Eager to know more? Then, let's go! 
How Do You Announce Your Husband You're Pregnant?
How Do You Announce Your 2nd Baby?
When trying to decide how to announce your pregnancy to your husband, you'll first want to consider how elaborate you want to get. There are no rules or guidelines as to how an announcement should go and we believe your pregnancy announcement to your husband should fit your personality, style, life circumstance, and budget.
The ways you can announce your pregnancy are endless and can involve your entire family (including your pets) as you'll see soon. Still, if doing something elaborate isn't your thing, there isn't anything wrong with simply telling your husband that you are pregnant (verbally) or giving your husband a card to commemorate this big event. If, however, you want to do something with a little more pizazz, then stick around– we've got the ideas you need coming up!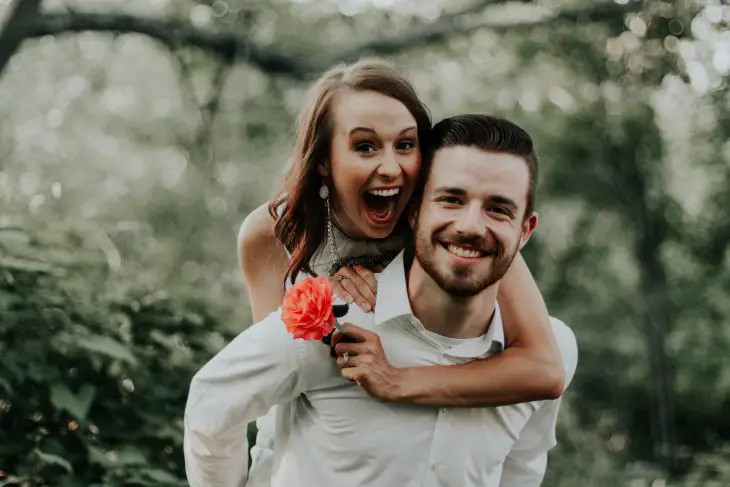 When Do You Announce Second Pregnancy?
How Long Should You Wait to Tell Your Husband You're Pregnant?
Before we do a deep dive into ideas about how to announce a second pregnancy to your husband, we want you to know that it is completely up to you when you announce your pregnancy to your husband. This, again, will depend on a few things like life circumstances and how you plan to share the news. 
For example, if there is a looming holiday coming up (think Easter, Valentine's Day, his birthday, Christmas, etc.) you could totally wait and surprise him with the announcement on that day–if you can contain your excitement that long! 
For those who need instant gratification (we get it!) feel free to spill the beans as soon as you find out! It's all up to you as to how you do it. The main thing is that you let your husband know…eventually!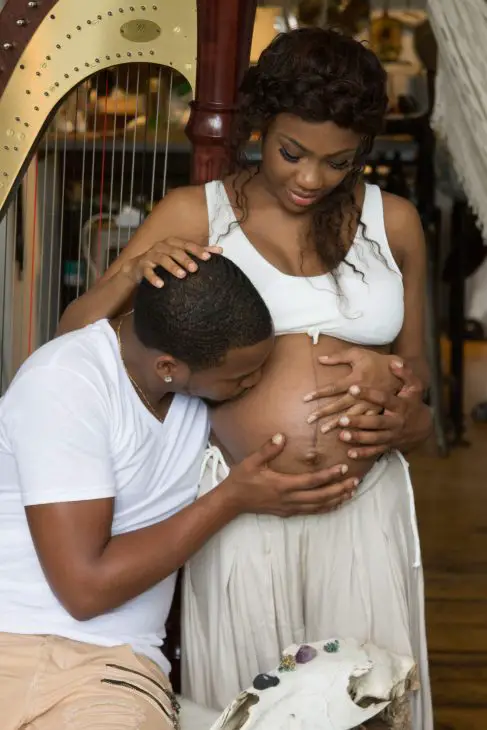 Surprise Pregnancy Announcement to Husband
For Instant Gratification
If you're the type of mama that just can't wait (no judgment here!) then you'll likely appreciate these announcements that provide instant gratification. Don't forget to film his reaction when possible!
Leave the Test Out: A tried-and-true method, leaving your glaringly obvious positive pregnancy test in the bathroom or somewhere that your husband can see it is likely to evoke a strong (and hilarious) reaction from your hubby.
Grab a Box and Balloons: Sounds simple, but seriously, grabbing a few cheap helium balloons, tying them to a paperweight, and placing them on the table for when he arrives home is bound to have him scratching his head. Place with it a decorative gift box that contains your positive test inside and you've got the perfect announcement that provides you with instant gratification!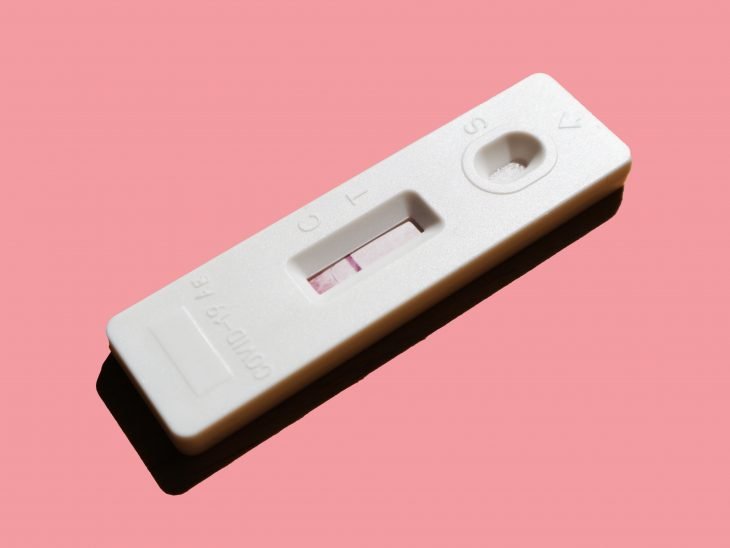 For the Away-From-Home Husband
Got a traveling husband or one that is stationed overseas? Try these ideas for announcing your second pregnancy to your husband:
Facetime It: If you've got an iPhone or similar abilities on your phone, call your husband up in real-time and announce the news over Facetime. This allows you to see his priceless reaction!
Say It in a Letter: This approach is good if you don't mind waiting, but sending it through the mail if your husband is stationed at a specific address is another way to announce a pregnancy to your away-from-home husband. You can make this a hand-written letter or go all out with a uniquely designed pregnancy announcement. The choice is yours! There are also options available to send digital announcements if you'd prefer.
Wait It Out: Easier said than done, but if you can wait this can be one of the sweetest ways to announce your pregnancy. Check out this mama that waited until her husband came home after being stationed overseas to announce their pregnancy– at the time of the announcement, she was showing! 
Holiday Announcements
There's always some kind of holiday around the bend, right? If you can wait, try announcing your pregnancy on a holiday and make the announcement themed around the holiday. 
Announce It With Food
There are several ways you can use food to announce the good news. One popular way is to find a food or piece of fruit that is the actual size of your baby (check out the What to Expect app as this will show you the size of your baby at every stage) and present your husband with the food along with a letter that says "This is the size of our baby"!
Otherwise, you can announce the pregnancy using something your hubs loves to eat like donuts with a note that says, "If I'm going to get fat, so are you!" or presenting him with two large cupcakes and two mini cupcakes with a note that says, "This looks like our family!" 
Say It With a Gift
Get your husband an actual gift and place your positive pregnancy test or a note along with it!
Involve the Fam
Buy a t-shirt for your existing child to announce the news or put something on your dog or other pet (like a handkerchief or shirt) to accomplish the same thing.
The Writing's on the Wall
Announce the pregnancy by writing a message and placing it on the wall where your husband frequents. You could also grab a dry erase marker to scribble a message about the pregnancy on your bathroom mirror. 
Get Fancy
Last but not least, you could always try announcing your pregnancy through more elaborate means such as buying him a personalized mug with the announcement at the bottom or announcing the pregnancy through a photoshoot.
How to Tell Your Husband About a Surprise Pregnancy
2nd Pregnancy Announcement Wording
Try these fun taglines to announce the big news to your hubby!
"Oops, we did it again!"
"Number Two Coming Soon"
"We Are Adding S'More Love to Our Family" (Presented with Actual S'Mores, of Course!)
Surprise Pregnancy Announcement to Husband on His Birthday
Remember, you can totally present your husband with a gift on his birthday along with the pregnancy announcement included. Take your husband out or get him the gift you'd get him anyway, then find a way to weave our pregnancy announcement into the mix. He'll get a kick out of it, and the announcement will be the best gift he receives, for sure!
Letter to Husband Announcing Pregnancy
Want to surprise your husband with your second pregnancy using a letter? Check out a few fancy online letter announcement templates to get you started! 
FAQ
How can I surprise my husband with our baby's gender?
The only thing more exciting than a pregnancy reveal is revealing your baby's gender to your husband. To do this, consider buying balloons and decorations in either pink or blue and decking out your bedroom (or any other room) before having him walk in. For added suspense, shut the door to the room and video record him making his predictions before recording his reaction as he walks in!
Other ideas for announcing the gender of your baby to your husband include: 
Baking Pink or Blue Dessert- An easy way to announce the gender of your baby is to bake or buy cupcakes or a cake with colored filling or to top these cakes or other baked goodies with either pink or blue according to the gender of the baby.
Pop a Confetti Balloon- There are balloons on the market that already come with confetti according to your baby's gender. Simply blow up the balloon, and have your husband pop it on the day of the reveal!
Release Hidden Balloons- Stuff a large box of either pink or blue balloons and have your husband open the box. Do this outside to allow the balloons to float in the air for a cool and sentimental gender-reveal balloon release! 
Allow Your Pet or Existing Child to Do It- Just like involving the kids and pets for a baby reveal, you can also involve them for a gender reveal. Do it in much the same way with a t-shirt or handkerchief, or come up with a creative idea that's all your own! 
Announcing 2nd Pregnancy to Husband Is So Much Fun!
Though verbally telling your husband that you are pregnant is quick, easy, and to the point, telling him through creative means can be so much more fun. Remember, the opportunity to surprise your husband with a pregnancy announcement may not come around often, so when you have the opportunity to do it in a cute and clever way, we recommend that you seize the opportunity! 
We hope these ideas give you a head start on how best to announce your second pregnancy to your husband…Congratulations to you both! 
Maria Wilcox
Former instructor with an M.A. in Education turned grateful stay-at-home mama to one, I look to share helpful insights related to babies, toddlers, kids, and families for the benefit of real people just like you.