By Lynn •  Updated: 12/10/21 •  35 min read
Hey Mamas and Papas! This site is reader-supported and we earn commissions if you purchase products from retailers after clicking on a link from our site.
Our 5 top stroller organizers for Uppababy Vista and Cruz
1. Uppababy Carry-All organizer
2. Universal organizer by Ethan and Emma
3. Britax organizer with cup holders
4. Skip Hop Grab and Go organizer
Continue reading for the full reviews….
5 Best
stroller organizers for Uppababy Vista and Cruz
When going somewhere with a baby, whether to the park or shopping, you will always have a lot of things to bring along for you as well as for the little one.
For instance, you can never go somewhere with a baby without carrying a few diapers, baby wipes, baby bottle, small toys, your phone, keys and snacks and drinks. If you have a stroller, the basket is usually not ideal for such items; hence, you need a stroller organizer.
However, the majority of parents with the Uppababy Vista stroller have a hard time finding an organizer that is not only spacious but also fits well with their stroller.
This is why after thorough research, we prepared this review to help you choose the best stroller organizer for Uppababy Vista that will work perfectly.
A quick comparison chart for the best organizers
| Image | Product | Features | Price | Buy Now |
| --- | --- | --- | --- | --- |
| | Uppababy Carry-All organizer | •Main compartment•Front zip pocket•Strong velcro attachments | $$$ | Our Rating |
| | Universal organizer by Ethan and Emma | •Main compartment with magnetic closure•Two drink holders•Mesh pocket•Large mesh bag•Detachable pouch•Collapsible frame•Velcro straps | $$$ | Our Rating |
| | Britax organizer with cup holders | • 2 insulated beverage holders•Large main compartment with magnetic closure•Outside pockets•Collapsible design•Internal frame•Adjustable straps | $$$ | Our Rating |
| | Skip Hop Grab and Go organizer | •Large main compartment with a zipper•Insulated cup holders•Side pocket•Detachable wristlet•Headphone outlet | $$ | Our Rating |
| | Jolly Jumper caddy | •2 deep cup holders •Large main compartment•Small compartment with zipper•4 velcro loops | $$ | Our Rating |
Reviews of the best stroller organizer for Uppababy Vista
OUR OVERALL TOP PICK 2022
#1. Uppababy Carry-All Parent organizer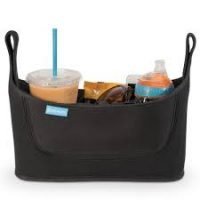 OUR RATING
IMPORTANT FEATURES
A front zip pocket
Perfect for keeping your phone, keys,  wallet and other valuable items that you do not want to fall out.
Main compartment
It is huge enough to hold several items. It is divided into three pockets where you can put water bottles, 3 large cups or baby bottles among other baby items like teethers and pacifiers.
However, this compartment does not have a zipper but it is made deep enough to prevent items from falling out.
Velcro attachments
They fasten tightly on the stroller handles and prevent the organizer from sliding down.
Pros
Perfectly fits all Vista and Cruz stroller models
It is large enough to hold a large cup of coffee along with other baby items
Stays in place without sliding down the stroller push handles
Does not have to be removed to fold the stroller
Cons
Does not hold the beverage in place so you need to cover with lids to prevent spilling
Video Transcript
okay so here's the deal listen taxes using velcro all you do is line that up put the velcro together both sides that's it it has room for coffee cup iPhone some kind of wallet or whatever you've got and you get a zippered pocket down here for your set of keys so that's everything it holds a lot of people say that you can't recline it well if it's in the lower position you make sure that's still there if it's in the lower position yeah you're gonna have a hard time reclining so the trick is just pull it up to the upper position and just kind of lift it up a little bit when you tilt this back so it can be done for example we could do that so you don't have to completely remove it you could also just kind of move it up a little bit maybe a little higher and then this could be reclined so you don't have to take it off but you can see yeah it kind of does get in the way and the other thing I'd like to point out this little cutout is meant for this but it does kind of move around so it's not exactly it's not exactly perfect engineering but it is perfectly functional and it's a lot better than what you had before
Click To Read Customer Reviews on Amazon.com
2022 RUNNER UP
#2. ​Universal stroller organizer for smart moms by Ethan and Emma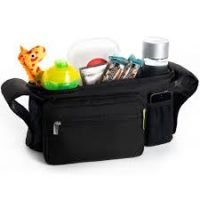 OUR RATING
IMPORTANT FEATURES
Main compartment
This compartment is quite large and can hold several items from diapers, teethers, pacifiers, baby wipes among others
Drink/cup holders
The drink holders are deep enough to hold drinks securely to prevent spills. In addition, they are insulated well to ensure to keep your beverages at the right temperature.
Mesh pocket
This gives you extra storage to put your phone and reach easily when it rings or listen to music as you stroll with the baby.
Detachable pouch
There is a pouch on the front of the organizer that can be detached by unzipping it from the main compartment. You can use this pouch to carry your valuables when you want to rush somewhere without the stroller.
Large mesh bag
This bag folds down from the organizer allowing you to store more items especially when you need to carry a lot of baby items like toys and food. You can roll it up and attach to the bottom of the organizer.
Collapsible frame
This helps moms to fold the stroller without first removing the organizer
Magnetic closure for the middle compartment
This is a very unique feature that you can hardly find in other stroller organizers. The magnetic closure helps you to close and open the main pockets silently without waking up the baby if he or she is sleeping.
Velcro straps
The Velcro straps are extended to ensure it holds securely and stable on the stroller handle. They are also very strong to prevent the organizer from falling off the stroller.
Pros
High-quality fabric that is easy to clean
Large storage space
The organizer handles are adjustable; hence, fits most strollers including the Uppababy Vista, Britax, Maclaren, Brio and Baby Jogger city select
Can fit on double strollers that have a middle bar
Comes with a Limited Warranty
Cons
The magnetic closure does not close tightly
Video Transcript
hey everyone it's Lisa today I'm here to do a review for you and this Ethan and Emma I'm the ghost stroller organizer what I'm gonna do is talk to you about it first and I'm going to show you how it works with our stroller and how you attach it and it's a universal stroller organizer it's amazing I don't know I haven't seen one like this yet because it goes all the way down let me tell you about it Ethan and Emma is a husband and wife owned company they just could not find what they wanted in a stroller organizer so they made one themselves and that's the way to do it right so so this really is every stroller organizer that you see and you're like oh I like that about this one oh I like that about that one they took that all and put it into one and there's a spot for your phone and for drinks and for extra jackets and for under you know everything so let me explain to you a little bit about the stroller organizer this retails for $29.99 on Amazon so this is the organizer and I had I'm getting take it off so that you guys can see it and then I'm gonna put it back on actually I'll put it back on and I'll show you how we use it but so it's made of a very high quality fabric and obviously comes with a ton of storage so this front mesh pocket here is large enough to fit any model iPhone and even the samsung galaxy this zip off pouch see this little part here it's like a little wallet type pouch it's a zipper so you could put stuff inside of it obviously it zips off so if you're going in a store and you want to leave your stroller outside and you have like your credit card or your cash in here you can take this little clutch with you and then it just zips right back on just like a coat would super easy goes right back on so I really like that feature because how many times are you out walking and you just have to run in somewhere you don't you can't bring the stroller like when you're at the zoo or when you're in a theme park or something and you can just bring your little your little money in with you and you don't have to worry about your valid valuables there's two deep drink holders here that's a fairly whole and insulate the drinks really in there – soda litres and cold and then there is a magnetic closure on this main compartment and I know if you hear that it's a heavy heavy magnet this top closure with the magnet allows you to open this compartment without waking up a sleeping baby in the cart so that's really nice it also has a zipper here and has more storage inside the top part which is also mesh there is a rollup mesh bag on the back which this straps to the buttons there's a Velcro here down here I'll show you when I put it on my stroller but this is a mesh bag you can put like an extra jacket in here you could put you know lunch in here you could put anything in here look at all that storage and that match it's a mesh pouch so you could see through it also I really like that feature of this because it goes down on the back of your stroller so it's just you just basically had dead space in the back your stroller and now you're utilizing that dead space and you could actually hold stuff there so that is really really nice I just really like this stroller organizer it's it's it's just great quality when you feel it in your hands you'll know what I mean just a really beautiful stroller organizer and trust me I've done my homework on these this is a really nice one so I really really appreciate the pouch in the front for the guide for the phone because when you go for walks the phone is there let's face it here's a picture of it on that stroller but I'm gonna show it to you on my stroller and then we can we could go from there okay so this is our stroller we have the city mini baby jogger select okay so this is how it looks from the top you have your metal open pouch there gave up coffee I have her snacks in here it attaches just like this this is your pouch so you can keep your money in here is your phone and then this is the piece underneath that just connects and I mean I we also have that pilot I love my undercarriage – usually I'd like to throw my or go in there or whatever wherever we're going so this is this is what I love I have wipes in there and have a jacket I have a hat or like I'll show you what I have in here I have a hats because it's still windy here in Chicago and you never know what's going to happen I have a thing of whites and I have a little jacket and you could fit more in there too I mean this is just a nice added bonus because it's all dead space and they made use of that space so I think that that's great here you can see I have my phone this is where you would put your money and as you guys see as I showed you before this just unzips and you could take this with you and then you just zip it back on very easily here I have her I just put her snacks in here because it you know if it's just me and her walkie I never snacks and sometimes if she's not holding her sippy cup I'll put her sippy cup in there and I'll put the stamps in here right now I just have our sunglasses in the middle here there's another case up on top here see so if you're at the zoo or something and you need your pass or you want to have some cash or coins for something you could just throw it in there and then this is where the coffee or your drink can go so these are really nice deep pockets it's really it's really a nice secure thing just for reference I have an iPhone 6 and there's still a lot of space in there on the 6s so that is how it looks from this angle but it's just a beautiful stroller organizer I love the under part I mean I think that's the I think that's one of the best features about it besides this piece that comes off with you I'd like that too so I'm really excited to use it at Disney this fall and everywhere else we'll be going I just want to show you how it attaches to the stroller to way this works is you know you just put it behind and then you fit the velcro to whatever's whatever fits your stroller best and this is a very sturdy velcro too so that that makes it Universal and I think that's great so they fit on any stroller and the quality of it is amazing this is it's like a it's a durable material and very very happy with it so that is the organizer so as you guys could see the stroller it just is so extra extra functional now with all of these packets it's just like you feel like I don't know I just I like the way it looks on my stroller and I just love the function of it so so Joe from even at Emma was nice enough he is giving away one of these to you guys so I will have a link down below for Rafflecopter if this giveaway will go until Tuesday May 24th and like I said when you go to Rafflecopter there's a few different ways that you can enter once you get there again this is sold on Amazon for $29.99 I will link it down below if you're interested and this makes a great shower gift because you don't see this brand in the stores so you could really only find it on Amazon right now so um check them out if you're interested love this is actually the first this is the first stroller organizer that I've seen also with this detachable pouch which I really like it just has so many nice qualities about it I mean I just it's just great so definitely check them out if you're interested I have the link down below to enter the giveaway I want to thank Joel for sending me this one to try out because it is our go-to and we use it all the time now and I want to thank them for doing the giveaway for you guys as well I will put all their links down below they're on YouTube they're on Facebook they're on Pinterest definitely check them out and I will see you guys all in my next video thanks a lot
Click To Read Customer Reviews on Amazon.com
#3. ​Britax stroller organizer with cup holders
OUR RATING
IMPORTANT FEATURES
This is rated one of the best parent stroller organizers that fit the Uppababy Vista strollers very well. This is due to the convenience it offers for parents to store baby items when traveling.
Its unique features include;
Insulated beverage holders
Britax organizer comes with two cup holders that can hold 2 medium coffee cups.  The good thing about this is that your warm drinks will keep warm and your cold drinks will keep cold because the cup holders are well insulated. The cups are also deep enough so the drinks cannot spill over.
Large center compartment
This compartment is large enough to accommodate a number of diapers, snacks, baby wipes and other baby items that you need to bring along with you with traveling.
Magnetic closure
The magnetic closure rather than a zipper allows you to open and close the organizer without waking up a sleeping baby.
Outside pockets
There are 3 pockets on the side of the organizer where you can keep will small items like keys and phones.
Collapsible design
You do not have to remove the organizer from the stroller because the collapsible design does not interfere with the folding of the stroller.
Internal frame
The caddy does not change shape when you put your items inside because it has an internal frame or rather a metal bar around the top. The frame also makes it easier for you to remove your cups and bottles or close the lids while still in the holder.
Adjustable straps
You can adjust the straps of the organizer to fit your stroller. This is why Britax organizer is a good fit for most major stroller brands like the Uppababy Vista, City Select, BJ City Mini GT stroller
Pros
Light in weight
Does not get in the way of the seat even when in a reclined position
Magnetic closure does not open unnecessarily
Strong Velcro that holds very well
The fabric is easy to clean and durable
Cons
Tends to lean a bit to the side when full
Video Transcript
you hi everyone it's me Katie here from Asamoah reviews and today I'm bringing you my review of the Britax parent caddy so this item is designed to endure stroller handlebars and mainly your drink bottle foreign keys whatever you want to put in here is easily accessible you don't need to go down to the basket to grab those items so I purchased my bright actual account from Big W online because at that point I couldn't find it in store that anyway that was local to me but I have since founded at Baby Bunting and it retails for about, 30, four, 90, five when I brought my pram I found that it did come with a parent caddy that was the same brand designed to fit onto the my specific prayer but I found that the features of that parent caddy weren't exactly what I wanted and I wasn't going to restrict myself on only having the exact brand for the pram that I that I bought so I decided to have a bit of a look around and see what other prayer counties were on the market so I have the upper baby Vista prayer just either an idea and I used the main seat with the upper adapter so I've lifted the seat up so that my baby sits closer to me and that's how I configure my prayer so the Britax parent caddy is really great I did do a little bit of looking around when I was when I had got my prayer and I found that this one really ticked all the boxes for me and yeah it was fantastic so I just wanted to share with you guys what I love about this parent Cuddy and those are some of the things that I look for when I was purchasing it so first of all I'll give you a quick overview of the caddy it has two velcro straps on either side so that loops over your crown handlebar and suit up like that it has two insulated cupholders on either side things are really good I've been able to feed a large Bruce juice a large coffee a fairly large drink bottle in there it is a circular shape that it is quite flexible at the top so you can fit a decent size in there it also has a magnetic closure pocket in the center it doesn't quite small from the size of the opening that does actually fare down at the bottom to meet the drink pockets in the drink bottle pockets there so it is really good I could fit quite a lot in there left my sunnies in there because I take the pram out a lot when we were walking to her so to kick them in there was great spared dummy tissues wipes that kind of thing I did find that my iPhone 7 plus did have a bit of trouble fitting in there if I had other things you it needed to see on an angle in the prayer and caddy to actually either close the lid and to keep a little bit more private but I didn't like that this does shut so that I could keep my keys in there and not worry about the beat on display all the time the other thing that this caddy has three pockets along the front I did find that my throne would easily slide into that front pocket if I was going to use it a bit and then on the sides I liked that it was mesh because I could keep things like my library card lip gloss that kind of thing in there and know what was in that pocket and things that I wasn't afraid for other people to see like my library card so how many spots on the front is really handy good to keep things a bit separate I'm especially if you didn't want to disappear in that inside pocket yeah it's really good sorry the other thing that really drew me to this parent cutting well and above the other ones that I had seen on the market was the structure that it has it has a nice firm ring at the top it actually has metal in there that's quite sturdy and the idea of that is that it keeps your bottle pockets nice informed so that meant I was going to keep it nice and steady so if you do put a smoothie shop in there and you're worried about this moving around while we are walking around that metal is going to stop that from happening I'm really lucky I didn't have any leaks of any cups like that and I love a good Bruce juice or a smoothie so yeah I found that that wasn't a problem at all the other thing is that these attachment straps are nice and wide so it really held the caddy nice and stable on your prayer even if you're going over bumps and curbs and things like that I thought it worked really well the other thing that they've thought about with this caddy is that it is it's structured along the top but it's not so structured along the sides so when you fold your pram up if you've got nothing in here it will actually collapse down with your print as it's folded so you don't have to worry too much about how it's gonna fit your pram in that sense it will just compact down and that should be enough it on the handlebars pushed up against something like that so really good I've been using this for about, 11, months now and I have really liked it there are just a few things that drew back me a little bit and I'll go into that now so you can be mindful that if you decide to purchase this prayer caddy for yourself so first of all the way that it attaches to the pram it is really good because it gives it the stability but I do find because we've had a baby visitor I use the upper adapters to lift the toddler seat up higher so it's a knees closer to me and we can interact and that kind of thing it's also much easier to put her in their seat and take you out because I am so told so because of that the footwell of the toddler seat is a lot higher up so if I have this on handlebars I have to have it almost right at the top where the handlebars curved over for it to not get in the way of this seat so that is a little bit frustrating because it means that I'm quite restricted on the bars to where I can actually hold my hands I can't kind of put on the corners I'm really holding on in the center of the handlebars and I hope you're clipping in a sec to show you how it looks like on my pram and how I work it with the seat but that's just one thing that I found was a little bit inconvenient especially when she would fall asleep in the pram I would find that I have her sitting fairly upright in the prayer and because her legs are still not touching the end of the foot well I'd lift the foot part of the pram up so it was straight so her legs could be straight so as I would recline the seat if she were to fall asleep that leg rest would come up as well and then basically I have this on the prayer and that leg part would heat in here and it would push it off-center a little bit and that was tricky if I had you know things that were sticking out the top like a drink bottle or something like that so I did find that that was a little bit annoying but mainly that was when I had the toddler seat up on those adapters so if you were using a pan that had a big gap between the handlebars and the seat wouldn't be so much of an issue the other thing that I did try a bit frustrating about this parent cutting was when I folded my pram so really great if there was nothing in there it would fold down it would pretty well fit between the two front wheels of my prayer and our baby booster folds where the front wheels kind of come under the back wheels and so the handle I would be sitting on the top and this parent sit still on the handlebars and the wheels would be either side so that worked really well except when I had things in here you'd say I left my drink bottle in it because I was gonna be going out again shortly after noon I didn't want to take my drink bottle out it would kind of pushed the parrot caddy on the side and potentially things would fall out so I have got out got the pram out of the car thinking I've got a dummy or a dummy or something like that in a minute but because this has been tipped up and as I've been driving around it's fallen out and so that had you to find that a little bit annoying but I think that's mainly when there's the only time I found that happen is when there's been things in the parent caddy so that's just the thing to think keep in mind if you've bought this too maybe you found the same things are falling out and you're not sure why I'll tell you that that is why definitely when you purchase a parent caddy forward your pram with a parent cutting on see what it looks like when it is forwarded make sure that this is still still fits well it's not going to get torn by pressure being put on the edges especially if you've got a thinner strap I've seen quite a few that get torn off because of the pressure when they're folded and maybe even worried about with some of the things that you think you might want to have in there and see if that works for you some people don't find that they need to put a lot of stuff in and then maybe a cup holder that just attaches to your prayer it's more convenient for you but I have loved this definitely one of my best purchases to go with my prayer I use it constantly so I hope that this review has helped you give you a bit more of an insight onto the Britax stroller caddy if you have any questions just leave them in the comments below don't forget to follow me on our new Facebook page Josie mama reviews and I hope you have a good day bye
Click To Rea​​d Customer Reviews on Amazon.com
#4. ​Skip Hop Grab and GO stroller organizer
OUR RATING
IMPORTANT FEATURES
This universal organizer has a number of unique features which makes it a great fit for Uppababy Vista stroller. These features include;
Adjustable straps
The adjustable straps enable this stroller caddy to fit securely on most strollers. For the vista stroller, the straps wrap around the handle very well.
Insulated cup holder
The cup holder keeps drinks cool or warm and stretches to accommodate different sizes of bottles and cups.
Side pocket
This zippered side pocket is perfect for storing small items for quick access such as spare change, keys, and cellphone.
Detachable wristlet
This pouch wristlet can be unzipped from the main compartment and be used to hold other valuables when on the go.
Headphone outlet
The headphone outlet is a big plus for parents who like to listen to music as they stroll with the baby in the stroller.
Pros
It is very spacious
Durable fabric
Fold easily with most umbrella strollers
Cons
The front wheels tend to touch the organizer when you fold without removing it from the handle
Might be too bulky when full
Click To Read Customer Reviews on Amazon.com
#5. ​Jolly jumper stroller caddy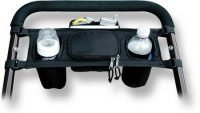 OUR RATING
IMPORTANT FEATURES
Two Deep Cup holders
The 2 cup holders are deep enough to hold a cup or bottle securely without swinging or moving as you push the stroller. Thus, it is also a pretty good organizer for a jogging stroller like baby jogger city mini.
Front pockets
These pockets are perfect for putting your cell phone and small items like toys for quick access.
Middle large compartment
This compartment is large enough to hold a number of baby items. In addition, it has a zipper to prevent them from falling out.
Small compartment
This zippered compartment hangs off at the back of the organizer near the parent and has 3 different areas to keep items like coins, wallets, toys and many more
For Velcro loops
The 4 Velcro loops enable this parent console to be adjusted to fit any stroller. You, however, need to consider the angle of your stroller's handlebars so that you can adjust the straps accordingly. It fits perfectly on strollers with horizontal handlebars but for the vista stroller which has an angle of 45 degrees, you may need to do a little adjustment. But it is a perfect fit.
Pros
Vista stroller can fold with the parent console attached
It is very sturdy
Very versatile
Fits double strollers too
Strong Velcro that stays on
Cons
Comes in the way when positioning the baby's seat upright or reclined
Video Transcript
[Music] alright guys so for this video today I am going to try on this stroller caddy that I bought and see if it fits my snap and go okay guys so I have my snap and go all open and ready and I'm going to try out this caddy and I hope and pray that is fit so let's see instructions find an area of the handlebar you think is most comfortable to you start by attaching one of the four velcro straps to the frame as shown in the picture below continue these steps until all four cars press about the page let's see this here it has a strap here that has a cup holder on it those cup holder is rectangular I'm actually wondering if I could somehow take off this cup holder I'm not too sure I got this secondhand so I'm not really it didn't come with any instructions on that but let's see we've got here okay so this is the part that supposed to be we're really put that commuters I think I can fit this I do believe I do believe it's going to work okay so it says that you have to [Music] Oh like this I think it goes through this little buckle or latch and yes [Music] fasten it under like that I believe take a cost okay now what I'm kind of concerned about though is the fact I fell girl I'm just wondering how wrong is that going to hold us it's very big on these instructions by attaching one of his uncle structure love [Music] okay I think I did okay let's see so they had like but surely now I did okay I'm sure you prep around through the loop and you open okay video little bit [Music] and you'll try the side there goes my destruction [Music] under they basically are doing it under [Music] blue I think it's kind of work I'm just iffy on how to cure that it's going to be being just velcro like if you put things in the drink holders how how effective is I going to be that is the question I wish I had a water bottle that I could try and put in there hey guys so I apologize lady is not that great but it looks like it fit my own concern is this being in the way here I wish I knew if I could like snap that off sometime or if it's permanently on there because if I could take that off then it would be perfect just going to remove my knockoff money clip and put it in a clock over here yeah perfect okay so um it looks like it fit there's a lot of excess velcro um so I want to try to make it a little bit more snug fitting and I basically am just gonna go as far around as I can with that well girl [Music] there we go just make it a little bit more snug fitting all right I think that should be good um yeah so I'm going to show you guys up close what it looks like okay guys so here's the top of it as you can see there's two drink holders one could be for a bottle of water and one could be for a baby bottle then in the center there is a zipper pocket like this and it's quite quick deep okay so here we go here's some better lighting now so this is the part that dangles down and it has a zipper pocket here mmm and the zipper doesn't seem to be proper oh no it's guys the zippers broken are you kidding me it has it's not lined up properly I can fix it oh I fix it yay okay so there's a pocket in there fairly spacious and then over here is a little mesh pocket could be for like your cellphone or whatever so I like it I think it's really cool I'm just anxious to see how it holds up when you put a drink in I think it's going to be okay mainly because I really tightened these parts so there's a better look at the cup holders and the pocket so yeah I think it's going to be pretty darn good and there's how it looks on the stroller on the snap and go and if it's really well I like it thumbs up Jolly Jumper so yeah this is the Jolly Jumper brand stroller caddy feels pretty secure I'm just going to stick my hand in like let's just say we had a heavy drink hanging down yeah it's pretty good it's sturdy the velcro is not coming undone at all oh my gosh I'm so excited about this guys because honestly I don't know if you guys can see this old cup holder but there it is see how it's not even round it is such a weird shape and I have had so many times where like I've been pushing the stroller and I hit a bump and my drink almost falls and I was the last thing I wanted to drink to fall over my baby so this is definitely good um like I said this is like kind of in a way but I can kind of pull it up and over and then you can still get to the cup holder nicely so I think this is going to do the job I'm excited to try it out next time I go on my outing on an outing with one of the babies so yeah thanks so much for watching and don't forget to hit that subscribe button if you're new because when I hit 4,000 subscribers there is going to be a giveaway of a doll so stay tuned for that don't forget to subscribe so that you don't miss any videos to my channel thanks so much for watching guys we'll see you next time bye [Music]
Click To Read Customer Reviews on Amazon.com
Why do you need an Uppababy Stroller organizer?
The Uppababy Vista stroller usually comes with a storage basket underneath. Although the basket is usually very spacious, it does not keep all items in an organized manner since it does not have compartments.
You are forced to throw everything inside, which makes it very difficult to access baby items while on the go. This is why a stroller organizer comes in handy.
With a stroller organizer, you can carry your baby's bottles, teethers, diapers, food jars, baby wipes, and small toys. There is also space for your cup of coffee and pockets to hold your valuable items like wallet, cellphone, and keys.
If you do not like the features on the Uppababy Vista parent organizer, there are several alternatives that perfectly fit the Uppababy stroller as we have discussed above.
What to look for when shopping for the best stroller organizer for Uppababy Vista
Various compartments
As the name suggests, stroller organizers are meant to help you keep your items well organized when traveling. For this reason, you need to ensure that the organizer or caddy you choose has compartments and pockets to help you to separate all the items. For instance, you can keep diapers in one compartment and teethers and small baby toys in another. Pockets also come in handy for items like wallets, keys and cellphones that require quick access.
Cup holders
Cup holders are an absolute necessity on an organizer to help you carry your drinks. If you want your hot drink to remain hot or keep cold if it's cold, then you need a stroller caddy that is well insulated. You may also need to buy one with two cups holders, for your baby's milk bottle and your cup of coffee.
Fabric/material
It is important to ensure that the stroller caddy is made from high-quality fabric that is easy to clean and does not stain. Bearing in mind that you will be carrying drinks like coffee and milk in the cup holders, the material should be easy to clean by simply wiping off. An organizer that is made from good quality fabric like polyester will last long and serve you for a long time.
Light in weight
A bulky organizer can be cumbersome to carry around. When you add your items it could be even heavier and make it hard to push the stroller. This is why you should get one that is lightweight to help you maneuver and yet large enough to accommodate all the items you need when on the go.
Strong Velcro
Most stroller organizers attach to the handles of the stroller using Velcro loops. If the Velcro loops are not strong enough, the organizer will keep sliding down the handles or fall off. Ensure that the loops can also be adjusted to fit tightly on the handles of your stroller.
Folding the stroller
Many parents seem to be bothered by the fact that they have to remove the console before folding the stroller. If you are one of those parents who find this annoying, then get an organizer that can fold while attached to the stroller. This must be light in weight and flexible.
More Of Our Stroller Posts
Below is a selection of our top Stroller Posts, however please visit our Stroller Category Page for all our articles.
Lynn
Lynn is a freelance writer, a wife, and a mother of two beautiful kids. Lynn started Infant Empire with the aim of making parenting easier for fellow mums and dads. She believes the parenting tips provided here will be of great help to all parents.