By Maria Wilcox •  Updated: 11/02/22 •  7 min read
Hey Mamas and Papas! This site is reader-supported and we earn commissions if you purchase products from retailers after clicking on a link from our site.
Are Comotomo bottles dishwasher safe? If you know anything about these wildly popular bottles, you know they are designed very differently from traditional bottles. This may cause you to wonder how to properly clean them. But don't worry. In this post, we've gone to great lengths to break down exactly what you need to know about keeping your Comotomo bottles clean.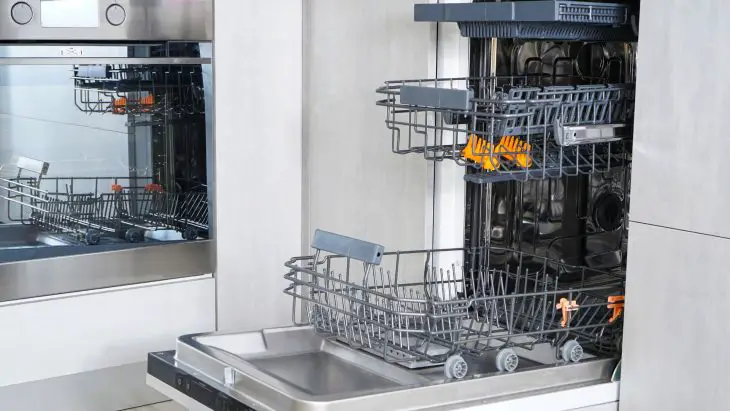 What Is So Special About Comotomo Bottles?
Comotomo bottles are baby bottles that were made to solve all of the issues surrounding traditional bottles. They are made from silicone to prevent the harboring of bacteria. This is completely different from your normal plastic bottle. This gives it a soft and "squishy" feeling similar to that of human skin. 
Speaking of human skin, the Comotomo bottle has been designed to closely mimic feeding at the breast. According to the website, mamas often refer to these bottles as "breastfeeding in a bottle".  The shape of the nipple and the bottle itself is said to help with nipple confusion and bottle rejection. This is something breastfeeding moms love about Comotomo.
Another huge benefit related to the purchase of Comotomo bottles is that the nipples are dual vented. This keeps air from getting trapped in the bottle which can make your baby gassy– and miserable! The vents aren't anything you have to remove like some other types of vented bottles. Because of this fact, cleaning these vented nipples is a breeze! 
Do You Squeeze Comotomo Bottles?
Actually, you can! In fact, this is one of the things that parents like most about the Comotomo bottle. 
When squeezing you only need to apply gentle pressure. This allows more of the milk to come out to help your baby along. It can also signal your baby that it's time to eat if he or she isn't sucking yet.
Having said all of this, it is important to note that you don't have to squeeze your Comotomo bottles for them to work. Simply tip the bottle as you would a traditional bottle and out comes the milk when baby starts sucking. 
Easy!
How Do You Clean Comotomo Bottles?
Among the many things people love about the ever-so-special comoto bottles is that they are SO easy to clean! Because of its–truly– wide-mouth design, you can easily fit most of your hand inside to get the bottle clearned. 
Are Comotomo Bottles Dishwasher Safe?
Yes, they are! This is another very attractive (and easy) way to clean your baby's bottles. They are also microwave safe in the event that you want to sterilize your baby's bottles using a sterilizing bag in the microwave. 
When washing your Comotomo bottles do the following:
Take apart the bottle and rinse. There are usually four parts: the bottle itself, the nipple, the outer ring, and the cap. 
Place all of the disassembled parts on the top rack of the dishwasher. 
Run a wash cycle as normal and tah-dah! Your baby's bottles will be clean again!
How to Sterilize Comotomo Bottles
Remember that when asking, "Are Comotomo bottles dishwasher safe?" you also need to consider how clean the dishwasher will actually get them. In essence, your dishwasher will clean your Comotomo bottles but they will not sterilize them.
So, how exactly can you go about sterilizing Comotomo bottles? There are a few ways to do it.
Use a Bottle Sterilizer
Owning a bottle sterilizer is a simple way to get most bottles sterilized. However, not all sterilizers are compatible with Comotomo baby bottles. The ones that are compatible include Avent 3-in-1 Electric Steam Sterilizer, Tommee Tippee Electric Steam Sterilizer, Baby Brezza Sterilizer Dryer, Born Free Tru-Clean Bottle Sterilizing System, and a few more. 
When sterilizing your bottles this way, simply follow the instructions in the manual for operation. Whatever you do, try not to use sterilizers that haven't been approved for use with the Comotomo. For a complete list of compatible sterilizers, visit the Comotomo website.
Use a Microwave
Don't have a bottle sterilizer? Try using sterilizing bags instead. The Medela Quick Clean Micro-Steam Bags are a crowd favorite, but most sterilizing bag types should do. Like with sterilizers, sterilizing bags will come with their own set of instructions. Follow these instructions when using them for Comotomo bottles. 
You usually only need to place the bottle in the bag with water and place it into the microwave for full-on sterilizing power. Sweet! 
Boil Them
Lastly, you can simply boil your Comotomo bottles to sanitize them. This is probably the easiest and cheapest way to do the trick without having to purchase extra items. 
You'll be happy to know that all parts of Comotomo bottles can be boiled. Simply put water in a pot large enough to hold all of the parts. Boil for no less than 5 minutes to remove all germs. 
That's it! 
Are Comotomo Bottles Dishwasher Safe? Why, Yes They Are!
Like everything else attractive about Comotomo bottles, you can rest assured that these bottles are indeed dishwasher safe. What's even better about them is that they offer several benefits for you and your baby that make them much different from other bottles. From its soft and pliable silicone body to its vented nipple, there's much to celebrate concerning Comotomo bottles. 
Check out our post for Comotomo bottle warmers as well.
We hope this helps! Until next time!
FAQs
Does the dishwasher ruin baby bottles?
They may cause damage to baby bottles over time, but they also may get your baby's bottle a bit cleaner than they would be if they were only hand washed. Still, as long as you place the baby bottle on the top rack of the dishwasher, there shouldn't be much damage that occurs to your baby's bottle. 
Can you boil Comotomo bottles?
Yes, you can. It is suggested that you boil Comotomo bottles for no less than 5 minutes to rid them of harmful germs and bacteria. 
Are Comotomo bottles expensive?
Comotomo bottles may be slightly more expensive than traditional bottles, but for all of the benefits they offer, we're thinking they may be worth the splurge. 
Maria Wilcox
Former instructor with an M.A. in Education turned grateful stay-at-home mama to one, I look to share helpful insights related to babies, toddlers, kids, and families for the benefit of real people just like you.