By Lynn •  Updated: 01/15/22 •  19 min read
Hey Mamas and Papas! This site is reader-supported and we earn commissions if you purchase products from retailers after clicking on a link from our site.
Our 5 Top Best Double Jogger Strollers
Click to check price
1. Baby Trend Navigator Double Jogger Stroller
2. Baby Trend Expedition Double Jogger
3. Baby Jogger City Mini Double Stroller
4. Joovy Scooter X2 Double Stroller
5. Graco DuoGlider Double Stroller>
Continue reading for the full reviews….
In A Hurry?
Ready to go out jogging? It may not be the best time to start catching up on your stroller literature. We understand that! As such, we have taken the time out to ensure that the very best product on the market could be recommended to you.
This is the one that we found to be a cut above the rest through user reviews and testing.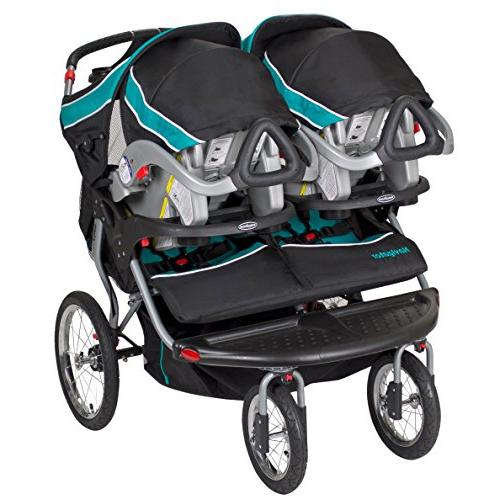 Our top pick for this category is the Baby Trend Navigator Double Jogger Stroller – Click to check price on Amazon.
We found it incredibly easy to set up. It is equally easy to carry along with you, due to its lightweight nature.
There are a wide array of other functions that you can find out about in the detailed review below.
Double Jogger Strollers Introduction
One of the challenges that come with having a baby is being able to keep up with your daily routines. If you enjoy the outdoors and love a good run, it can be difficult to carry on with it. Bringing a childminder into the equation is one solution.
However, there is a beauty that comes with being able to share the things that we love with the people that we love. This is where double jogger strollers will come handy. Not to mention the money that you would also be able to save.
Jogger strollers provide you with the ability to take your little ones with you when you go out jogging. There are all sorts of things that you can look out for when you are choosing one of these things. The first one would be practicality of use.
You do not want to end up with a good looking stroller that is not suitable for its main purpose. Any parent will know just how many beautiful strollers are on the market. It is easy to get bogged down in the looks, at the expense of performance.
To help you avoid this common pitfall, we took time out to survey the market. We wanted to make sure that we could identify products that were suitable for the needs that we have. After some research and testing, we are excited to share the 5 strollers that we found to be worth it.
A quick comparison chart for the Best Double Jogger Strollers
| Image | Product | Buy Now |
| --- | --- | --- |
| | Baby Trend Navigator Double Jogger Stroller | Our Rating |
| | Baby Trend Expedition Double Jogger | Our Rating |
| | Baby Jogger City Mini Double Stroller | Our Rating |
| | Joovy Scooter X2 Double Stroller | Our Rating |
| | Graco DuoGlider Double Stroller | Our Rating |
Top 5 Best Double Jogger Strollers
OUR OVERALL TOP PICK 2022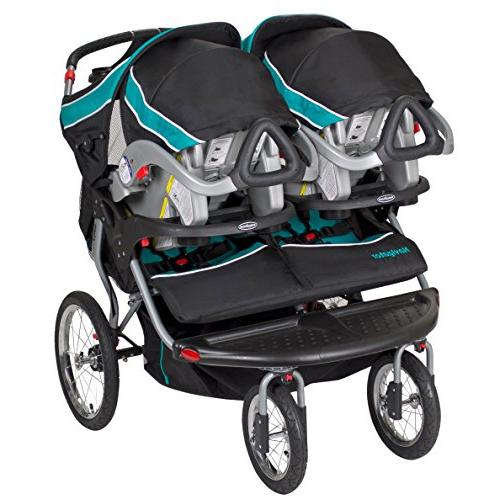 #1. Baby Trend Navigator Double Jogger Stroller
OUR RATING
IMPORTANT FEATURES
Baby trend is the worldwide famous and leading juvenile products manufacturer for 30 years with glory. Baby Trend is the pioneer and manufacturer of baby products like Snap – N – Go® and Sit N' Stand® strollers.
Both the products have acquired many popularity and awards because of its unique feature. Snap – N – Go® is a portable stroller and it is very lightweight and very easy to convert it with the car seat into a stroller. Sit N' Stand® is the stronger stroller that can carry together an infant and toddler while travelling.
There are many more strollers of Baby Trend and other baby products too. Baby Trend Navigator Double Jogger Stroller is designed to give comfort and safety of your children. This is suitable for two at a time. This provides to your babies with 5 point harness which will keep the baby safe in the stroller.
As protection, there is two separate ratcheted canopy shade. This jogger is steadier because of lockable swivel wheels in the front. It is very easy to fold and carry handle that it would not bother the travel enjoyment at all. This is a perfect choice for those who have twins.
This stroller also features MP3 speakers plugin so parents can enjoy music with their babies while on the move. Also available in different colours to choose from. 
Product Dimension: 32.5"W x 46"L x 43"H
Product Weight: 43 lbs (Approximately)
Pros
This stroller is very easy to set up
It is easy to operate
It is very easy to fold and carry.
This stroller ensures baby security. The lockable swivel wheels in the front give more protection.
It is a durable and strong stroller.
It can easily compact with the car seat. So no need to buy separate car seat stroller for your baby.
It can carry two babies at the same time as it is ideally designed for twins. So it saves money with the best outcome.
Its Pneumatic tires will give extra soft movement which is very much supportive of the baby's weight.
This stroller offers multi positioning for your babies so that they never get bored and stay calm with a smile.
It has an MP3 plug-in option so that you would be joyful while jogging with your babies.
This is very economical to buy compared to others with such features and benefits.
Cons
This is a versatile stroller for babies but because of its weight, it may bother you sometimes.
Click To Read Customer Reviews on Amazon.com
2022 RUNNER UP
#2. ​​Baby Trend Expedition Double Jogger
OUR RATING
IMPORTANT FEATURES
For the last 30 years of glory, Baby Trend has been the market leader with its unique features in their products with reliable quality. This is very hard to maintain a reputation like this that customers are so reliable with 360 degrees about the company, the price, product quality, uniqueness and safety.
It has so many juvenile products with different features and needs. Baby Trend is mostly known for its two unique innovation Snap – N – Go® and Sit N' Stand®. Both the products have won several awards for its uniqueness and best features.
This also gives the Baby Trend a golden boost to its reputation. This is why Baby Trend is famous and popular for its new innovations and smartness.
Expedition double jogger is another best striker to the stroller bucket of the company. This is also designed for twins' baby. This has multi-position features with a lockable front swivel wheel. This stroller has a storage basket so that parents can store the necessary things in it.
This stroller also has a parent tray with two cup holders. Its large tires can give a long mile to your leisure stroll. With 5 – point's safety harness reclining seat is very much adjustable.
This lightweight jogger is certified by the Juvenile Products Manufacturers Association. This has a super ventilation facility that keeps the babies comfortable and gives more airflow. This also has one canopy but small. This stroller is also available in three different colours.
Product Dimension: 31.5"W x 46"L x 42"H.
Product Weight: 32.5 lbs (Approximately).
Pros
This can carry two babies at a time so this is more useful where budget is concerned. This is perfectly suitable for parents who have twins.
This is easy to adjust and it also offers multi positioning. So that parents can set their babies in different positions after times.
Pneumatic tires give a soft ride to the juggler and babies gets more comfort while jogging.
05 – Point harshness in each of the seats gives extra security to the babies, so you can be relaxed from dropping out tension.
Though is light in weight yet this is very durable and considered as you don't have to buy any other till your baby starts walking
Excellent ventilation gives a better airflow and keeps the baby more comfortable. This is necessary to have proper airflow because in low ventilation it can causes rashes to babies after lying long in a jogger.
Having a storage bucket allows taking necessary things along with and this is very much helpful.
This is very light in weight which gives extra comfort to carrying the stroller you.
Cons
No suspensions on the breaks that may be little matter of concern, because of long jogging parents have to be more aware of the road conditions for their baby's comfort level.
Click To Read Customer Reviews on Amazon.com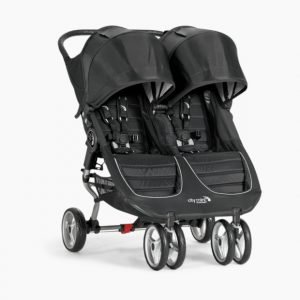 #3. ​Baby Jogger City Mini Double Stroller
OUR RATING
IMPORTANT FEATURES
Baby jogger belongs to the top five popular and well-established baby strollers manufacturers around the world. Since 1984 they are keeping their reputation positives around the world. Many of the wards have been achieved by its different stroller.
This is a great achievement for any company. This also keeps a strong position in the customer's mind. Awards from Baby Center, New York Family, Junior Magazine, Baby Gizmo and Cribsie certified this company more reliable to the parents.
Baby Jogger City Mini Double is an award-winning stroller for urban mobility. This stroller is not specified for jogging. This is a moving stroller that allows parents moving around with their babies. This also made for twins. This would be a perfect choice for twins' baby.
This is very handy and very light weighted. Very easy to fold and auto-lock technology will give you more comfort to carrying the stroller. This does not offer multi positioning rather flat.
This has UV 50+ sun canopy moves in multi positions. Also has an extra window inside the stroller which givers excellent ventilation and comfort to the baby. For super comfort, it has wheel suspension ensuring smooth rides. 05 Points harness with shoulder pads gives super safety to the baby. This stroller comes in different colours.
Buyers may get some extra accessories while buying this stroller like belly bar, child tray, weather shield, liquid holster.
Product Dimension: 29.75"W x 11.25"L x 41.5"H
Product Weight: 28.6 lbs (Approximately)
Click here to read the full Baby Jogger City Mini Double Stroller review.
Pros
This is very light in weight, which is very easy to carry out with.
It is also very easy to fold, also has a lock system that kept the folded stroller safe while transporting.
This ensures very smooth rides to your babies, the front-wheel suspension gives and smoothness in the different road while moving.
It's very comfortable with super ventilation and peek-a-boo window.
This has a super large canopy that keeps your baby safe from the sun.
This also has retractable weather cover which makes the baby more comfortable.
The liquid holster provides extra security to avoid uncertain and unwanted spills while on the go.
Cons
This is not that big stroller so it can be a little less cosy to adjust your children.
Small storage may not allow carrying several things. But you can take necessary items with you.
Click To Read Customer Reviews on Amazon.com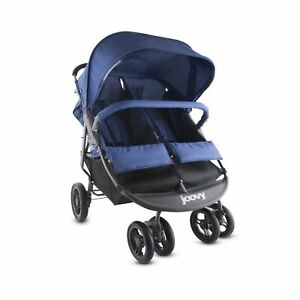 #4. ​​Joovy Scooter X2 Double Stroller
OUR RATING
IMPORTANT FEATURES
"Built for family, designed for life" is the tagline used by Joovy. The international US brand that manufactures a variety of juvenile products since 2011. First, they were targeting of the young mother and offering unique feeding line to stand strong in the crowd.
Promising to offer the best design and making the motherhood easy they are giving quality products to the customers in great shape. It is now operating its business in the worldwide market with a good reputation.
It is said Scooter X2 is the door friendly double stroller because it easily fits through the doors. It can carry two babies at a time with a maximum weight of 90 pounds (45 pounds each).
The best part of this stroller is flame-retardant and chemical-free. Flat independently reclining adjustable seats with peek a boo window give extra comfort. It also has an extra-large basket with mesh pockets for mobile phones, two cup holders.
The sealed bearing wheel is easy to manoeuvre. Also, its double front wheel gives super stability to the rides. Large canopy and removable bumper bar keep the babies super safety and protection. Premium looks and high-quality materials scooter X2 comes in the different colour blue, orange, black, red and so on.
Product Dimension: 32"W x 30"L x 44.5"H
Product Weight: 32lbs (Approximately)
Pros
It is flame-retardant and chemical-free.
The large canopy gives protection from direct rays of the sun.
Sealed bearing wheels gives smooth rides against dirt, debris roads.
It's strong and durable to last long and worthy of money to use.
It is very easy to fold and can be locked to make it's transportation easier and safe.
This is very light in weight which gives less hassle to carry.
It has an extra-large basket and mobile pocket to keep mobile phones and two cup holders.
It's very economical to purchase.
Cons
Little heavy but not that much to worry about.
Click To Read Customer Reviews on Amazon.com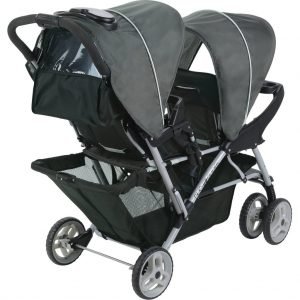 #5. ​​Graco DuoGlider Double Stroller
OUR RATING
IMPORTANT FEATURES
Graco is one of the world's most popular and trusted juvenile product company. For the last 60 years, it has provided parenting solution and offering different types of baby products. With innovative and compatible design makes the brand more trusted among parents.
New innovation like 4 ever car seat (first car seat which goes from backless booster to baby), 4 in 1 seating system are the most mentionable.
They believed they have over 1.5 million satisfied customers around the world. Manu products of this company have been awarded by different organizations which make the company more reliable to the parent's mind. Graco believes according to parents' ad experts, the Graco brand is second to none.
This stroller is for children of about the same age or twins. This stroller is strong and more durable to use. This stroller has two Graco® SnugRide Click Connect™ infant seats.
It can carry up to 80 pounds in total. This stroller does not have side by side seats but it has 2 rear fronts reclining with big canopies and footrest in each seat.
Also, the seats are multi positioning for greater comfy of babies. This is one-handed folding stroller with big storage baskets, also has a cup holder in each seat with parent tray in additional. Lockable swivel wheels in front with great suspension add smoothness to the ride.  
Product Dimension: 20.5"W x 36"L x 41"H
 Product Weight: 29.5lbs (Approximately).
Pros
This is easily foldable and fewer hassles stroller that parents would love to carry around.
Separate canopies and footrests make it super comfy for the babies.
Lockable swivel wheel in front and double wheels with suspension gives smoothest rides to the baby, which is more comfortable.
Seat cushions are washable and removable that parents can adjust it based on the cold and dry situation.
There is an extra-large basket with separate cup holder and parent tray in each seat.
Multi positioning seats are more comfortable for the babies that the stroller supports.
Separate large canopies keep both the babies safe from strong direct rays of the sun.
This stroller is durable and strong to use, which is good for babies safety.
Cons
This stroller is a little heavy to carry but not the most to worry about.
Click To Read Customer Reviews on Amazon.com
Best Double Jogger Strollers Buyers Guide
Now that we have covered all the picks in some detail, let us consider some of the more obscure details. That one ought to consider when picking a stroller. These are some of the points that we took into consideration when we did our research for the products that we ended up with. There are many ways that you can do this. The ones that are mentioned in this guide are the tip of the iceberg. Depending on the time that you have, you may want to dive deeper. It is also worth considering other options that may not have been considered within the scope of this article.
Stroller vs baby carrier
One of the more difficult choices that one can make when it comes to these things is whether to go with a stroller or a baby carrier. Let us start by considering what sets these two choices apart. A baby carrier is made for the sole purpose of carrying a baby. It makes use of one's arms to achieve this. This is an obvious limitation in many ways. As the baby grows bigger and heavier it becomes increasingly difficult to use the carrier. There is also the idea of the need stamina. Even when the baby is small, depending on your arm to carry the weight for a long period can be telling. There are more suitable uses for a carrier.
The stroller, on the other hand, comes with wheels. It supports the weight of the baby leaving you with the sole responsibility of pushing it. This is a handy feature when you are using a jogger stroller. Using a baby carrier will place the limitation of distance and the weight that you have to bear. The stroller also has the advantage of providing enhanced stability as you jog. This is not something that can be said about the carrier. The movement of your arms as you run coupled with fatigue will place the baby at risk when running.
One of the key features that they share is the option to strap in your baby. It will ensure that they are less prone to tumbling out if they were to become restless. Where jogging is concerned, this is hardly a contest.
Stroller or trike
Where strollers are the preferred option for joggers, using a trike will go a long way for keeping baby engaged. The decision of which one would be ideal will usually come down to the baby that you are buying it for. For a trike to be effective it ought to be one on which the child's feet can stay put on the paddles while you run. If the child's feet are to come off the paddle, it can be a very dangerous situation. The other advantage of the child being able to keep their feet on the paddles is that your run would go largely uninterrupted.
A stroller, on the other hand, will reduce the risk while running with your child. There is more control placed into your hands as opposed to that of a child. There is obviously no paddling involved. Most trikes nowadays are well equipped to harness your child safe as you go about your day. This is a feature that they share with the strollers. Where the paddles are concerned, you may strap the feet onto them. This is provided you factor the fatigue that may come with this when going for a long distance.
If we had to choose between the two, it would be a trike for a walk and a stroller if you were going jogging.
Stroller or backpack carrier
The backpack carrier is another option that could be taken into consideration when going jogging. This is the carrier that allows you to place your child on your back, securely strapped in. The straps run over the shoulders and underneath the armpits. They are strapped securely to your body while you are running.
The stroller has the advantage of carrying the child's weight. Your arms are somewhat restricted in their movement while you are running. This is due to the need to maintain control of it. When using a backpack carrier, this is not an issue that would concern you. Your arms are free to move as you would like, which of course is necessary when jogging.
Using a backpack carrier has the obvious downside of requiring that all of the child's weight is placed on your person. Over a short distance, it may not be much trouble. However, if you will be running for long-distance fatigue will undoubtedly kick in. Not to mention that it may not be the most comfortable experience that your child will go through. You see, a stroller is well padded to provide the child with all of the insulation that they may require when you are moving at speed.
If we had to choose between the two options, the stroller would be the preferred option when going jogging. The backpack strap would be handy when taking a stroll. Pace plays a massive role in all of this. When you are not moving at a fast pace, the backpack carrier allows you to be physically connected to your body. As we all know, body contact is invaluable for bonding with your child. There are also fewer comfort issues pertaining to comfort when using the backpack strap.
Final Thoughts
Now that you have read all of the reviews that we wrote about the products, which one will it be? Choosing a stroller can be an interesting experience. It is often incredibly difficult to differentiate the ones that will suffice to the ones that just look the part. This is what makes it very important that you would take the opportunity to read through reviews. You will find that comparing each book's features both the good and the bad ones should place you at a vantage point to reach a well-informed conclusion.
Our buyer's guide focused on comparing some of the options that are available on the market for those who may be considering going with something other than the stroller. You will be able to figure out what sets the stroller apart in terms of features. These comparisons will also bring about some things that you would not have thought to consider before settling on your pick. The best approach is to always revisit the reviews after you have read the buyer's guide. There is something amazing about going back armed with that little bit of extra information.
Making a choice is not everyone's forte. If you find that you are struggling to pick, you should give our top pick another consideration.
Check Out Some Of Our Other Stroller Posts
We hope you found this article helpful – but if you still haven't made up your mind which Stroller is right for you, then please visit our Stroller Category Page to view all of our Stroller articles.
Lynn
Lynn is a freelance writer, a wife, and a mother of two beautiful kids. Lynn started Infant Empire with the aim of making parenting easier for fellow mums and dads. She believes the parenting tips provided here will be of great help to all parents.