By Lynn •  Updated: 03/26/22 •  10 min read
Hey Mamas and Papas! This site is reader-supported and we earn commissions if you purchase products from retailers after clicking on a link from our site.
If you're new to the world of parenting, you likely know that your little one needs a place to sleep but you may not be sure where. Of course, cribs are an option but what about a Pack 'n Play? Can playards be utilized for safe baby sleep? In this article, we will be detailing the differences between a Pack n Play vs crib and how to determine which might be the best fit for you and your baby.
So, without further ado, let's get started. 
Can a Pack and Play Be Used as a Crib?
Yes! Many parents use Pack 'n Plays as a safe crib alternative. 
Pack 'n Plays, or any playard of another brand, can be safely used for baby and toddler sleep. The key, however, is keeping the playard safe. This is done by not adding items such as blankets, pillows, or soft toys until your child reaches at least 12 months of age. 
Moreover, many sources recommend using the mat that your playard comes with instead of purchasing a new mattress for it. That's because some mattresses may be too soft for safe infant sleep. As your child ages, however, a softer mattress might be a good addition to your little one's Pack 'n Play as this may make it a more comfortable place to sleep.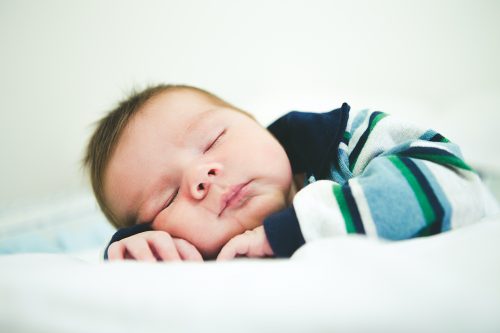 Is Crib Better Than Pack n Play?
That depends on who you ask!
Because cribs and Pack 'n Plays have so many differences, it will be up to the parents and caregivers to determine which is the best fit for their needs. 
A Pack 'n Play is portable, doubles as a playpen and safe sleeping space, and folds away for easy storage. It is lightweight and usually has breathable mesh sides. 
A crib, on the other hand, is not typically portable, can be quite heavy, does not double as a playpen, and is not easily stored. Cribs do, however, tend to convert into toddler beds, meaning you'll be able to utilize a crib for much longer than you would a playard. Cribs are also a lot more visually appealing. 
| | | |
| --- | --- | --- |
| | Pack 'n Play | Crib |
| Size | Can Vary/Typically a Bit Smaller Than Crib | 28″ x 52″ |
| Function | Sleep, Nap, Play, and Travel | Sleep and Nap |
| Portability | Yes | No |
| Weight | Around 21-30 pounds | Anywhere from 50-100 pounds |
| Appearance | Casual/Playful Depending on Model and Brand | Sophistacated, Decorative |
| Duration | Until Toddler Reaches 30 lbs or 35 inches in Height | Until You Are Ready to Move Toddler to "Big Kid" Bed |
| Convertibility | Pack 'n Plays Do Not Convert into Day Beds or Toddler Beds But May Come With Bassinet Attachments | Many Cribs Convert into Day Beds or Toddler Beds But Not All Do |
Is a Pack n Play the Same Size as a Crib?
No, it is not. 
A Pack 'n Play differs greatly from a crib for many reasons. 
Looks: In terms of appearance, a Pack 'n Play, or other playard, looks much different from a crib. It is a rectangular-shaped enclosure that has mesh sides and a flat base that is low to the ground. Aside from their mesh walls, the rest of the Pack 'n Play is generally covered in cloth and can come in a variety of colors and patterns.  A crib, on the other hand, has slats and is stationed much higher above the ground than a playard. It is not covered in mesh or cloth but is typically made of wood. Cribs are highly stylistic and often serve as a decorative piece of furniture in addition to a safe place for baby sleep. Cribs don't usually come with their mattress, but mattresses purchased for the crib will undoubtedly be thicker and comfier than anything that comes with a Pack 'n Play.
Purpose: The purpose of a playard is to not only offer a place that is safe for baby sleep, but also as an enclosed space for playing. Moreover, a playard is portable and foldable, meaning you can take it with you on trips and store it easily in closets or small areas within the home.  The purpose of a crib is exactly what you'd expect it to be: a safe place for the baby to sleep.
Size: On average, a Pack ' Play or similar playard will have measurements of 40" L x28" W x 29" H while standard cribs have measurements of 52" L x 27" W. Thus, a playard will be a bit smaller than your average crib, but will still take up a good amount of space in a room. 
Portability: As previously mentioned, a playard can be easily folded and transported, though some believe that certain playards, especially those who have attaching bassinets and other accessories, are more difficult to use for travel than it seems. Still, traveling with a Pack 'n Play is a lot more feasible than traveling with a crib. Actually, traveling with a real crib (as opposed to a "travel crib") is near impossible. Cribs are semi-permanent fixtures that can't be easily moved from location to location. 
Weight: A Pack 'n Play usually weighs around 30 pounds, while a crib can weigh anywhere from 50-100 pounds. 
Features: A crib may come with a mobile or changing table, but not much else. A playard, however, usually comes with a mat, and can sometimes come with attachments such as a bassinet. With that said, some cribs do come with convertible options allowing the crib to eventually be used as a toddler bed. This isn't so with a playard. Once your child outgrows a playard, you'll have to replace it, and that can happen as soon as two years. 
How Long Can My Baby Sleep in a Pack n Play?
Your baby or toddler should be able to get at least a couple of years out of the Pack 'n Play, but it depends on how fast your little one grows. 
Playards tend to only accommodate children that are under 30 pounds and that are shorter than 35 inches. Toddlers ages 2-3 could easily fall into this category, so it will be up to you to ensure that you stop using the Pack 'n Play when either of these milestones is achieved. 
Can a 2 Year Old Sleep in Pack n Play?
Yes, a two-year-old could sleep in a playard, but again, that will depend on his or her height and weight. As long as your two-year-old isn't 35 inches tall or weighing 30 pounds, he or she should be easily able to sleep in a Pack 'n Play.
Note: You may want to consider cozying up a Pack 'n Play a bit for older toddlers. A small blanket and a comfy mattress that fits your Pack 'n Play may make sleep a bit more comfortable than the mat it comes with. 
Should I Buy a Pack n Play?
We think so! But it depends on your needs.
Even people that choose to buy cribs can easily benefit from having a playard around. Pack 'n Plays can be used for napping, traveling, sharing (when a baby or toddler friend comes to visit), or playing while you get things done around the house. It can also be folded up and placed in storage when not in use. 
Thus, if money and space aren't an issue, we'd recommend grabbing both a Pack 'n Play and a crib; it might make your life a lot easier! 
Some people also worry about Pack and Play age limit. If this is you, just know that Pack 'n Plays and other placards tend to accommodate babies and toddlers up to 30 pounds and 35 inches in height. This means you may need to find another crib alternative down the road, which is an important consideration when deciding between a crib and a playard for baby sleep.
Can a Baby Suffocate in a Pack n Play?
Yes, they can. Just as any sleep space can present hazards, Pack 'n Plays can become hazardous due to the following:
Poor-Fitting Sheets
Loose-Fitting Sheets
Gaps Between the Mattress and the Actual Pack 'n Play
Blankets or Soft Bedding Placed in a Pack 'n Play
Soft Animals in a Pack 'n Play
Be sure never to use loose or ill-fitting sheets in your baby's playard. Also, stick to the mat that it came with when your baby is under 12 months, as this is likely the safest option to prevent suffocation. 
Remember, never to place blankets or stuffed animals in a playard for babies under 12 months of age. 
Is It Safe For Baby to Sleep in Pack n Play Every Night?
Yes, it is perfectly safe for your baby to sleep in a Pack 'n Play every night as long as you follow rules for safe sleep for your baby. 
Also, remember that the lower to the floor your baby sleeps, the chillier it can become. Keep this in mind when monitoring your baby and toddler's room temperature.
FAQ
Can I Use a Travel Crib as Regular Crib?
Yes, you can use a travel crib as a regular crib. Just remember that travel cribs aren't necessarily the same as playards. They tend to sit flush to the ground and are lighter in weight. Be certain that there are no hazards or animals that could potentially harm your child if you choose to use a travel crib as a permanent sleeping option for your little one. 
Pack n Play vs Crib: Which You Choose Is Totally Up to You!
Whether you choose a Pack 'n Play or a crib is completely up to you when it comes to safe baby sleep. Both are perfectly safe options for baby provided that you follow rules for safe sleep for your children. We hope this helps! 
Lynn
Lynn is a freelance writer, a wife, and a mother of two beautiful kids. Lynn started Infant Empire with the aim of making parenting easier for fellow mums and dads. She believes the parenting tips provided here will be of great help to all parents.