By Maria Wilcox •  Updated: 07/06/22 •  6 min read
Hey Mamas and Papas! This site is reader-supported and we earn commissions if you purchase products from retailers after clicking on a link from our site.
Whimsical girl names that have a magical, enchanting, or fairy-like ring to them are all the rage right now. These light-hearted and dreamy feminine names give your baby an aura of awe and wonder, and oftentimes, can be fun to say. So, what are these whimsical names and what are their meanings? We'll be answering all of that and more in today's whimsical girl names post. 
What Are Some Enchanting Girl Names?
When it comes to girl names for a baby, "enchantment" and "wonder" seems to fit the bill. After all, your baby is a dream come true for you, and as a result, you likely want to reflect that concept in your baby girl's name.
Consider the following enchanting names girl to see if any of them suit your fancy:
Enchanting Names: Girl
Freya: An ode to love and beauty, this light and airy name is the perfect pick for your baby girl.
June: What isn't whimsical and enchanting about the transition from spring to summer? Use June as your baby girl's name as a nod to this whimsical summer month.
Juniper: An evergreen shrub that bears berry-like cones, the name "Juniper" evokes a sense of mystery, relaxation, and beauty.
Harper: Harps have long been associated with the angelic, and as such, a name like "Harper", which has traditionally referred to as one who plays the harp, is a perfect and trendy name for your little one. 
Finn: Though also used as a boy's name, the name "Finn" or "Fynn" can be spun female and means "fair one". 
Eliza: Meaning "pledged to God", this fun and modern name has a deep and enchanting meaning making it the perfect blend of whimsical mixed with a bit of sobriety for those looking for names that have depth to them.
Arabella: The name "Arabella" isn't only fun to say, but also has several enchanting meanings including beautiful, prayerful, and heroine.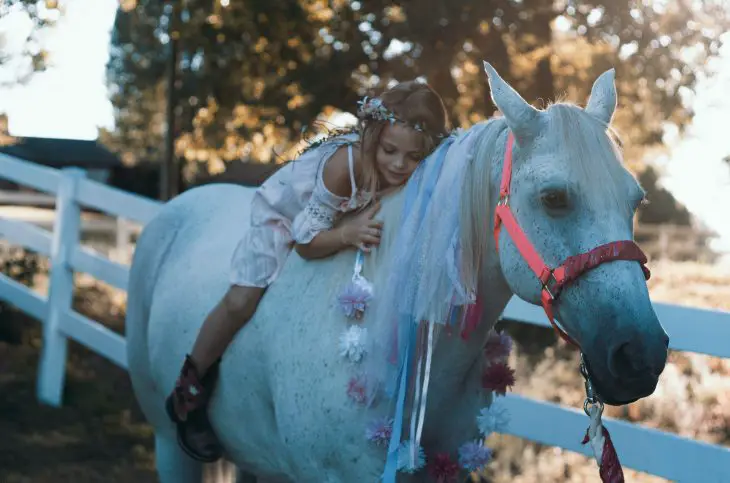 Other Enchanting Girl Names:
Looking for more enchanting names for a girl? Try these on for size:
Apple
Adeline
Amira
Clover
Georgia
Izzy
Lark
Dotty
Celestine
Everdeen
Brighton
Halsey
Alouette
Heidi
Briella
Ember
Delia
Daisy
Echo
Birdie
Bitsy
Cali
Elmira
Clementine
Cleo
Kiki
Kiko
Indigo
Jubilee
Cambria
Calliope
Tala
Fairytale Girl Names
Looking for girl names that sound as if they are taken right from a fairy tale? Consider some of these fairytale-inspired names to see if any of them are a good fit for your little beauty!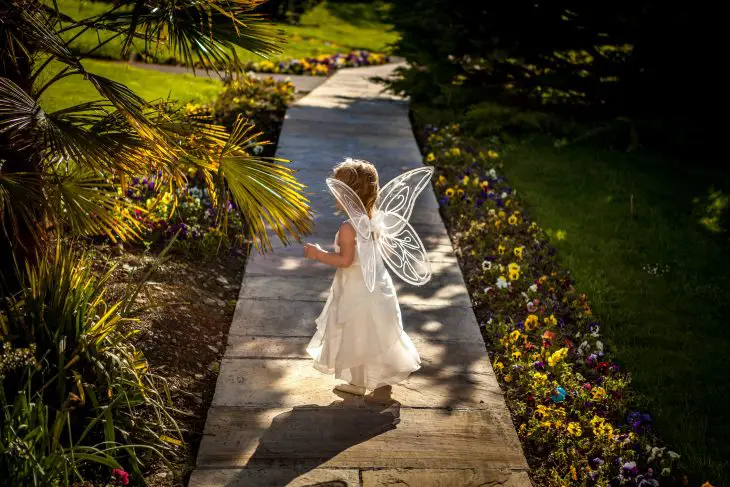 What Are Some Pretty Fairy Names?
The following are a few other fairy names that might be fitting for your little princess:
Forrest
Dianthe
Shaylee
Elowen
Iris
Alette
Shayleen
Tiana
Shayleigh
Weaver
Ellie
Sage
Nissa
Firtha
Summer
Bloom
Rhiannon
Primrose
Frost
Dela
Flora
Wanda
Fairy
Lily
Elisa
Shailyn
Linetta
Bridget
Finn
Olette
Onyx
Titan
Petal
Sen
Kelpie
Posy
Mariam
Blossom
Paris
Lanette
Ilayda
Celeste
Daisy
Dana
Marin
Alice
Robyn
Shaylee
Meriol
Ivy
Fleur
Winn
Briar
Gulliver
Fern
Feya
Blue
Avery
Magnus
Éire
Chepi
Win
Marica
Tinsel
Lynette
Poppy
Aspen
Peony
Elida
Migina
Radella
Ireland
Adelina
Ophelia
Naida
Morgan
Aubrey
Tansy
Aurora
Hyacinth
Shaylah
Fayetta
Gary
Linette
Rosemary
Aslan
Faye
Shayla
Dahlia
Eflie
Tatiana
Alfreda
Tunder
Tallulah
Parisa
Hai
Nixie
Cordelia
Diana
Elvinia
Calypso
Aubrette
Aine
Elvina
Pixie
Sebille
Ainslee
Céilidh
Melody
Brucie
Titania
Charlotte
Pippy
Ailsa
Camellia
Lilac
Advika
Jasmine/Jasmin
What Girl Name Means Magic?
Alvina (English): magical being
Bormey (Khmer): magical
Cassandra (Greek): prophetess
Guinevere (French, Welsh): blessed magical being
Kendra (English): magical
Kiama (Kenyan): magic
Kimaya (Indian): magic
Rhian (Welsh): magical maiden
Shannara (Unknown): mystical
Zinta (Latvian): magic
Vintage Whimsical Girl Names
If you're looking for something whimsical but throwback at the same time, we've got you covered! Nowadays, it's just as popular to pick a vintage or seemingly "old-school" name as it is to pick something dreamy and whimsical. Why not pick a name that's a blend of both?
Check out these popular vintage whimsical girl names for a little additional inspiration: 
May
Clara
Ava
Estelle
Rose
Minnie
Lydia
Mabel
Nora
Daisy
Jane
Helen
Demi
Elise
Gracie
Clarissa
Etta
Juliette
Flora
Esther
Lydia
Sadie
Jospehine
Eloise
Grace
Josephine
Hattie
Story
Esme
Lovella
Mariana
Sabine
Mathilde
Solene
Noémi
Margaux
Neve
Soleil
Odette
Tova
Roma
Sonia
Sienna
Pia
Lorna
Sylvie
Ophelia
Mariposa
Paloma
Priya
Lola
Lucia
Sarita
Marcella
Marielle
Nina
Parvati
Reese
Oceane
Nala
Dreamy Girl Names
Dreaming of something, well, dreamy for your wee little one? Check out the following tranquil dreamy girl names for your baby:
Juliette
Linnea
Lavender
Lisette
Gemma
Lilou
Giselle
Giada
Flora
Ines
Jacinta
Delphine
Esméralda
Fleur
Kiana
Celina
Arabesque
Skye
Lily
Lillian
Vera
Shilo
Halle
Francesca
Whimsical Girl Names: No Longer a Mystery!
Whimsical girl names are no longer a mystery, thanks to the wild assortment of fairy-like names available for your choosing. 
Pick from names inspired directly from fairy tales, or choose lesser-known names with a dreamy, whimsical, or vintage feel to them for something a bit more unique. 
Remember that though names like these are very popular right now, many of them are uncommon meaning it's likely that your baby girl may be the only one sporting some of the more rare names on this list- which for some parents, may be a very good thing! 
Whatever you choose, we're sure your little princess will grow up to love her name, and we're sure others will, too! 
Until next time! Meanwhile, these posts might interest you:
Maria Wilcox
Former instructor with an M.A. in Education turned grateful stay-at-home mama to one, I look to share helpful insights related to babies, toddlers, kids, and families for the benefit of real people just like you.