By Maria Wilcox •  Updated: 07/01/22 •  16 min read
Hey Mamas and Papas! This site is reader-supported and we earn commissions if you purchase products from retailers after clicking on a link from our site.
When it comes to baby-led weaning, the type of high chair you use is crucial. The best high chair for baby-led weaning tends to be the one that offers the support, comfort, and material needed to make mealtimes for your baby easy. In this post, we've set out to reveal our best tips for selecting the perfect high chair for baby-led weaning, as well as some of our top market recommendations for which high chair you should choose. Let's get started. 
Do I Need a High Chair For Weaning?
Starting with one of the most obvious and frequently asked questions by new parents, we thought we'd give our input on this important subject matter.
While many parents assume that they don't necessarily need a high chair for baby-led weaning, the fact is that a high chair provides your child much more than you think in terms of comfort and safety.
Although a high chair isn't mandatory per se, it can be looked at as such. Given that alternatives to not using a high chair, such as sitting your baby on your lap, may prove not only to be stressful for you but also, uncomfortable for your baby.
Remember that mealtimes for your baby should be as comfortable as possible both for you and your child. If at mealtimes, your baby feels out of place, strained, and unable to get cozy, he or she may begin associating this negative experience with eating food. This only sets the child up to loathe uncomfortable meal times and potentially may affect his or her future eating habits.
Aside from simply being uncomfortable without a high chair comes an even bigger concern and that is lack of safety. While it is an option to place your baby on your lap or to feed your child using another sit-up device that isn't marketed as a high chair, you risk your baby sitting at odd angles while trying to eat. And this, friends, is a big no-no.
When a baby is trying to learn to eat (especially for baby-led weaning), their posture is of the utmost importance. In fact, a baby that cannot hold themselves up and sit up for longer periods of time independently may not even be ready to try baby-led weaning. This is because poor posture can quickly lead to choking.
It is for this reason that the purchase of a high chair is key. This keeps a baby upright and supported in a way that can make mealtimes more comfortable (and less messy!) for everyone involved. 
Baby Led Weaning High Chair: What to Look For
Now that you know the importance of a high chair for baby-led weaning, it's time to delve into what you should be looking for when selecting a high chair.
Consider the following attributes when you go shopping for the perfect high chair for baby-led weaning:
Support
The first and most important factor when looking for a great high chair is support. The high chair should have nice high backing that supports your child's back, shoulders, and head.
Most high chairs will have met these standards, however, for added security and assurance, be sure to keep an eye out for the JPMA certification that guarantees all standards for this piece of baby equipment have been met for safety.
Material
What type of material your baby's high chair is made out of may not seem like a big deal to you. But trust us, seasoned parents know the importance of having a high chair that's easy to be cleaned.
Ideally, you'll avoid high chairs that are high-maintenance and made of fabric. Though fabric is undoubtedly most comfortable for your baby, it is also most difficult to clean.
So while you may have a baby that is comfy in their fabric high chair, you may also have a baby that is sitting in a heavily soiled high chair whose stains refuse to come out.
Note: If you do decide on a high chair that is fabric, at least be sure to note whether or not the covering for the high chair is machine washable. Removable and machine washable coverings are ideal so that you can pop the entire covering in the wash and get on with your day. Still, we recommend you simply look for a high chair that is either made of plastic or has a slick finish that can be easily wiped down so that cleaning up after a yummy but messy food session isn't as taxing on you or your washing machine.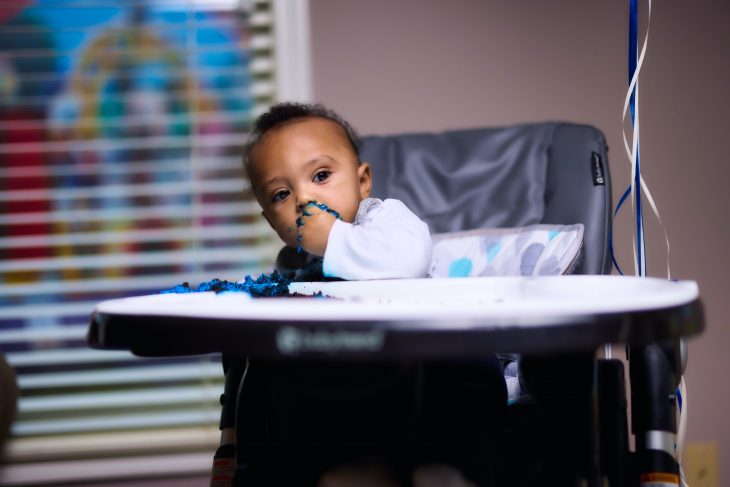 Safety
As mentioned, it is imperative that your baby's high chair support your baby's posture while eating. But also, that the high chair itself is safe as its own entity.
This means that you should look for a high chair with a wide base that isn't prone to falling over.
Not exactly sure how to select a high chair that is safe? Again, look for the JPMA certification on the high chair you are considering for purchase. Also, be sure to do some research on that high chair to ensure that other parents aren't experiencing safety concerns after having bought it. 
Remember also to look for high chairs that have buckling mechanisms. ALWAYS be sure to buckle your baby into their high chair. Never fully remove the tray from the high chair while your baby is sitting in it to avoid your baby falling out of the chair and onto the floor.
Footrest
This may not be an obvious attribute of safe and comfortable high chairs, but a footrest can actually make a huge difference in how your baby sits.
To be safe, we recommend you purchase a high chair with a footrest as this will allow your baby to sit more comfortably and with better posture at the table. 
Affordability
If money is an issue, you'll be encouraged to know that there are models of high chairs out there suitable for almost any budget type. You'll be surprised at how many sleekly designed and budget-friendly high chair options are out there.
Do your best to do the research before settling on the high chair you wish to purchase because not every expensive high chair is one that is worth the money. Stay within your budget but do get something safe and easy to clean.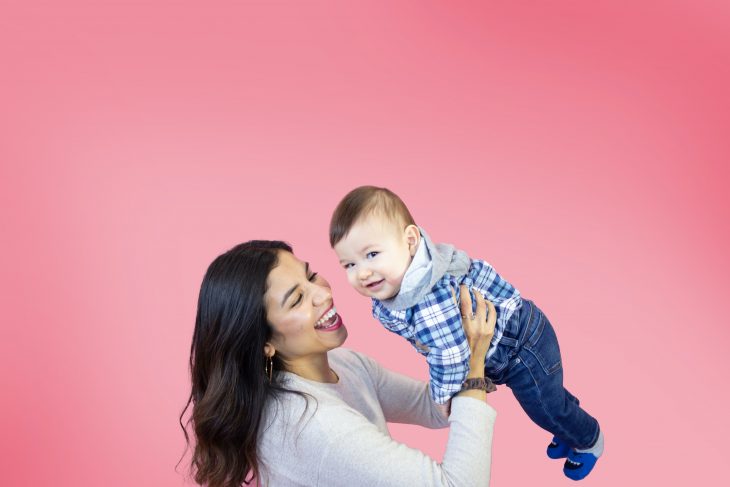 Overall Design
Though design may be a moot point to some, if you put forth the effort to match your baby's high chair with the rest of your dining décor, you may be surprised at how aesthetically pleasing purchasing a matching high chair can be!
Simply pick a design that matches (or at least doesn't clash with) your current dining room or kitchen design and you've got a winner.
Also, be sure to note any space-saving solution designs (such as a foldable high chair) that can free up some space in your kitchen when the high chair isn't in use. 
Other Features
Lastly, be sure to look for and research other additions to high chairs that can serve to make life a little easier for you.
Removable and washable trays, high chairs that convert into toddler chairs, and high chairs that also serve as booster seats are just a few of the choices you'll have available to you when selecting the high chair that is to be the perfect fit for you and your baby.
Best High Chair For BLW
If you are looking for a budget-friendly high chair, the Cosco Simple Fold Deluxe Monster Syd High Chair is the way to go.
It's no-fuss, easy to fold up and put away, and the design is brightly colored. Its large tray features a cup holder and several other tray compartments and is lightweight for easy transport.
This high chair also features seats that are very easy to wipe down and keep clean, making this high chair an overall top pick for those looking to save a little cash. 
Pros and Cons
Inexpensive
Good For Travel
Kid-Friendly Design
Foldable
Stands on its Own When Folded For Easy Storage
Removable Tray With Several Compartments
May Clash With Home Décor
Does Not Transition into Toddlerhood
If you're willing to spend a bit more than the Cosco high chair above, then you may really get a kick out of this next recommendation.
The Ingenuity Trio 3-in-1 High Chair is not only affordable but also long-lasting. You can use this high chair as a booster and even toddler seat until your toddler becomes 50 pounds or more. This makes it a worthy investment.
In addition, the high chair seat is made of extra soft comfortable fabric that can be easily removed and placed in the washing machine for thorough cleaning. The rest of the high chair can be easily wiped down after a messy meal using soap, water, and a washcloth.
Pros and Cons
Transitions into Toddlerhood 
Features a 3-Point and 5-Point Harness
Fabric Seat Is Removable and Washable
Neutral Color May Not Clash With Home Decor
Seat Made of Fabric That Can Show Staining
Best Baby Led Weaning High Chair with Sleek Design – Joovy Nook NB High Chair
The Joovy Nook features a sleek minimalistic design in multiple colors, with our favorite being jet black. This stylish but practical high chair features reclinable options for use for newborns. Although, of course, you should never use this high chair for feeding babies that are any younger than 6 months.
In addition to its reclinable feature, the Joovy Nook is made of wipeable material. Meaning you won't have to fuss with fabrics or worry about stains. This stylish high chair also features a swing-out open tray and the ability to fold and store it away. Thus, the Joovy Nook an excellent choice for your various needs!
Pros and Cons
Reclinable 
Sleekly Designed
Swing Out Tray WIth Removable Top For Easy Cleaning
Foldable
Does Not Transition Into Toddlerhood
Made from beech wood, the Tripp Trapp high chair is a luxury high chair designed in 1972 specifically to encourage a child's freedom of movement.
This high chair has gone on to be a beloved high chair throughout generations. It is still cherished by many parents today.
It accommodates children up to 3 years old. However, because this sturdy wooden high chair can accommodate up to 300 pounds, it can technically be used for a lifetime. In this way, despite the stiff price tag, this high chair can be viewed as a life-long investment. It can span generations when well taken care of. 
Pros and Cons
Built to Last
Made of Durable Wood That Can Withstand up to 300 Pounds
Transitions into Toddlerhood and Beyond
Uniquely Designed
More Expensive
Made of Wood and Not Wipeable Plastics
Colors May Stain Over Time Especially If Exposed to Direct Sunlight
This clip-on high chair by Toogel is designed to clip to the edge of tables. This function makes it perfect for taking to restaurants, friends and family's houses, and other places while on the go.
It also comes at an attractive price; a true selling point for those wishing to stick within a budget. 
Pros and Cons
Great For Travel
Foldable
Hooks on Table
Inexpensive
Made of Fabric
How Do You Get BLW Without a High Chair?
Baby-led weaning can be achieved without a high chair, but as previously mentioned, we don't recommend it.
Remember that baby-led weaning can be extremely messy. Even spoon-feeding your baby will get much messier than you may have anticipated. For this reason, we strongly recommend using a high chair that can be easily wiped down and that sits your baby upright for his or her own comfort and safety.
Still can't get your hands on a high chair? You can try sitting your baby in your lap or sitting your baby on a blanket picnic-style to eat. That said, neither of these options will be as safe or as comfortable as placing your baby in a high chair.
Is money an issue? How about space? If money and (or) space are playing a role in why you are unable to get a high chair, don't worry. Our recommendations for high chairs on the market that you can choose can save you both space and money so that you can purchase a comfortable eating space for your baby worry-free. 
Note: Many places such as Goodwill may carry high chairs that you can purchase for a fraction of the regular price. Do your research, talk to mothers and families you know around your community. Who knows… you may be able to grab a high chair for your baby practically for free!
FAQs
Do I need a high chair for BLW?
Baby-led weaning can be achieved without a high chair. But we strongly recommend using a high chair that can be easily wiped down and that sits your baby upright for his or her own comfort and safety.
How do you wean without a high chair?
You can try sitting your baby in your lap or sitting your baby on a blanket picnic-style to eat. It's important to supervise your baby, with or without a high chair.
Best Baby Led Weaning High Chair: There Are Many Good Ones Out There!
No matter what type of high chair you are looking for or what kind of budget you're sticking to, we are confident you can find a high chair to suit your needs and then some.
Just remember to look for the JPMA certification on the high chair. Also, assess it for safety, ease of cleaning, and comfort before making your purchase.
We hope you're able to find a high chair that is the best fit for you and your baby! Here's to happy and healthy eating!  
Start with some food for BLW:
Maria Wilcox
Former instructor with an M.A. in Education turned grateful stay-at-home mama to one, I look to share helpful insights related to babies, toddlers, kids, and families for the benefit of real people just like you.