By Maria Wilcox •  Updated: 06/28/22 •  8 min read
Hey Mamas and Papas! This site is reader-supported and we earn commissions if you purchase products from retailers after clicking on a link from our site.
Wondering what to wear at your baby shower? First of all, congratulations! Having a baby shower is a momentous event that is worth celebrating. Therefore it is understandable that you'd be a bit nervous about what to wear. But don't worry. We've got all the tips you need to take on your baby shower fashionably and comfortably! Stay tuned to find out how. 
What Should I Wear to My Baby Shower?
Let's get the main point out of the way first, and that is this: it is totally fine to wear what you want and be comfortable at your own baby shower.
On the day of your baby shower, it is all about you and your family not about keeping up with appearances. Thus, if your baby shower is an informal event and you feel like wearing your comfiest clothes while celebrating new life with your friends and family, then you should do that!
However, if you are looking to dress up your bump a bit for this special event, go for it! Because this is such a special day, it's worth it to dress up if that's what you want to do. 
So, what should you wear to your baby shower? We're glad you asked!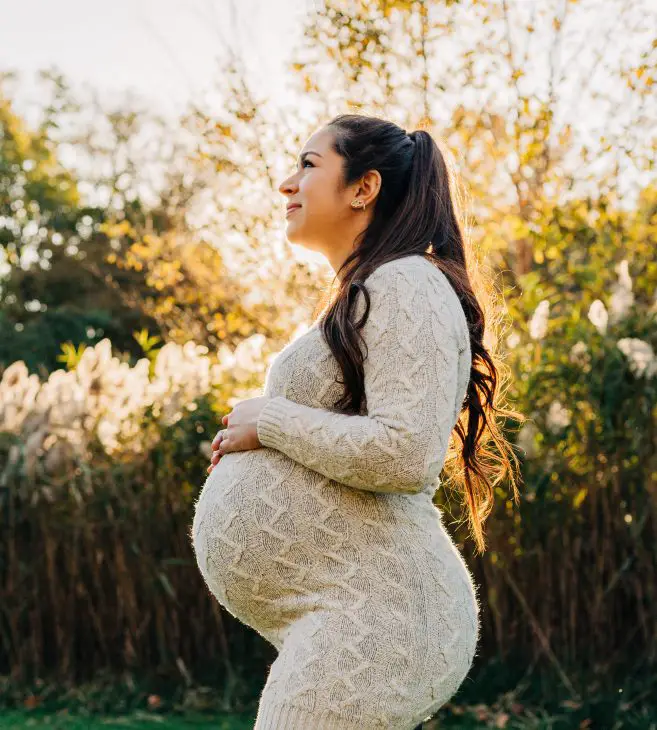 What Color Should I Wear to My Baby Shower?
One of the most common questions asked by mothers attending their own baby shower is whether or not they should avoid certain colors. It has been said that wearing black to a baby shower can be frowned upon a black is typically associated with mourning.
While this may be true, it is also true that wearing black can be slimming for some mamas who'd rather not let it all hang out (when referring to the belly bump of course). These more modest mamas may prefer to slim out their look with a black maxi dress and maybe even brighten the look up a bit with a satin ribbon in the color of their choosing (or a cardigan in a brighter color).
Still, some moms may wish to rock black just cause they can!
On the other hand, if you aren't looking to wear black, you can also choose to dress "according to the gender" of your child (typically pink or blue, or perhaps yellow or green), the overall color scheme of the baby shower, or even in accordance with the seasons!
Try lilac, soft pink, or robin egg blue for spring baby showers – or burgundy, rust, and mustard for the fall season. There are so many options you have when it comes to choosing the color palette for your outfit, that it's hard to name them all here!
Baby Shower Outfits For Mom
Baby shower outfits for mom do not have to be stressful or super fancy.
Remember that baby showers are typically held closer to the due date, so you may not be up to squeezing into a tight or ultra-comfortable garment during that time. If you're a fan of the TV show "Friends", you might remember Phoebe's outburst about leather pants during her baby shower, and we don't want that!
Rather, opt for outfits that highlight your baby bump but that are still comfortable, such as flats for swollen and hurting feet and maternity slacks that can keep your belly and legs feeling comfortable while also providing a sleek look and feel.
Remember also that you can easily choose a dress to suit your fancy as dresses can make things a bit more comfortable provided they aren't too restricting. 
In the winter months, opt to wear dresses with a cardigan, closed-toed shoes, and leggings to keep from being too cold. Choose these colors in deeper hues as a nod to wintertime style and you've got the perfect baby shower outfit! 
Baby Shower Outfits For Mom and Dad
Having mom and dad match at a baby shower is such a cute idea! Match both outfits in accordance to color scheme or fabric (such as matching denim outfits) or purchase funny tees that pay homage to a new baby on the way.
There are tons of options available when it comes to dressing up mom and dad for a baby shower. Have fun here and try to keep things as comfy as possible (for the both of you)! 
What to Wear to Baby Shower as a Guest
If you are wondering what happens at a baby shower and how you should dress, consider the following guidelines for what to wear to a baby shower as a guest.
Can You Wear Black to a Baby Shower as a Guest?
Since wearing black to a baby shower is generally frowned upon, we would recommend steering clear of black if possible so as not to offend the mama of honor and the hosting party. 
Cute Baby Shower Outfits For Guests
What to Wear at Your Daughters Baby Shower?
Because welcoming a new grandbaby into your life is a joyful and momentous occasion, we recommend dressing up a bit – but not too much.
Wear something comfortable but not too casual to show your appreciation for the event, your daughter, and her new family. Think "business-casual" for events like these as this is generally the best route for everyone. 
Specific ideas include stretchy slacks, flats, a cute sweater, or a decorative short-sleeved blouse (depending on the season). A flowy cardigan with either black or white pants or even a tasteful dress are all great options. 
What to Wear to a Baby Shower as a Guest in Summer
Summertime baby shower guests may wish to dress in a flowy and breathable bright sun dress or a tasteful flowy tank with capris. A nice pair of jeans and a blouse might suffice for more casual affairs, but try to steer clear of casual tees and denim with rips and holes as this may be too informal for the nature of the event. 
What to Wear to a Baby Shower as a Guest in Winter
Wintertime baby showers lend themselves to deeper hues and more layers. Go with a cardigan, dark pants or jeans, and a nice top. You can also wear a knee-length dress paired with fleece-lined legging, (tasteful) boots, and a cardigan if needed. Whatever you decide, make sure that you are warm and comfortable, but also respectful of the importance of the event by avoiding any outfits that may be deemed a bit too casual. 
FAQs
Can I wear black to a baby shower?
If you're the mom and you want to wear black, go for it. It's up to you! If you're a guest, consult with the party planner so you're not accidentally offending anyone, as black can have negative connotations.
What should I wear to my baby shower?
You can absolutely wear whatever you want, but our top tips are wear something comfy (like a flowy dress), or go with your theme!
What to Wear at Your Baby Shower? It's Your Party…Wear What You Want To!
So, what should you wear to your baby shower? It's your party and you'll wear what you want to, right? 
Staying comfortable is key when it comes to dressing for your baby shower, however, fancying up your bump a bit by trying a nice maternity top and slacks (or a cute maternity dress) can keep you from shuddering when you look at old photos of the event. 
We hope this has helped inspire you with some good baby shower outfit ideas. Congratulations! 
Related blogs to check out:
Maria Wilcox
Former instructor with an M.A. in Education turned grateful stay-at-home mama to one, I look to share helpful insights related to babies, toddlers, kids, and families for the benefit of real people just like you.